Lockheed Martin's Precision Strike Missile Enters Next Phase with Army
Date posted
October 4, 2021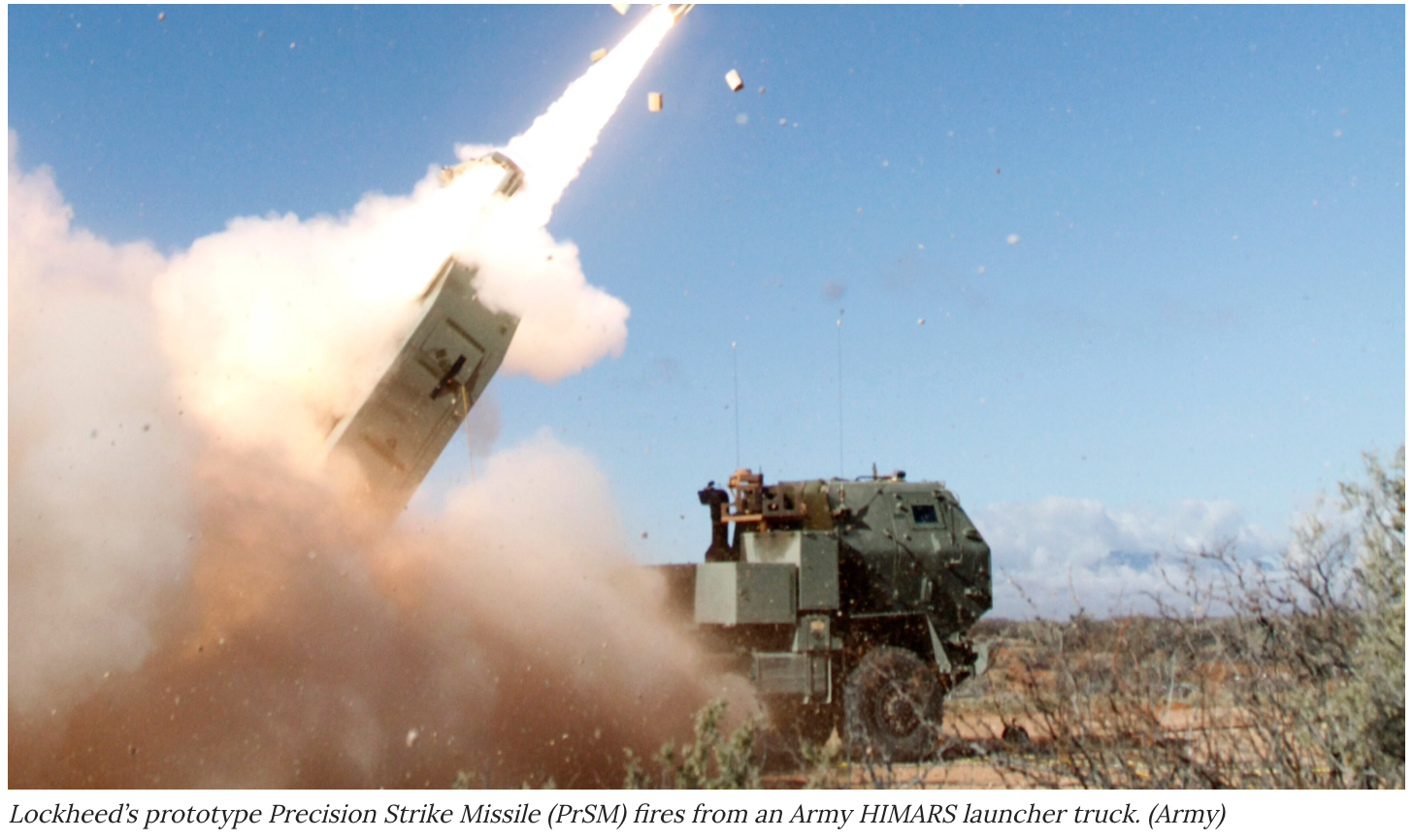 Written by : Andrew Eversden
WASHINGTON: The US Army's Precision Strike Missile program took another step toward fielding in 2023 with the service awarding prime contractor Lockheed Martin $62 million for the next phase on the effort, according to a Defense Department contract announcement.
The contract award kicks off the engineering and manufacturing development (EMD) phase for the PrSM project following four successful flight tests and represents an important step forward for the Army's plan to develop a family of long-range strike capabilities.
The Precision Strike Missile program, led by the Long Range Precision Fires Cross-Functional team and Program Executive Office Missiles and Space, is meant to replace the Army's Cold War era Army Tactical Missile System, which has a maximum range of 300km, or 186 miles. Army officials describe PrSM's goal range as 500km or more, around 310 miles.
"This important milestone is the next step toward fielding PrSM," Becky Withrow, business development director at Lockheed Martin Missiles and Fire Control, said in a statement to Breaking Defense. "PrSM continues to deliver on performance requirements and we're looking forward to continuing that in the next phase of development."
Under the EMD phase, Lockheed Martin will continue the development of PrSM, including system qualification, manufacturing readiness actions, and initial operational testing and evaluations, according to Darrell Ames, spokesperson for PEO Missiles and Space. The program completed its milestone B approval on Sept. 27, with congressional notification the following day, he said.
PrSM is currently "preparing" for its fifth flight test, Ames said. The new missile is scheduled to enter service in 2023, with upgrades coming in 2025.
In an earlier flight test this year at White Sands Missile Range in New Mexico, PrSM flew 400km, or more about 250 miles.
That range is mean to help PrSM to potentially take out enemy ships — not dissimilar from the Marines Corps' NMESIS ship-killer missile — or anti-aircraft defenses from afar. While the service is finalizing the first of the missile, fiscal 2022 budget documents show that the Army wants to dedicate $5 million to exploring "critical technologies" to extend the range of PrSM to 1000km or more. The Army also plans to purchase 110 missiles in fiscal year 2022 for about $166 million.
As part of future upgrades to PrSM, the Army wants to add an upgraded seeker to the missile in order for it to more accurately strike moving targets, such as ships at sea. The multi-mode seeker detects an enemy's radio frequency from enemy communications and radar to track the target.
Earlier this week, Lt. Gen. Thomas Todd, deputy commanding general at Army Futures Command, praised the program as an example of the Army bridging the infamous "valley of death," where prototype projects fail to transition over to the production process.
"People say we don't cross things across the valley of death, we do. We just did," Todd said on a webinar earlier this week. "It [Precision Strike Missile] just transitioned out of S&T [science and technology]."
PrSM will also play a role in the Army's upcoming Project Convergence 21 event, a Yuma, Ariz.-based event where the service tests the interoperability of its wide-range of modernization systems. That will include a double shot from a HIMARS launcher truck, as previously reported by Breaking Defense.
Article originally published on Breaking Defense.