Outlaws outside: One Battery's Method to Win at the Point of Contact
Date posted
April 28, 2022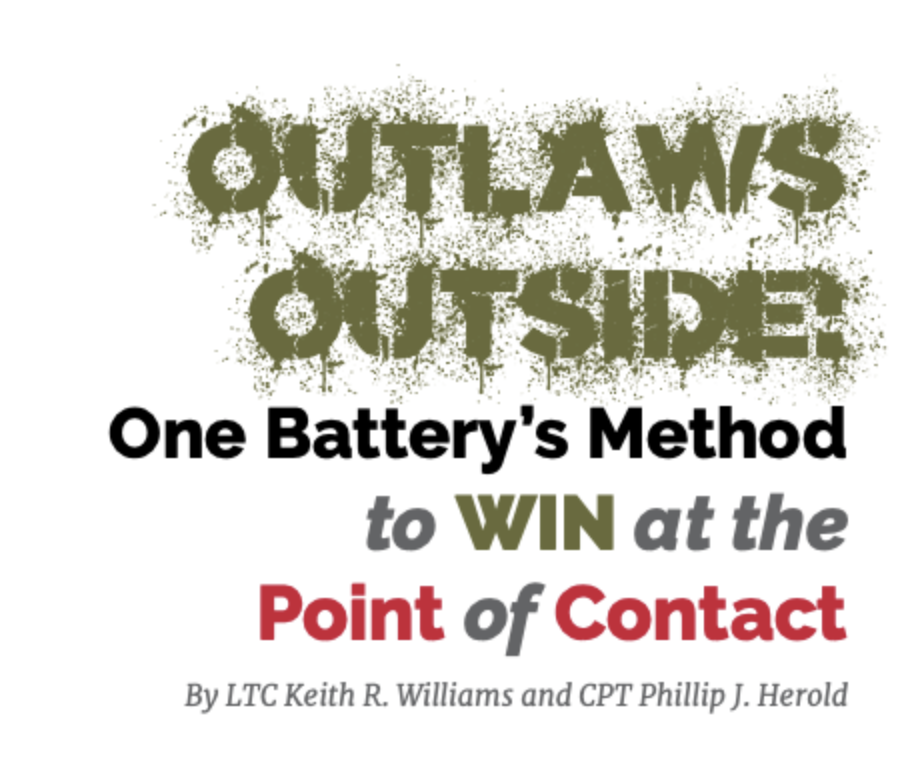 On August 13, 2020, GEN Michael X. Garrett, the Commanding General for the United States Army Forces Command, published an article titled Winning at the Point of Contact. The article briefly discussed GEN Garrett's new training strategy for the Army, known as the Foundational Training Strategy. This new direction emphasizes repetitions and sets of training at the individual, section/squad, and platoon levels. "Regardless of the location or mission, the Soldiers in our crews, squads, and platoons will be the first to make contact with the enemy, and it is at that point they must decisively prevail" (Garrett, Winning at the Point of Contact). The Foundational Training Strategy isn't revolutionary, and as a commander of a Multiple Launch Rocket System (MLRS) Battery (BTRY), neither is mine. However, simply reserving land, empowering subordinate leaders, and accepting training can be piecemealed enables the Outlaws of Alpha BTRY, 2nd Battalion, 4th Field Artillery Regiment (2-4th FAR), 75th Field Artillery Brigade to win at the point of contact.
Outlaws Outside is the initiative implemented in Alpha BTRY 2-4th FAR. It is simple; look at the calendar, identify dates to reserve land, conduct troop leading procedures, execute, and assess. Some of the most common remarks I've heard over 10 years of service is "we just need time to train," or "if only we could get some land and just train like this all the time." Outlaws Outside seek to remove the excuses from the training equation. After getting feedback from all of my platoon leaders and platoon sergeants, we identified multiple days that spanned over six months where training could be conducted.
Once we had hard dates, we updated the Defense Training Management System (DTMS). We passed them over to the Battalion Ammunition Officer so that every month the following month's dates could have land reserved. Updating DTMS is critical because it provides the grounds and ability to fight for protected training, and it was not something thought of within the last two weeks.
Having land that can support an MLRS BTRY's operations is crucial to becoming proficient at the section and platoon levels; and only so much Digital Sustainment Training (DST) and fire mission processing that can be conducted in the motor pool. In addition, MLRS units need an area to plan tactical movements, reconnaissance, selection, and occupation of a position. Withtraining areas and dates locked in, the next step in the Outlaws Outside initiative is empowering subordinate leaders to plan and own the training.
Fire Direction Officers typically do not have all the time they need to plan, cooridinate, resource and execute Fire Direction Center training. The majority of our Battery training occurred on Tuesdays for DST, while non-commissioned officers led the way with Sergeant's Time Training on Thursdays. However, I wanted a different standard while I was Commander, so I assigned a different platoon leader and platoon sergeant the responsibility of planning each iteration of Outlaws Outside. The planning started with me giving clear guidance with left and right limits for each training iteration but I left the overall objectives, timelines and tasks to the appointed planners who then provided updates during weekly BTRY training meetings.

What's truly inspiring is the ripple effect that occurs from saying, "here's some land and protected days, go do great things." During the After Action Review (AAR) for the first Outlaws Outside iteration, leaders identified the "next steps" to improve the proficiency of all the platoons. What's even more impressive is everything the 1st Sergeant (1SG) and Commander identified as training improvements the subordinate leaders had already thought to identify. Relying solely on systems, emphasizing reconnaissance and security, rehearsing contingencies, and bringing sensitive items and weapons all came up during the AAR; the 1SG and Commander didn't have to say a thing other than let's make it happen.
Section leaders also began to take the initiative at the first iteration, especially in the support platoon. The Soldiers and leaders in the support platoon took it upon themselves to improve their training and use all their time. They did this by asking themselves, "What else can we do?" Their response was rehearsing the establishment of the Ammunition Holding Area (AHA) until they got it right, but that wasn't enough for them. Next, they decided to rehearse the defense of the AHA and even developed sector sketches, range cards, and simulated opposing forces and civilians moving through their area of operations. Finally, the support platoon coordinated with all MLRS platoons to move through the AHA and rehearse reloading procedures. Allowing platoon leaders and platoon sergeants to own their training instead of dictating it brings you one step closer to winning at the point of contact.

We, as leaders, don't like to piecemeal operations; we prefer to complete them at one time and in one space, as we are constantly competing with time and requirements. But, unfortunately, we also get wrapped up in a "have to have everyone present" mentality only participating in training on the higher echelon's calendar. When conducting training, the Outlaws have fought against this epidemic by accepting the concept that we will send who we can for each training event. This method allows a closer look at individual sections/squads, making room for fine-tuning and training to standard, not time. Sections who participate in training then take the lessons learned and pass them on to other Soldiers and leaders. Not only does this improve proficiency, but it encourages better communication between sections and platoons.
Outlaws Outside is a simple initiative that gives ownership of training back to both section and platoon leadership. It analyzes when the next higher echelon training events occur and creates opportunities to prepare beforehand. The Outlaws don't do anything revolutionary; reserving land, empowering subordinate leaders, and accepting the fact training can be piecemealed all leads to winning and winning matters.
LTC Keith Williams was born in Plantation, Florida, and grew up in both Charleston and Summerville, South Carolina. He graduated from Liberty University in 2003 with a bachelor's degree in Psychology and was commissioned in the Field Artillery. LTC Williams has had an exceptional career, completing Airborne and Ranger school and two deployments to Iraq in support of Operation Iraqi Freedom. He also has a master's degree in National Security Affairs from the Naval Postgraduate School, one deployment to the Kingdom of Saudi Arabia, and has held various positions that range from company fire support officer to brigade operations officer. LTC Williams is currently the commander of 2-4th FAR.
CPT Phillip Herold was born in Frankfurt, Germany, and grew up in Virginia Beach, Virginia. He enlisted active duty in January 2008 and was the recipient of a Green to Gold four- year hip-pocket scholarship. He majored in Criminal Justice at Old Dominion University, the Monarch ROTC Battalion, and was commissioned in the Field Artillery in May 2014. CPT Herold is currently the commander of A BTRY, 2-4th FAR.
Works Cited
Garrett, Michael. "Winning at the Point of Contact."
Army. mil
, https://www.army.mil/article/238107/winning_at_the_ point_of_contact. Accessed 22 June 2021.