Long Range Precision Fires - 2020 Update
Date posted
August 13, 2020
Long Range Precision Fires Cross Functional Team
Brig. Gen. John Rafferty – PCD TBD
Facebook: www.facebook.com/ArmyFuturesLRPF/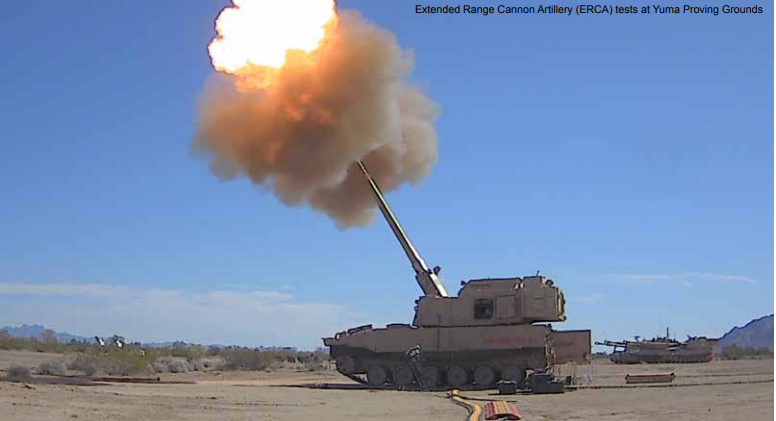 The Long Range Precision Fires Cross Functional Team (LRPF CFT) is a part of Army Futures Command at Fort Sill, Oklahoma with a mission to lead the development of select artillery modernization programs. In 2023 we will deliver the first battalion set of the Extended Range Cannon Artillery (ERCA) system to the operational force for a one-year assessment. The ERCA system will provide increased range, lethality and improved rate of fire to the division commander and enable deep fires to shape the battlefield and set conditions for
the BCT close fight. The ERCA system consists of an upgraded .58 caliber gun tube with a sliding block breech, improved ammunition propellant and course-correcting fuse to deliver accurate effects at 70km. Other initiatives include autonomous resupply and an autoloader to improve the rate of fire. The Precision Strike Missile (PrSM) is the replacement for the ageing Army Tactical Missile System (ATacMS) delivering increased range beyond 500km and enhanced lethality with two missiles per launch pod container. With three successful flight tests under our belt, we are well on our way to delivering the first missiles in 2023 through an urgent materiel release. Research and development with a multi-mode seeker is also on track for integration into the base missile for delivery in 2025. The seeker will provide a cross-domain capability against emitting land and maritime targets. The Army is introducing the strategic field artillery
system for the first time since the Pershing missile in the 1980s. The Long Range Hypersonic Weapon, developed by the Rapid Capabilities and Critical Technologies of-fice, and the Strategic Long Range Cannon replacement – two efforts to penetrate and disintegrate adversary A2/AD networks at strategic ranges to create windows of opportunity for the Joint Force. Prototype development is on pace for initial combat capabilities for Long Range Hypersonic Weapon in 2023. The Long Range Precision Fires CFT will continue to work across the Army modernization enterprise to deliver overmatch at echelon. Forge the Future – Winning Matters.
Listen to our King of Battle Podcast with BG John Rafferty, Director- Long Range Precision Fires Cross Functional Team :