Jack of All Trades or Master of None : DA PAM 600-3 vs. AIM 2.0
Date posted
January 12, 2021
Jack of All Trades or Master of None: DA PAM 600-3 vs. AIM 2.0
By CPT Jennifer Melfi and CPT Marc Melfi
Introduction
With the advent of the AIM 2.0 marketplace, Army Human Resources Command (HRC) and DA PAM 600-3 now offer differing guidance on the career progression plan of Field Artillery (FA) officers. Traditionally, HRC expected FA officers to move to a differently composed Brigade Combat Team (BCT), particularly after completion of the next level of professional military education. With the release of the Army Talent Alignment Process (ATAP), FA officers have the challenge of choosing to diversify their knowledge and skills across multiple artillery weapon systems or remaining in a specific weapon system that they already have experience in to truly become a subject matter expert.
Background
In April of 2019, the FA proponent of HRC updated DA PAM 600-3 with the guidance that "HRC will attempt to assign Captains who served in BCTs as Lieutenants to Field Artillery Brigades or to Maneuver Brigades with a different weapon system than what the officer previously experienced…this diversity of experience is designed as purposeful expansion of every officers Field Artillery knowledge and skills. Field Artillery company grade officers must grow experience and develop skills across the breadth of formations and weapon systems in the Field Artillery and the Army." This follows the traditional model of FA officer career progression and attempts to serve as a forcing function for officers to become more broadly experienced. However, the AIM 2.0 marketplace gives officers a choice of what they want to do. If an officer desires to stay in the same weapon system or diversify, all they have to do is match with a unit that will allow them to do so. This makes DA PAM 600-3 more of a suggestion than a doctrinal answer on what an FA officer's career should look like. Therefore, it is important for all FA officers to understand the advantages and disadvantages of both diversifying and pigeonholing to make the best decision for their career.
Advantages of Diversification
In an interview with the Executive Director of the US Army Field Artillery Association (USAFAA), Brigadier General Stephen Smith, Commandant of the US Army Field Artillery School and the Chief of the Field Artillery expressed his opinions on diversification. He stated that "if you did the 82nd as your first assignment, then you go to the 1st Infantry Division and learn (how) a mechanized infantry division fights. You get a whole different view on life on the lethality, maintenance and an extremely high operational tempo and the pace of battle and how you provide fire support in that type of warfare."
One of the primary advantages of an officer diversifying is the ability to gain a broad knowledge base of multiple forms of FA. Understanding different weapon systems and their respective capabilities allows for officers to best meet the maneuver commander's intent. Having a wide experience in FA assets also provides a better understanding of multi-domain operations and helps to integrate FA into the overall mission. Diversification builds officer resiliency through challenging environments where personal and professional growth is imperative. In the move to large scale ground combat operations, it is imperative to understand how to properly utilize multiple types of BCTs to enable integration on the battlefield. An example of this would be the 25th Infantry Division, which is comprised of two Infantry BCTs, one Stryker BCT and one Airborne BCT.
Disadvantages of Diversification
Disadvantages of diversifying include having a broad knowledge base that is not necessarily deep enough for an officer to be a subject matter expert in a particular weapon system, as well as the fact that during the initial period of an officer being in a position there will have to be a large amount of on the job learning. This period of learning the new weapon system takes time and creates opportunities for costly mistakes. Diversifying may not utilize the skills and talents that the Army has developed in certain officers for more than one assignment and therefore wastes time and money. One example would be the Bradley Fighting Vehicle (BFV) equipment training, which takes 304 hours to complete. If an FA officer only utilizes this training during their time as a company or battalion level fire support officer and then switches to a BCT that does not utilize BFVs, the officer is no longer able to use the skills that the Army has spent time and money to develop. Finally, diversifying may not allow the officer to align their personal and professional goals with the needs of the Army.
Advantages of Pigeonholing
Pigeonholing into a specific weapon system can have advantages. FA officers have the opportunity to become subject matter experts in a particular weapon system, making their use more effective, efficient and lethal. Malcolm Gladwell argues this theory in his book Outliers, where he states that to become an expert in something you must spend 10,000 hours of time or 10 years practicing at it. This is only possible if an officer remains in the same weapon system throughout their careers building on both tactical and technical knowledge. Becoming a subject matter expert on a weapon system can make the difference not only in the garrison environment but also on the battlefield where the artillery serves as the most casualty producing weapon.
Disadvantages of Pigeonholing
One of the largest disadvantages of an officer pigeonholing themselves into a specific weapon system is that the initial assignment that an officer receives at the Lieutenant level can limit future broadening opportunities if the officer does not diversify in follow on assignments. Many career strengthening opportunities may lie in transitioning to a different weapon system. FA officers should continually seek personal and professional growth, which may require the officer to step out of their comfort zone and switch to a different type of BCT. When it is time for an FA officer to take command at the battalion or higher level, the only opportunity to command could potentially be in a weapon system that the officer is not familiar with. This places the officer at a marked disadvantage compared to their peers.
FA CCC 1-20 By the Numbers
FA Captain's Career Course (CCC) class 1-20 was the first FA CCC class to go through the new AIM 2.0 marketplace. Of the 54 officers in the class, 40 were active duty officers who would PCS to a new duty station upon graduation. Of the 40 officers, 22 officers received assignments where they would be transitioning to a different weapon system. Eight returned to their original weapon system, four chose SFAB assignments and six chose branch immaterial assignments. 55% of the officers in the class have assignments where they would diversify, even though there was no diversification forcing function within AIM 2.0.
Conclusion
If HRC or DA PAM 600-3 does not give clear guidance, FA officers will divide between the two models, resulting in officers who cannot diversify due to limited billets filled by officers who choosing to pigeonhole. Officers who want to pigeonhole can also struggle as they must vacate their desired positions in order to make room for diversifying officers. Diversification or pigeonholing only work as career progression models if the FA community widely accepts one of them. The ATAP and DA PAM 600-3 must communicate and present a clear picture to all FA officers on how to best manage their career progression and what will provide them the best chance of success.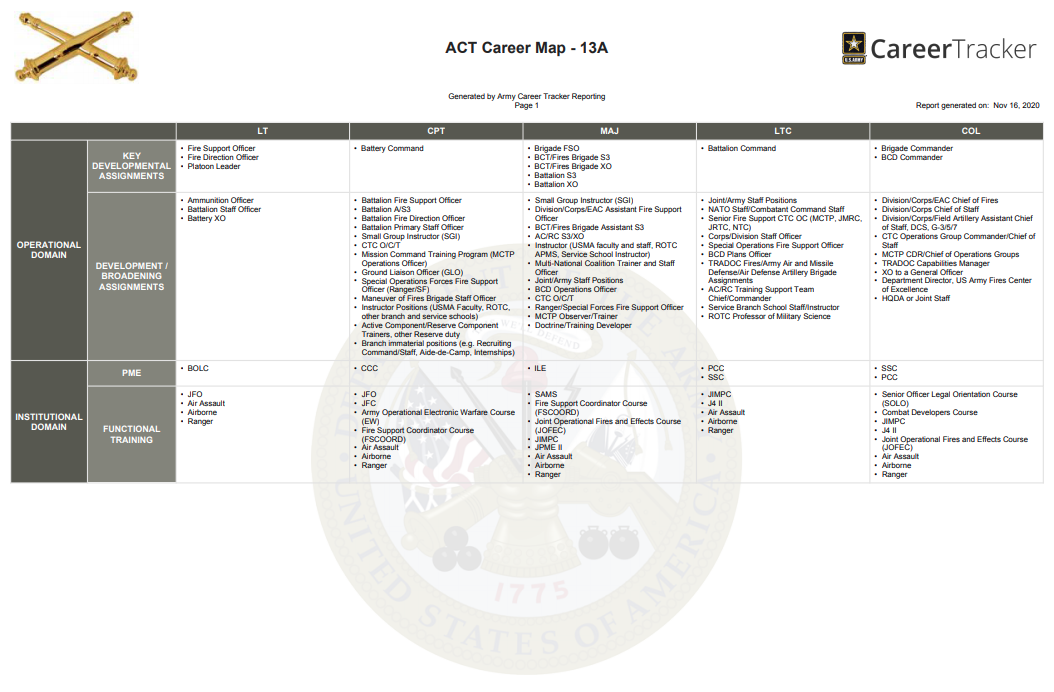 About the Authors:
CPT Jennifer Melfi is currently the Fire Control Officer for the 4th Infantry Division Artillery at Fort Carson, Colorado. She previously served as a brigade assistant fire support officer for 1st ABCT, 3rd ID, company fire support officer for 1-64 AR and platoon fire direction officer for 1-41st FA, 1st ABCT, 3rd ID Fort Stewart from Dec 2016 to Oct 2019.
CPT Marc Melfi is currently the squadron fire support officer for 3-61st CAV, 2nd SBCT 4th ID at Fort Carson, CO. His previous assignments include division assistant fire support officer for the 4th Infantry Division, platoon leader and battery fire direction officer for 1-9th FA and company fire support officer for 3-15th IN, 2nd ABCT, 3rd ID at Fort Stewart, GA.