Voices of 1918; Captain Harry S. Truman's Combat Experience in World War I - Part 1 of 5
Prologue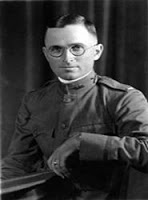 1LT Truman
This could be entitled Combat as a Political Training Ground, because that is exactly what the future US President took home from the war: the experience and training to effectively lead America out of one of the most turbulent and violent times in world history.
What I remember most about Harry S. Truman was that when I was attached to the Infantry School at Ft. Benning, I had to stand outside on parade for a two hour memorial service for him after he died. I was in the Army 'Class A' dress uniform which was much too light weight for that particular winter's day. The Georgia winter of 1972/73 was a cold, cold winter by all standards.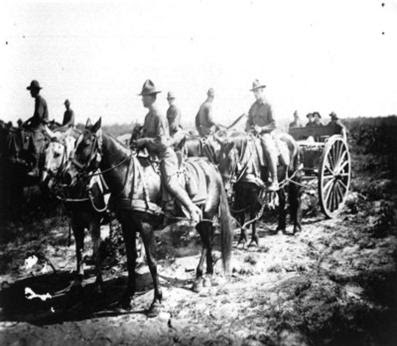 US Field Artillery with horse-drawn 75mm gun
Aside from that, as I recall from my history studies, he was a rather small, bespectacled, softly spoken man, full of homey charm and witticisms. "The buck stops here." and "If you can't stand the heat, you better get out of the kitchen." are two quotes that I have heard attributed to him. Both of which fit well with what I understand about him. As do his hobbies, which were music, reading and history.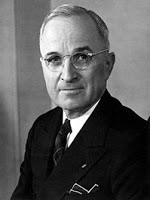 President Truman
An in-depth look at Truman's battery and battalion paperwork, including operations orders and reports, when combined with the extensive oral histories of his Soldiers, records of other Officers in his unit, and his own letters reveal an extremely intense picture of the future president's time in combat. That he was the tough Commander-in-Chief who ended WWII with the dropping of the atomic bombs on Japan always seemed out of character for him. That he was truly an unsung hero of WWI continues to astound me.
So let's get to the story.



The Prelude to War
Like many men of his era, Truman didn't take no for an answer when it came to serving his country. His childhood dream was to serve in the Army and to attend the United States Military Academy at West Point, but he failed the vision exam. His response was to memorize the eye chart and join the Missouri National Guard, with whom he served in from 1905 to 1911. He did his time, fulfilling his enlistment obligation and easing his self-imposed need to serve. However, at the outbreak of hostilities in Europe, he re-enlisted and shipped out with his friends as an enlisted man.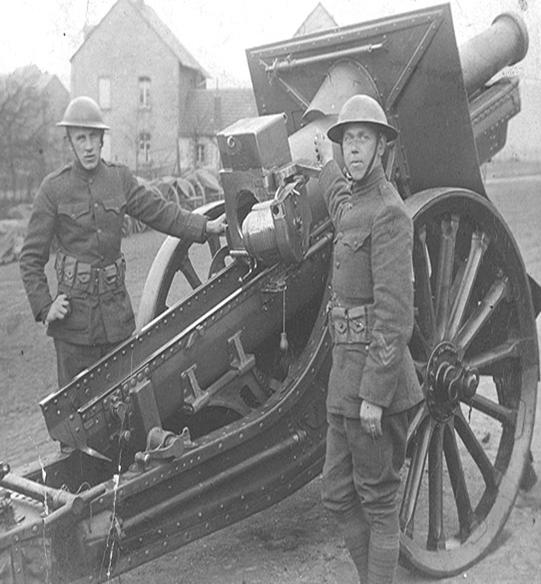 US Field Artillery
Truman's abilities and potential were recognized and he was commissioned an Officer, eventually being promoted to Captain in France and being appointed the Company Commander of Battery D, 129th Field Artillery, 60th Brigade, 35th Infantry Division. Battery D was composed of 188 men, 167 horses and a complement of French-designed 75mm guns. The unit was well known for it's lack of discipline. As Truman remarked, they were predominately "Irish Catholics" and were "historically rowdy."
~ As I am an Irish Catholic male, I can assure you, reader, that 'rowdy' is a rather polite word that well describes most of us... me, admittedly, included. ~
According to Fred Bowman, "Captain Truman was assigned over to Battery D, but he got a hold of a bunch of drunks who were all under arrest in quarters. Well, that was his initiation to Battery D." The battery had been under arrest and accordingly confined to quarters. They were not under guard and there was a unit birthday, so they, naturally, decided to go out anyway and have a party in the local village. They were originally under confinement for being drunk and disrespectful, so when they went to the party they only got drunk. But they were 'respectfully' drunk when CPT Truman found them in their condition.
As stated by Mr. Leigh, "...and the next morning, on the bulletin board, about half of the non-coms and most of the first class privates were busted."
CPT Truman was in command by assignment but in control by deed.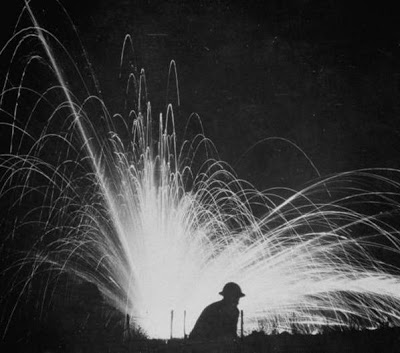 Incoming artillery fire on a US position
The Battle of Who Run
Prior to deployment, all the Artillery units had only trained on US guns, but once in theatre, they found that the need for guns surpassed the inventory. The Art'y (old military slang for artillery) was needed on the lines, so Battery D was issued French-designed 75mm guns. They spent an intense couple of weeks training on them before moving up. Then their assignments and missions were gradually scaled up in increments before getting to the real war.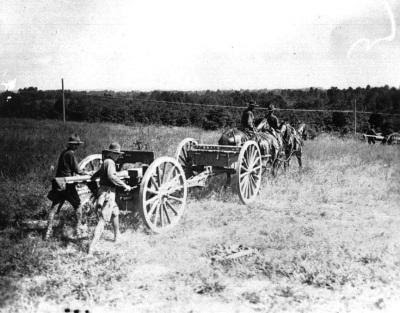 US Field Artillery; 75mm gun being deployed
It was late summer before they were sent on their first serious operation. It was in a defensive capacity near the village of Kruth in "Foret de Herenburg" [Truman, 23 Nov 1918 (note misspellings)] in the Vosges Mountains. It was meant to be a low intensity live fire exercise more than an enthusiastic exchange of munitions.
But, as they do, events do not always match up with plans. When faced with an unexpected incoming artillery barrage, the men of Battery D panicked and broke position, some hiding and some starting to flee.
Truman regained order by firmly standing his ground in the open and using profanities that burned the ears off the troops, them being the good Catholic boys that they were. Those who had not completely run off were shocked back into control by the outburst. They reassembled and Truman led them in an orderly withdrawal.
This was a serious attempt by the Germans to rid the battlefield of their presence; however, it didn't work as there were no casualties of any kind. Nonetheless, they had some interesting experiences. In his letter to Bess on 1 Sep., 1918, CPT Truman described how a high explosive shell impacted '15 feet' in front of him.
In the Captain's own words, "The boys called that engagement The Battle of Who Run, because some of them ran when the first sgt did and some of them didn't. I made some corporals and first class privates out of those who stayed with me and busted those who fled." (Truman, 23 Nov, 1918)
In oral histories, the Battery members recalled that First Sergeant Meigs Woolridge was meant to bring up the horses to pull the guns out of a firing position after laying down a 30 minute barrage. It was night time and counter to common sense the Top turned on his flashlight to find the firing position. This drew immediate counter-battery fire. In a blind panic, the First Sergeant deserted his post under the incoming fire, provoking a near rout. He was demoted to private but he could have been court-martialed. As recalled by Walter Menefee, "This first sergeant got so scared that he ran back eight miles to the echelon and I've never seen him to this day. The next day the Captain stripped his stripes and transferred him and I don't know what ever become of him."
Note: In this engagement, the only injuries were the blisters on Woolridge's feet after he ran the eight miles to the rear.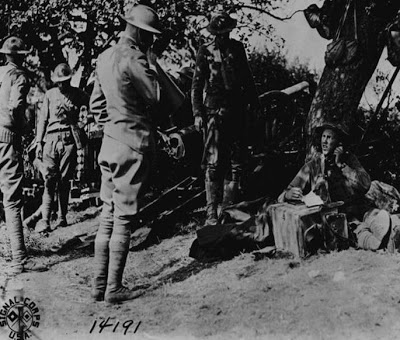 Artillery Observers, 1918
From there they went on to serve in the Saint Mihiel campaign building knowledge and experience, preparing for the big push they knew had to come.
They didn't have a central part of the fighting there but they did get a taste of the receiving end of artillery with incoming shells hitting around them. The men also saw the aerial bombing of several cities as well as the effects of sustained combat.
Originally Posted on dubbedpubs-withhonors Blog - to continue reading part 2-5 go here.