Operations to Shape & Prevent: A Paladin Battery's Role in the EUCOM Theater
Operations to Shape & Prevent:
A Paladin Battery's Role in the EUCOM Theater
At the turn of the decade, the re-emergence of peer-to-peer or near-pear conflicts began to dominate short and long term strategic and tactical mind set of the Army. An emphasis on readiness, posture, mobilization capabilities, and system modernization has resulted in the Army growing past the counter-insurgency (COIN) fight, and turning its focus back towards decisive action campaigns. Among the Army's top modernization priorities is the Field Artillery, which stands to benefit and provide the most from this essential arms race. Increased range, accuracy, speed, and durability of systems has caused the worldwide Artillery community to reassess their means at regaining their advantage. This constant ebb and flow of has invariably opened up new ways and means in how this advantage can be maintained. Today, American Field Artillery units of varying capabilities are positioned around the globe to fulfil an aspect of the Army's new strategic thinking. On tactical levels, artillery units are poised ready to support their maneuver partners in the close fight. At strategic levels, these artillery units are a way of projecting the Army's lethality at range, providing a deterrence effect towards our adversaries. This could not be truer of the mission assigned to rotationally aligned force units in the EUCOM Theater.
In October 2019, the 2nd Armored Brigade Combat Team, Black Jack, of the 1st Cavalry Division deployed to the EUCOM Theater in support of Operation Atlantic Resolve. Among the units deployed, Alpha Battery, call sign "ATTACK", of the 3rd Battalion, 16th Field Artillery Regiment, was positioned in Grafenwöhr, Germany (GTA) to provide indirect fire support to the Tank Battalion Task Force, call sign "MUSTANG". Although separated from 3-16 FAR proper and its organic headquarters in Toruń, Poland by 500 miles, Attack Battery and its six 155-millimeter M109A6 Paladin howitzers stood poised, ready to train and react to any mission that presented itself. The presence of Black Jack Brigade's units across EUCOM demonstrated NATO's effort to continue to prevent future conflict and to shape the operational environment. Intrinsically, the Field Artillery activities that we have contributed to in conflict prevention while in Germany are force tailoring, flexible response, flexible deterrence, and force projection. During its rotation to EUCOM, Attack Battery demonstrated its role, albeit small, within each of these facets.
Upon receipt of their deployment order, Black Jack was slated to participate in Operation Combined Resolve (CBR) XIII at the Joint Multinational Readiness Center (JMRC) in Hohenfels, Germany. Initial requirements for force packages to participate called for one field artillery Battery and its headquarters element. Due to their position in theater, Attack Battery was assigned this mission. Black Jack made a decision to create a Task Force to accomplish the overall mission, to include the addition of a Cavalry Troop and an Engineer Company. This Task Force became known as Task Force Mustang and demonstrates Attack Battery's role within this force-tailoring construct. Our placement alongside organic towed and rocket batteries permanently stationed in Germany, has provided commanders access to the entire complement of American artillery capabilities.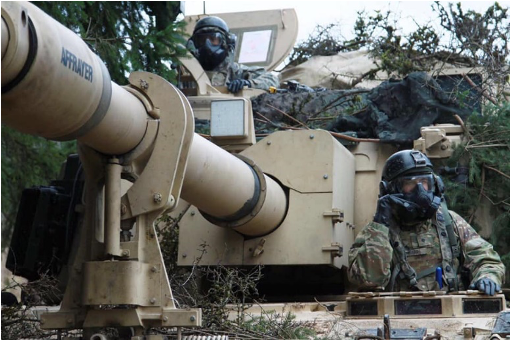 Initial assumption of the mission required the entire brigade to complete a 10-day "Fit-to-Fight" readiness validation to start its deployment. This validated weapon qualifications, system operability, personnel and property accountability, command post establishment, and supply chain establishment. In order to meet training glide path for qualifications required for CBR XIII, Attack Battery was tasked to rapidly requalify within two months using a gated training strategy model. Immediately upon completion of the 10-day "Fit-to-Fight", Attack Battery executed Artillery Tables I-VI, qualifying all six howitzer crews and two fire direction centers, and became the first unit within 3-16 FAR to shoot indirect fire in theater. Two weeks later, Attack Soldiers transition to Forward Operating Site (FOS) Toruń and conducted Artillery Table XII, qualifying both platoons. The rapid movement of troops to a FOS Toruń, also known as Camp Saint Barbara, displayed the unit's ability to react to an ever-changing environment to meet mission requirements. Following relocation back to GTA, Attack Battery prepared for and completed AT XV two weeks later, fully qualifying the Battery prior to CBR XIII. Attack Battery's training progression from Fit-to-Fight through ATs I-XV demonstrated capabilities necessary to be part of a credible flexible deterrent. The unit's ability to quickly train, certify, and qualify exemplifies, on a much smaller scale, the lethality required for a flexible response option in countering adversary actions.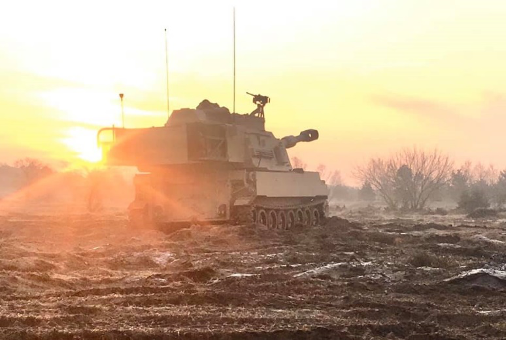 On a larger scale, the unit's participation in CBR XIII displayed to our NATO partners our commitment to the multinational partnership. Soldiers from Poland, Netherlands, Romania, Latvia, and Italy, together, training side by side, demonstrated how an armored brigade combat team could project its force across the theater. Although, CBR XIII was just training, the live and simulated enemy forces created a realistic near-peer threat that Attack Battery had to engage with timely and accurate fires.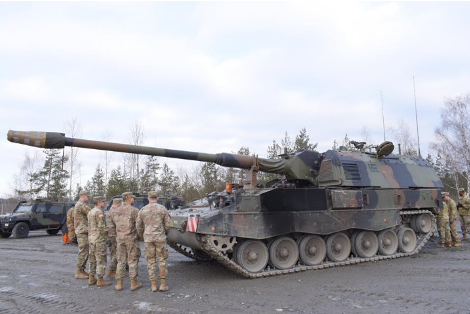 Attack Battery operated within moderately difficult terrain in GTA, providing accurate joint-live artillery fire in support of TF Mustang's advance, accomplishing the live fire exercise alongside an Italian Artillery Battery outfitted with six, Panzerhaubitze 2000s (PzH 2000,. Within three days following the completion of the live fire, Attack Battery prepared and loaded their equipment onto line haul trucks and shipped them to Hohenfels Training Area (HTA) for the force on force exercise. With Black Jack now partnered with Dutch and Polish armor units, Attack Battery was now the only physical Battery present during the 10-day operation.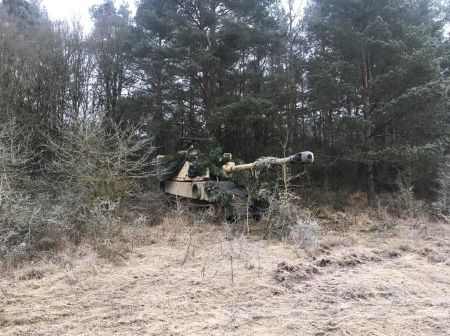 The unit performed exceptionally well, maintaining the ability to mass its firepower throughout the exercise. Although setbacks occurred, Soldiers and Leaders within the Battery adapted and excelled at the challenge, increasing unit readiness, lethality, and solidarity with our multinational partners.

Attack Battery has accomplished much in the last year and a half leading up to this point, beginning with a Brigade Force on Force exercise in January 2019 (Pegasus Forge IV), where the Battery first demonstrated its ability to fire accurately and timely. From there, two deployment sequences to the National Training Center (NTC) and to Europe, followed by an expedited Artillery Tables I-XV, all culminated in the successful execution of CBR XIII. The success had by the Battery while deployed to Germany has nonetheless demonstrated the proficiency, tenacity, and professionalism of our armed forces. The result was a Battery poised and ready to act as a deterrent, prevent conflict, and if necessary, react swiftly and lethally to any sudden enemy threats in Eastern Europe.