OTD-S' commitment to establishing creditable Technical Manuals
Date posted
April 28, 2021
OTD-S' commitment to establishing creditable Technical Manuals
Introduction
Technical Manual (TM) valid-ation and verifications have been a long-standing part of the Army's success. It allows Soldiers and Defense Partners to come together and verify the accuracy and functionality of the TMs for an Army system. This process ensures the Army receives the highest quality product for use in its operations. The Ordnance Training Detachment – Sill (OTD-S) has conducted two TM verifications throughout 2020. One for the AN/MPQ 64 A3 Sentinel Radar and one for the AN/TPQ 53 (v)3 & (v)4 Multi-Mission Radar (MMR).
The military and civilian Subject Matter Experts (SME) of OTD-S worked closely over several months with the Combined Arms Support Command (CASCOM), Army Aviation and Missile Command (AMCOM), Program Executive Office Missile and Space (PEO MS), Lockheed Martin, and Raytheon to ensure that the information used by our 94M Radar Repair Soldiers in their TMs are up to date with the latest changes to the radar systems.
AN/MPQ 64 A3 Sentinel
Beginning on 30 March 2020 and spanning a duration of two months, Mr. Andrew Sabol and SSG Daniel Padilla participated in the TM verification for the Sentinel Radar. Due to COVID restrictions, they accomplished this task virtually. The duo verified, corrected, and updated 25 to 30 work packages a day, totaling 100 work packages. This included correcting procedures within the U.S. Army's electronic Interactive Authoring and Display Software (IADS4) program, a daunting but much needed task.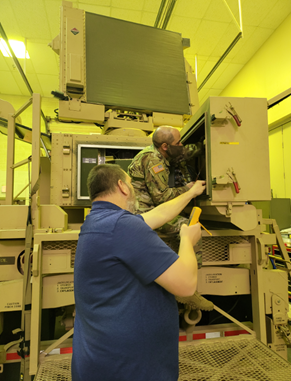 AN/TPQ 53 MMR
Under pandemic restrictions, two OTD-S Soldiers left from Fort Sill and made the journey to Syracuse, New York, to work with Lockheed Martin. Their mission, TM verification for the AN/TPQ 53 MMR system. Over a ten day period, SSG Christopher Aucoin and CPL Adolfo Moran worked to verify order of operations on work packages, validate 52 voltage check procedures, and 15 remove and replace procedures. The team leveraged their know-ledge of AN/TPQ 53 instruction at the 94M Radar Repairer Course to better guide the writing and methods outlined in the manual.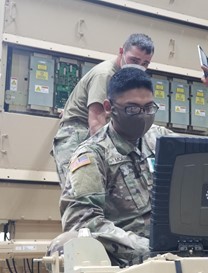 Conclusion
OTD-S is committed to working with our Defense Partners to provide the Soldiers in the field with the most accurate and up to date information. This process also ensures that the Soldiers taught today are ready to win the fight of tomorrow.
About the Authors:
Mr. Andrew Sabol is currently serving as a civilian Instructor /Writer at the 94M Radar Repairer course. He retired from the Army as a SFC after 21 years of active service. He served as a Radar Maintenance Supervisor and Avenger Repairer.
SSG Christopher Aucoin is currently serving as a 94M Radar Repair Instructor at OTD-S. He has 12 years of active service in various positions across maintenance.