Back to Events
Event Details
REGISTRATION NOW OPEN! Run, Ruck, Walk, Bike, Hike, Swim or Ski your way "virtually" along the original trail Henry Knox and his men took as they brought the first cannons from Fort Ticonderoga to Boston and formed America's First Field Artillery!
The 1st- Annual King of Battle Challenge will start on 17 November, 2020, the 245th Anniversary of the Birth of U.S. Field Artillery. What better way to show your commitment to the FA Branch and fitness. To participate in the Challenge click the registration link above on this event page.
You must create an account on myvirtualmission.com. From your new account, you will be able to select King of Battle Challenge - Noble Train of Artillery Event to register and pay. Once you are paid it may take up to 24 hours for you to be confirmed and accepted into the challenge.

Challenge will begin on 17 Nov 2020 at 0900 CST. You may sign up and register in advance but your miles will not start tracking until the start time.

Please take advantage of the profile photo feature. We encourage using a photo of yourself or a unit crest/insignia. You can choose if others are able to see your stats and progress or keep it private.

The first 100 finishers will be featured in the FA Journal. The first 500 finishers will receive a custom medal upon completion of the miles.

Your medal will be mailed to the address you submit upon finishing so please use a good mailing address when registering. Medals will be sent Fed Ex within 7-10 business days of notification of participant's finish date/time.
Tag & Challenge your friends, and don't forget to share your progess and tag us #KINGOFBATTLECHALLENGE !
For More Information:

758 McNair Ave
Fort Sill, OK 73503
580.355.4677
Non - Members : $30.00
Members save $5.00 : $25.00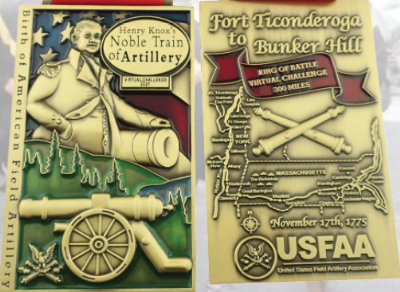 The First 500 finishers will receive this Medal!