Tattoo of MG Mark McDonald, US Army Retired
2023
---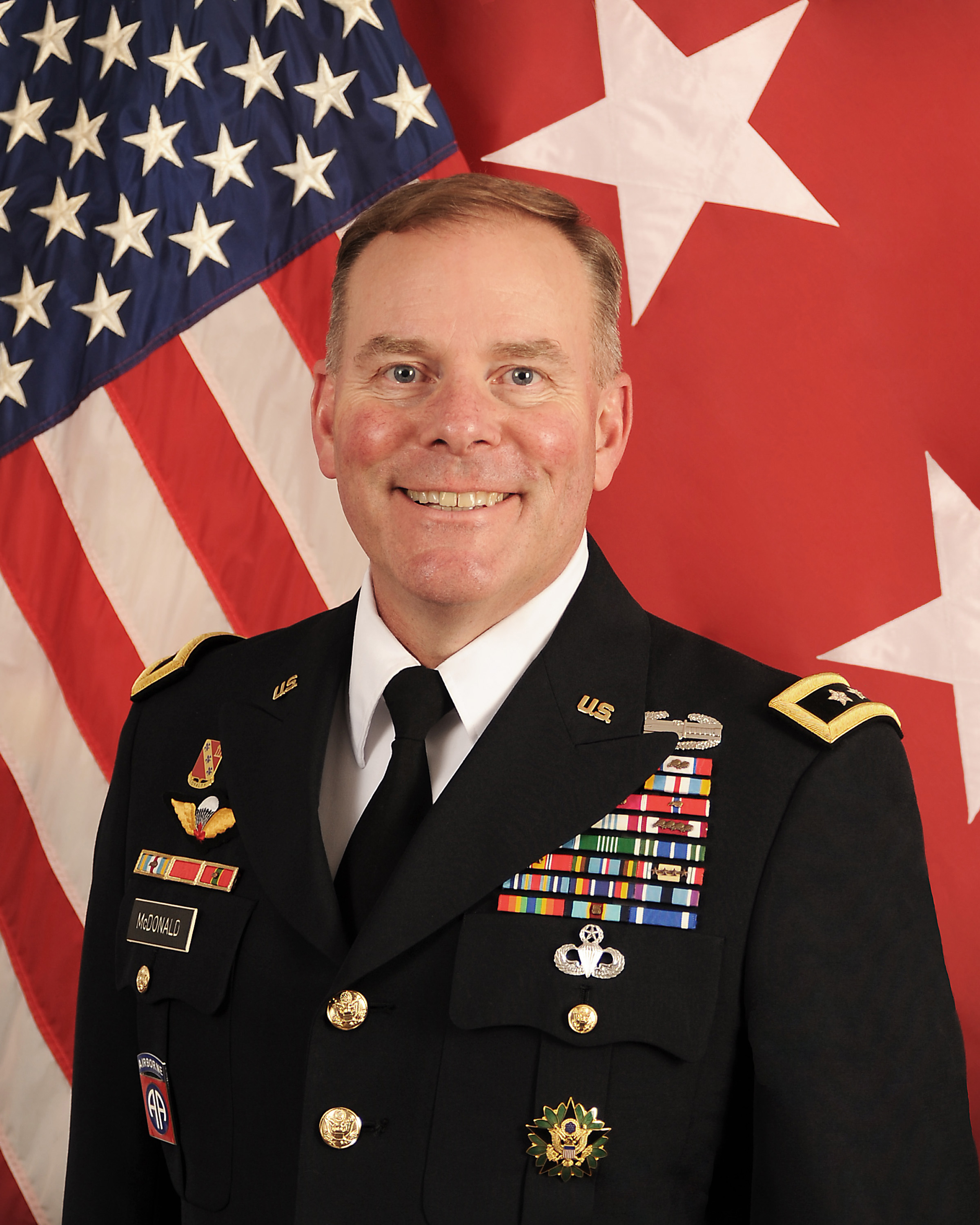 Chattanooga Choo Choo – Glen Miller Band
Mark McDonald was born on May 17, 1958, in Athens, Tennessee. Mark's Father was a Methodist minister and they moved around quite a bit when Mark was young. They lived in several different cities in Tennessee and Southern Virginia. In 1964, when Mark was six, the Family settled, and Mark spent the rest of his formative years in Chattanooga. He spent his time away from school hiking, camping, swimming, and waterskiing in the mountains and lakes of south-eastern Tennessee. When Mark was at Red Bank Highschool he was introduced to the JROTC program and fell in love with the military lifestyle. He felt like the instructors were his kind of people and wanted to learn more. He credits his early instructors, Sergeant Major Loner B. Westmorland, Master Sergeant Jim Hash, and Master Sergeant Corkey Howland, for putting him on track for a career in the Army. Mark graduated with the class of 76 and would head off to the University of Tennessee at Chattanooga on a ROTC Scholarship in the fall of 1976.
When Mark was at the end of his senior year of High School, he was out on a date with a girl, and met Connie, who attended a rival high school, and who was out on a date with another boy. They both noticed each other, but it wasn't until three months later when they were both at the UTC campus that they saw each other again. They started dating in their freshmen year and dated for two years before getting married on May 14th, 1978. Three weeks later Mark departed for Jump School.
All the Way (The Jump Chant) – 82nd Airborne Chorus
Mark McDonald was commissioned into the Field Artillery on 3 May 1980. After the Officer Basic course at Fort Sill, the McDonalds got their first unit assignment, 1st Battalion (Airborne) 509th Infantry, D Battery, Vicenza, Italy. (Then CPT) Jay Hood was the battery commander and the unit trained in 10 different countries across Europe. While the training was difficult, Mark learned so much about Fires Support during that assignment. Mark served as a Company Fire Support officer, Battalion Assistant Adjutant and later the Fire Direction Officer. Their time in Vincenza offered many professional opportunities for Mark as he went to jumpmaster school, earning his master jump wings and his Italian jump wings. There was also personal growth for the family as their son Lance was born on September 29th, 1981.
82nd Airborne Song (All American) – 82nd Airborne Chorus
January 1984 found the family headed back to Fort Sill for a brief stay so Mark could attend the Advanced Course. He was promoted to Captain and in September 1984 they were on the move again, this time to Fort Bragg, NC and the 82d Airborne Division, 2nd-321st FA. Mark first served as the Battalion Fire Support Officer followed by Commander of HSB 2-321. He then commanded B BRTY. While in command, the unit reflagged and became the 3rd-319th FA. The training was frequent and rigorous, but Mark thoroughly enjoyed honing his skills and being an "All American". While at Fort Bragg, the family welcomed their daughter, Lauren, who was born on June 2nd, 1985. The McDonald's departed North Carolina as a family of Four.
Blue Canadian Rockies – Jim Reeves
May 1987 saw the McDonalds heading abroad again, this time to the great white north, serving as a U.S. Exchange officer to Royal Canadian Artillery School, Canadian Forces Base Gagetown, Oromocto New Brunswick. It was an eye-opening experience for him. He had to learn the Canadian Artillery systems and teach it to their students. Mark got the opportunity to earn his Canadian jump wings and made his 100th Jump while in Canada. The Family enjoyed the Canadian outdoors, although they had to upgrade from tent camping to a camper due to the weather. Both Lance and Lauren participated in the Canadian scouting programs and Mark even had the opportunity to play hockey!
The Caisson Song – US Army Band Circa 1940
At the urging of MG Ralph Halladay, the McDonald clan moved back to Fort Sill in May 1989 and Mark became a Gunnery Department Instructor at the U.S. Field Artillery School along with his good friends, John Haithcock and John Tanzi. While at Fort Sill, Connie decided to pursue a degree in History at Cameron University. She chose to do an extensive research project on the person behind the story of Molly Pitcher. Through her research it was determined that the woman's name was Mary Hays McCauly. not Mary Ludwig Hays. Even though there had always been several women that were considered as "Molly Pitchers during the American Revolution" though Connie's findings the Field Artillery branch recognized McCauly, as the official 'Artillery Molly' from that time forward. Connie turned her research paper into an article and was the first Spouse to ever be published in the Field Artillery Professional Bulletin. The following year, in May 1990, Mark had the opportunity to serve as the XO to the Assistant Commandant, (then BG) Tommy Franks. However, for most of the first year Franks stayed with the 1st Cavalry Division and deployed to Desert Storm. COL Marshall McCree ran the Assistant Commandant's office, with Marks help, and they kept everything running smoothly until BG Franks arrived.
California Dreaming – Mommas and Pappas
In 1991, the McDonalds moved to Fort Leavenworth to attend Command and General Staff College, where he was promoted to Major. After graduating, in May 1992, MAJ McDonald served as an Infantry Brigade Fire Support Officer in the 7th Infantry Division and Operations Officer for 2nd-8th Field Artillery. Then, as the Regimental fire support officer 9th Infantry Regiment and the S3 for 2-8 FA. Since being a major didn't exactly excite Mark, he was hoping for a weak BN commander so he could step up, do things his way, and learn what it takes to be a LTC. Except that his BN Commander was none other than (then LTC) Raymond Odierno, who was not a weak commander in the least! LTC O became Mark's life-long friend and mentor. Mark took to heart the lessons learned from LTC O and modeled his own command style that way. During his time with the 2-8 FA, the 7th Infantry Division moved to Fort Lewis, WA, due to BRAC and the closure of Fort Ord.
Traditional German Band Music – The Bavarian Band
Mark was then selected to be an Operations officer at the George C. Marshall Center, Garmisch Germany working on Eastern European Security. In May 1996, the family left for the two-year assignment in the German Alps. While there, Mark earned his German Jump Wings. The McDonald Family took the opportunity to travel around Europe and learn to ski in the mountains. Mark also learned of his promotion to Lieutenant Colonel and that he had been selected for Battalion command back at Fort Bragg.
Thunderstruck – ACDC
The McDonalds were happy to learn they were going back to Fort Bragg, however 3d battalion, 319th was the only BN that was not Airborne Field Artillery. Mark says he felt like someone had "shot his dog" but the battalion ended up being great. In the end, his only disappointment was that he had to wear a regular hat, not the maroon beret of the Airborne. Battalion command turned out to be challenging but highly rewarding for McDonald, and he even managed to earn German jump wings.
Traditional Bosnian Dance Song – The Sarajevo Serenade Group
Next stop was the U.S. Army War College, at Carlisle Barracks in Pennsylvania. Lance graduated from High School in Pennsylvania and went on to Middle Tennessee State University. After Mark's graduation from War Collage, he was assigned to Army Staff at DCSOPS, (now the G3) Army Initiatives group at the Pentagon. He also did a six-month tour of duty in Bosnia as the Entity Armed forces Inspector General for NATO. Mark found that Bosnia was a beautiful country, and the people were warm and welcoming...well, except to each other. While in Bosnia he was promoted to Colonel. He was frocked in the same hotel suite where Archduke Ferdinand spent the last night of his life before being assassinated which sparked WW1.
Like A Rock – Bob Seeger and the Silver Bullet Band
Commanding at Fort Bragg was becoming the trend with (then COL) Mark McDonald. In May 2001, he became the DivArty Commander, 82d Airborne Division Artillery, 319th FA Regiment. On 11 September 2001, the world stood still as terrorists invaded America's peace. The Army was deploying a lot of troops, and everyone knew the 82nd would be a part of it. The following months were spent training Artillery batteries to shoot 120mm mortars for fire support because the Army wasn't sending artillery equipment to Afghanistan. The Division eventually did get Artillery into Afghanistan. During his command, Mark was responsible for deploying two battalions to Afghanistan, one battalion to Iraq and he and the Fire Support Element, deployed with the Division headquarters for the Invasion of Iraq. All his paratroopers returned from combat. Upon his redeployment, Lauren graduated from High School and prepared to attend the University of Tennessee. COL McDonald made his last jump at Fort Bragg, jump number 122, in 2003. In May of that same year, he became XO to the Army G3, LTG Dick Cody, at the Pentagon and the family spent another year in Washington, DC.
Oklahoma – Rodgers and Hammerstein
Mark was offered the Chief of Staff job at Fort Sill working under (then MG) David Valcourt in 2004. He jumped at the chance to work for MG V and the family headed back to the Mecca of the FA. A year later he became the Assistant Commandant, US Army Field Artillery School. This was a BG level position, but Mark filled the position as a Colonel even though he hadn't made the promotion list yet. It wasn't until he arrived at his next duty station, Fort Hood, that he was promoted to Brigadier General.
In May 2006, LTG Ray Odierno, CG of III Corps, assigned Mark as the DCG Fires at III Corps, Fort Hood. They deployed together with the Corps to Iraq for the surge from November 2006 through February 2008. The McDonald's first grandchild, Max, was born while Mark was in Iraq. Upon redeployment, he was promoted to Deputy Commanding General, 3d Corps.
Every Army Family has a system of communication when a spouse is deployed downrange. For the McDonalds, it was just a quick text or email with the subject line "I'm OK". This would be so that no matter what the news reported back in the states the Family would know that Mark was unharmed. On November 5, 2009, the reverse happened, and Mark woke up to a message from Connie saying, "I'm OK". He turned the news on only to find out that 13 people had been killed by a gunman on Fort Hood only 200 yards from the office where Connie was. Since the post had shut down and communication was limited, while Mark was incredibly sad for his Fort Hood family he was relieved to know Connie was safe.
Army Strong - U.S. Army
Again, Mark McDonald was called upon to become the Deputy Commander, MNSTCI, Iraq by his friend GEN O. By this time the Army mission was heavily focused on training and equipping Iraqi forces so they could defend themselves. Mark was promoted to Major General and in March 2010 became the Operations Director, J3, United States Forces Iraq. Towards the end of his time as the Ops Director, Mark took some leave to come back to Tennessee for his Daughter, Lauren's, wedding, welcoming Karl to the family.
MG McDonald returned from Iraq to serve as the Commanding General, United States Army Cadet Command and Fort Knox, KY in October 2010. He enjoyed the job and working with young cadets who would become the future leaders of the Army. Their time in Kentucky, being close to friends and family in Tennessee was nice after spending the last few years in Iraq.
Goin' Back To Oklahoma - Eddie Meduza
On his fifth tour to Ft Sill, where his Army career began almost 32 years prior, Major General Mark McDonald became the Commanding General of the US Fires Center of Excellence and Fort Sill OK in 2012. This was a sweet homecoming for the McDonald's, and they relished being part of the Lawton Fort Sill Community again. They took part in many local and on post activities. One of the biggest projects was the Welcome Home Reunion for Vietnam Veterans in 2013 to mark the 40th anniversary of the end of the war. About 200 Vietnam veterans and their families from across the country were honored throughout the day with a variety of activities on post. McDonald had a great team including (then BG) Brian McKiernan who was serving as the FA Commandant. He concluded his command at Fort Sill in 2014.
Travelin' Man – the Allman Brothers
Mark and Connie moved to Redstone Arsenal, and Mark became the Commander of the United States Army, Security Assistance Command. In this role he traveled to 49 countries and was responsible for coordinating the sales of US Army equipment to our Allied countries. He was on the road a lot, but it was the prefect transition out of the army because he made many contacts and learned much about the defense industry.
After 36 years of patriotic service to his country, 27 different addresses, 122 jumps, and awards including 3 Distinguished Service Medals, 4 Legions of Merit, 2 Bronze Star Medals, Combat Action Badge, and U.S. Master Parachutist badge as well as parachutist badges from Italy, Canada, and Germany, in August 2016, Major General Mark McDonald retired in a Ceremony on the old post quadrangle at Fort Sill. His official retirement date was 1 Sep 2016. When asked about his favorite memory looking back on his career in the Field Artillery, he stated that it was the comradery and pride among his fellow Redlegs that stuck with him the most. No matter where they were sent, the community of fellow Field Artillery families made it feel like home.
Rocky Top – The Osborne Brothers
Mark and Connie now live in Monterey TN, at the edge of the Smokey Mountains, on an idyllic lake. In 2021 their son Lance was married in California, welcoming Mary to the family. Mark and Connie travel frequently around the country in their camper visiting friends and love spending time with their two grandchildren. Their second grandchild, Rose, was born in 2022. Of course, both Mark and Connie continue to give back to the Redleg community. Mark served a 3-year term as the immediate-past president of USFAA and Connie also served on the USFAA BOD for two years. She led the cause and helped develop the Esteemed Molly Pitcher Award to recognize the ongoing volunteerism and mentoring by Senior Spouses, the first new award offered by the association in over 50 years. Mark has also been appointed as the Honorary Colonel of the 319th (Airborne) Field Artillery Regiment. This is a position he serves proudly because in his heart he is forever airborne! If you ask Mark, he claims he's become a grill master, but Connie and the kids will tell you the only thing he can really make is a good paella. Besides his expert professional consultancy on artillery systems in the defense industry, his main occupation, in the hills of Tennessee, is that of a tractor operator.