Tattoo of MG Richard C. Longo
2023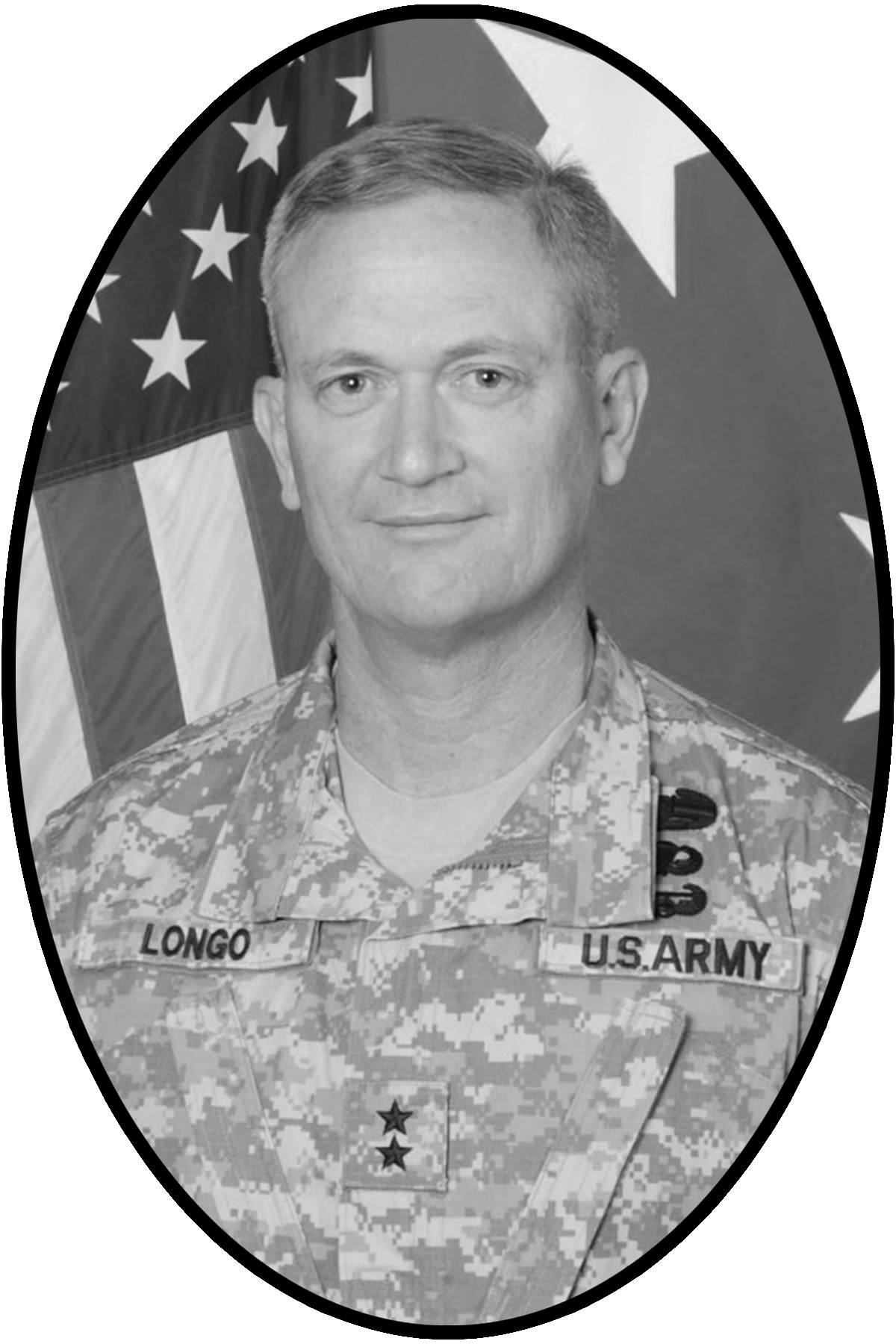 Walk of Life – Dire Straits
Richard C. Longo was born in Madison, Wisconsin, on June 29th, 1958. He was the fifth of six children born to Domenic and Marguerite Longo and the grandson of both Italian and Irish Immigrants. At the time, his father was a captain in the Chemical Corps branch of the Army and had been sent to the University of Wisconsin to get a master's degree in microbiology. The family didn't stay in Madison long, as most army families do; they moved when Rich was just six months old and then every two–three years after. While Rich's father's service inspired him, coming from a large family, college needed funding other than the family's savings. When Rich was in high school in Fayetteville, North Carolina, he applied for an Army ROTC and Navy ROTC scholarship. He claims he wasn't good enough to get the Navy scholarship but was blessed to get the Army one. After High School graduation, he enrolled at Furman University in Greenville, South Carolina.
More Than a Feeling - Boston
In his last year at Furman as an Economics major, he submitted his branch assignment packet as soon as he returned from ROTC advanced camp. At the time, he wasn't particularly enamored with field artillery, but when his professor of military sciences told him, "I got great news, you're going to Signal Corps," he rethought a combat arms assignment. At the time in ROTC, you could transfer from any combat support arm into a combat arm. He had done his Cadet troop leader training with a field artillery unit at Ft Carson. He knew he didn't want to be in infantry or armor, so he made the case that he should be in the field artillery, and that case was accepted.
Rocket Man – Elton John
Since Rich was late to branch because of the switch in assignment, he was put on the lance missile track. At that time, there were only two places to go, Fort Sill or Wiesbaden, Germany. In 1980, Rich went to the 1st – 133rd Lance Missile Battalion. While in Germany, he noticed a beautiful secretary working for his Battalion Commander. Diane was an American who held a GS assignment in Wiesbaden. When it came time for Rich to head to Fort Sill for the Advanced Course, the Battalion Commander, coincidentally, needed a new secretary. That BN Commander offered Rich a battery command at the last minute to stay in Germany. This could have been because he wanted his secretary back; the truth will never be known. You see Diane, in preparation for Rich to be in school at Fort Sill, had moved back to the states since her parents were in Arkansas. Diane arrived stateside only to pack her bags and move back to Wiesbaden. Upon return, Rich and Diane married in the town square, and together they spent five years in Germany. Diane already had a daughter, Jennifer, and their son Kevin was born in 1984. The Longos depart Germany as a family of four.
Ramblin Man – Allman Brothers
The Infantry Officer Advanced course was next, which was good for CPT Longo, he met great people and learned the maneuver side of Army business, which made him a better fire supporter. The friendships he made while attending the Advanced Course have lasted his entire career. As he drew close to the end of the advanced course, he called Branch, saying he needed to go to a Cannon unit, because he only had time in a lance unit. In the interim, the Army retired the Lance Missile, and units went away. Rich knew that to have a successful career in the Field Artillery, he would have to get cannon experience. Branch decided they were going to send him to a position for ROTC recruitment or reserve component training because he had already commanded a battery. CPT Longo thought about it and took ROTC recruiting.
Don't Stop Believing – Journey
The Longos were assigned to recruiting at the University of North Carolina at Wilmington and spent the next three years there. While serving in this assignment, the Army created a new rule that ROTC recruiting time would be four years. Rich thought to himself, "Holy Crap, I'm going to be in the Army for ten years and never have gotten experience in artillery that's still in existence." At this point, he thought his career as an Artillery Officer was over. It was then that he decided he was going to become a foreign area officer. He was a bit disappointed when he was notified that his language had been assigned as Serbo Croatian because, at the time, well before the Bosnian Conflict, he thought it wouldn't be important. However, he had orders to Monterey, which got him out of ROTC recruiting. However, the Army intervened once again, and he was called to the ROTC region commander's office in Fort Bragg. He drove up from Wilmington only to be told by the commander that he was "an effing idiot and he needed to be with soldiers." Rich agreed; he wanted to be with soldiers but recounted the new 4-year recruiting assignment rule. The Commander said that if he could find Rich a job within the FA, he would let him out of ROTC. Rich thought his best option would be to go to Fort Polk because no one wanted to go there or Fort Sill. After all, there were so many artillery battalions. He rationalized that he could work his way down and command a cannon battery and thus finally learn his trade.
The family arrived at Fort Sill, and Rich was assigned to III Corps Artillery. He thought he was on his way to finally commanding that cannon battery. However, when he signed in, the G1 said, "Oh, I see you've already commanded. We're going to put you on III Corps staff." To which Rich replied something undiscernible, but which came out as "Awesome!". This response led him to become the G3 of III Corps Artillery for two years and then the SGS at III Corps for another year, working for BG Frank Miller Jr. In the end, it turned out great because he not only got to work for a great guy, but they added to the family with their son Nicolas' birth in 1990 and a promotion to Major (even without commanding a cannon battery).
Carry on my Wayward Son – Kansas
The now MAJ Longo, having yet to serve in a field artillery unit that still existed in the United States Army, was off to Command and General Staff College at Fort Leavenworth. After a year at CGSC, he was assigned to Fort Hood. Hopeful this time because, again, lots of cannon units in 1st CAV and 4th ID, MAJ Longo wondered which one he was going to be assigned. However, he received another staff position at III Corps. Again, he said, "Awesome!" He went to the fire support element of III Corps. Observing all his friends getting branch qualified as majors, Rich kept plugging away on the Corps staff. The following year he was invited to interview at both 4th ID and 1st CAV for a job in a real artillery battalion. After getting assigned to 1st Cav, MAJ Longo was asked what he wanted to do. He replied that he'd like to spend a year as a fire support officer to learn his trade and then a year as a battalion S3. So, they made him the XO at 2nd-82nd FA Battalion. He felt he couldn't be too disappointed because he had no qualifications to do any of the other jobs, and XO was one job he thought he could do without knowing what the hell he was doing.
With a Little Help from My Friends – Joe Cocker
He spent a great year working under LTC Rod Walsh, who was an excellent mentor, and luck was on his side during this assignment. On a rotation to NTC, Longo had just finished getting an update brief from his maintenance warrant officer and sergeant. As soon as the brief ended, he got a radio call, "Steel Dragon 05, this is Red Team 06." He turned to his driver and asked, "Who the hell is Red Team 06?" The driver says, "Sir, that's the DivArty commander." It was COL Broadwater, soon to be BG Broadwater, asking, "What's your maintenance status?" Lucky for MAJ Longo, he had just written it down on the back of his hand, so he was able to act like he knew what he was doing and read it off to him. Later, he learned from LTC Walsh that he impressed COL Broadwater because he had such a mastery of the maintenance situation.
The following year COL Broadwater invited him to become the Deputy Fire Support Coordinator of 1st Cavalry Division, which was a real blessing. Mid-assignment, COL Broadwater was replaced by COL Odierno. Rich learned so much that year from COL Odierno that even today, he passes along the lessons learned under COL Odierno's tutelage to young soldiers as an MCTP senior mentor. The Longo's youngest daughter, Angela, was born while the family was at Ft Hood. The Family was now complete with the four Longo children.
Show me the Way – Peter Frampton
When it was time to get joint experience, Rich was offered three choices. He went to COL Odierno for some sage advice and was told, "Well, you know, these sound pretty good, but I know a guy, Mark McDonald, in Garmisch, working at the Marshall Center as an operations officer. He's coming out to take command this year, so that job has got to be open. If you're selected, you'll spend two years, and then you'll go command a battalion; if you're not selected, you'll spend three years there; either way, it's all good." So, Rich called the branch guy and asked about applying for that job.
The Longo Family moved to Garmisch, Germany, and had a great two years living in the base of the Alps, learning to ski, and meeting great people that are still friends to this day. Halfway through that assignment, Rich got selected and promoted to Lieutenant Colonel and then was selected to command the 1st-14th Field Artillery Battalion at Fort Sill. While he was getting pretty good at going into units where he didn't have much experience, that last year in Garmisch, every day, on the elliptical, he spent time reading up on rocket doctrine.
Can't you See – Marshall Tucker Band
In the Summer of 1998, the family arrived back at Ft Sill and spent a fabulous two years in BN Command. At the conclusion of BN command, BG Hartzel selected LTC Longo to be the G3 of III Corps Artillery, with Al Schneider as the chief and Jim Boozer as the DCO. Together they did a lot of training and went to Korea several times. At Christmas, the family was skiing at Deer Valley Mountain, Utah, and discussing the upcoming move to Carlisle because Rich had been selected for the Army War College. Kevin, their oldest son, was a junior and an all-state soccer player at Lawton High. He suggested going with the family to Pennsylvania but being allowed to return to Lawton to live with a friend's family in the spring semester so he could finish his senior year with the soccer team. This gave LTC Longo pause because he spent the last two years of command telling his BN that family comes first, and his son was trying harder than he was to make concessions to keep the family together. Rich called BG Guy Bourne right from the mountain and asked to stay at Ft Sill another year, deferring War College. BG Bourne warned that this probably wouldn't be good for Longo's career but agreed to help anyway. So, the Longos stayed at Ft Sill, and Rich took a job working for MG Mike Maples. He spent another year working on Task Force 21, with COL Sam Coffman taking many trips to Fort Monroe for grueling meetings with TRADOC leadership.
Fly Like an Eagle – Steve Miller Band
LTC Longo went off to War College the following year and was selected for Colonel and command of the 1st ID DivArty. The Family was off to Bamberg, Germany. In 2003, Rich took command of the DivArty with three battalions, and within six months, they were deployed to Iraq for OIF II as the DivArty HQ. For the first six months, they managed the reception in Kuwait and then managed the counter-firefight in Iraq. In June 2004, the division was tasked to assemble an HQ BCT in An-Najaf. The 2nd ACR had been there for 15 months, and the 8th Marine Expeditionary Unit wasn't getting there for another three months. The team held the position together until they were relieved by the Marines. On January 30th, 2005, the team was tasked to oversee Iraqi election polling stations. On the way back from doing battlefield circulation, COL Longo's Humvee was blown up just outside of Baiji. The vehicle was completely destroyed, but the driver, gunner, and COL Longo survived. He had luck on his side that day and was incredibly thankful, as not all who deployed in those years were so lucky.
Fields of Gold — Sting
After returning from Iraq in February of 2005, even though friend and mentor, MG Valcourt, wanted COL Longo to come to FT Sill, LTG Bell, the USAREUR commander, wanted him to stay in Europe for his next assignment. Rich became the XO for the DGC of USAREUR and served under five different bosses that year in Heidelberg, Germany. The next stop for the Longo clan was Ft Shafter, Hawaii so that Rich could become the Chief of Staff for LTG Brown, Commander of U.S. Army Pacific, and while in that position, he was selected for Brigadier General. The Family was happy to be returning to Ft Sill. COL (P) Longo became the Assistant Commandant of the USAFAS. The following year Rich headed for the Pentagon to be the Director of Training and Leader Development on the Army Staff in the G3. He worked for two leaders he learned a lot from, General Thurman and General Bollinger. In 2010, BG Longo went to work for GEN Dempsey as the TRADOC G3 for eight months and then transferred to the Deputy Commanding General for Initial Military Training. He oversaw Officer Basic Courses, Warrant Officer Basic Courses, Basic Training, and AIT in this role. This was during a critical time in our Army; the war in the middle east was going on in its second decade, and recruiting was getting difficult.
You Ain't Seen Nothing Yet - BTO
BG Longo had an interesting career thus far, but he felt like his one deployment to Iraq paled compared to some of his friends who had been on three or even four deployments. He volunteered to go to Afghanistan to serve in any capacity. He felt he owed that to his peers and to the Army to take some of the burden. He headed up Task Force 2010, designed to keep US aid dollars out of the hands of the Taliban. This joint and interagency task force comprised individuals representing many agencies, including the DEA, Department of Treasury, and several foreign allied forces.
GEN Don Campbell, the US Army Europe commander, called, telling Rich that he wanted him to become his Deputy Commanding General of US Army Europe. At this point, MG Longo was looking at retirement and thought it would be great to have his last assignment be where it all started in Germany. Rich's intent was never to make the Army a career and follow in his father's footsteps. If you ask him, he claims he just never got around to getting out because he was too lazy to fill out the paperwork. However, after a 34-year career of Active-Duty service to his county MG Richard Longo retired at the headquarters in Wiesbaden on July 31, 2014.
Rockin in the Free World – Neil Young
MG (R) Rich Longo was not going to stop giving back after retirement. He realized he had a unique perspective and knowledge set from his career and serving as a DivArty Commander. He became the Fires Senior Mentor at MCTP. The Division Artillery structure was being revitalized, and there were many young officers and NCOs who did not have a proper understanding of this new/old concept. Rich has coached and mentored dozens of DivArty and Division commanders for the past eight years. His favorite part is spending time with younger majors and sergeants. Using the lessons learned from all the great leaders he served under and his experience as a Division Artillery commander in Iraq, he helps them see their business better, think through problems, and succeed. He is helping to groom the next generation of Field Artillery leaders.
Rich and Diane Longo reside in Utah with their oldest daughter, Jennifer, close by in Salt Lake City. Jennifer's daughter, the eldest grandchild, is 21 and studying at Colorado University.
Their oldest son, Kevin, and his wife, Nicole, have two sons, Mason, eight, and Miles, four. They all reside in Los Angeles, close by to Nicolas and Angela.