Tattoo of LTG Willard W. Scott
US Army, Retired
1992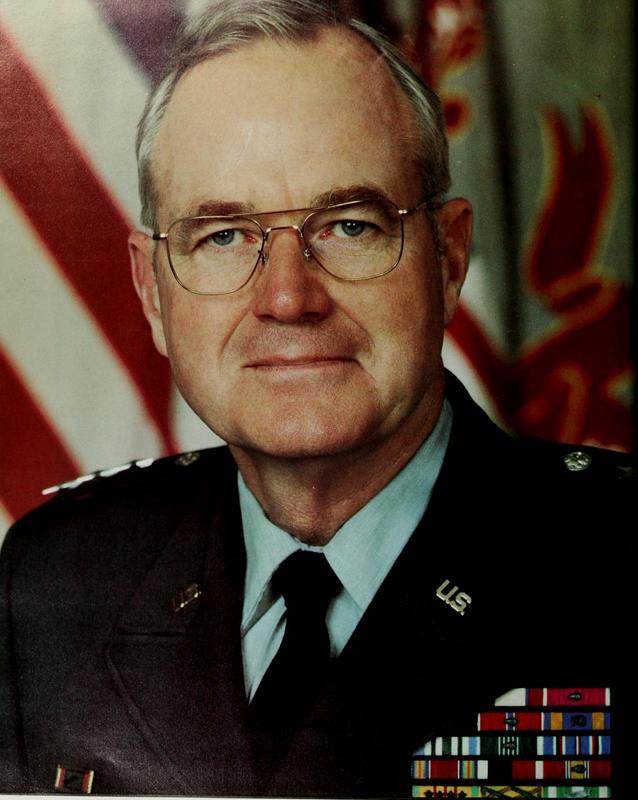 Sentimental Journey
Lieutenant General Willard W. Scott, Jr., born 18 February 1926 at Fort Monroe, Virginia, is a distinguished 38-year veteran of our Army, a premier Field Artilleryman, and a demonstrated leader. He attended the United States Military Academy, graduating in 1948 with a commission in Field Artillery. While at West Point, he met his wife of 44 years, "Dusty," the former Justine Philamona Dorney.
This is the Army, Mr. Jones
His first years in the Army were spent in the 5th Field Artillery Battalion, 1st Infantry Division, Schwaebisch Hall, Germany. There he commanded "Dog" Battery, the famous Alexander Hamilton Battery.
Official West Point March
In 1954, Captain Scott returned to West Point, this time on the other side of the podium -- as an instructor in the Military Topography and Geography Department.
USC Fight Song
After Command and General Staff schooling, Major Scott reported to the University of Southern California, where he earned a Master of Science in Mechanical Engineering. In 1960, he joined the Air Defense Artillery Board in Fort Bliss, Texas. While in Texas, the Scotts were blessed with their seventh child.
King of the Road
In 1963 Lieutenant Colonel Scott-moved to beautiful Southwest Oklahoma, activating and assuming command of 6th Gun Battalion, 12th Field Artillery, "The First and the Best." Later, he deployed his battalion to Korea. After an assignment as the operations officer for Joint Task Force Two, Sandia Base, New Mexico, he attended the Army War College, Carlisle Barracks, Pennsylvania. Colonel Scott then went to work for the Secretary of Defense in Washington, D.C., in the Military Studies and Liaison Division, Weapons System Evaluation Group.
Green Berets
In 1970, he left the Pentagon for a two-year tour in Vietnam, first serving as Deputy Commander, Il Field Force Vietnam Artillery, then as Commander, 23d Artillery Group, United States Army, Pacific-Vietnam. In 1971, he was promoted to Brigadier General and served as Commanding General, United States Military Assistance Command, Vietnam Special Troops.
Aloha Oe

This assignment was followed by a hardship tour in Hawaii as the Deputy Assistant Chief of Staff, Plans, J-5, United States Pacific Command. Following this tour, General Scott assumed command of V Corps Artillery, United States Army, Europe. After promotion to Major General in 1974, he was assigned as Commanding General, Army Readiness Region IV, Fort Knox, Kentucky. He returned to Hawaii in 1976 for two years to command the "Tropic Lightning" soldiers of the 25th Infantry Division at Schofield Barracks.
Alte Kameraden
After a stint in Washington as the Assistant Deputy Chief of Staff for Operations and Plans, United States Army, General Scott received his third star in 1980. He then moved to Frankfurt, Germany, to command V Corps, United States Army, Europe.
On Brave Old Army Team
In 1981, General Scott became the 52d superintendent of the United States Military Academy, a position he held for five years. No soldier is more qualified to mold our future leaders than General Scott, and his stamp of excellence will continue to surface in coming generations of Army officers. His leadership, at West Point and throughout his Army career, is worthy of acclaim -- General Scott has truly set the example for all of us. We thank you, General Scott, for your invaluable contributions to our nation, and to our Army. We of the Field Artillery salute you -- with a tune Redlegs will always recognize as their anthem!
The Army Song