Tattoo of LTG Robert H. Forman
US Army, Retired
1996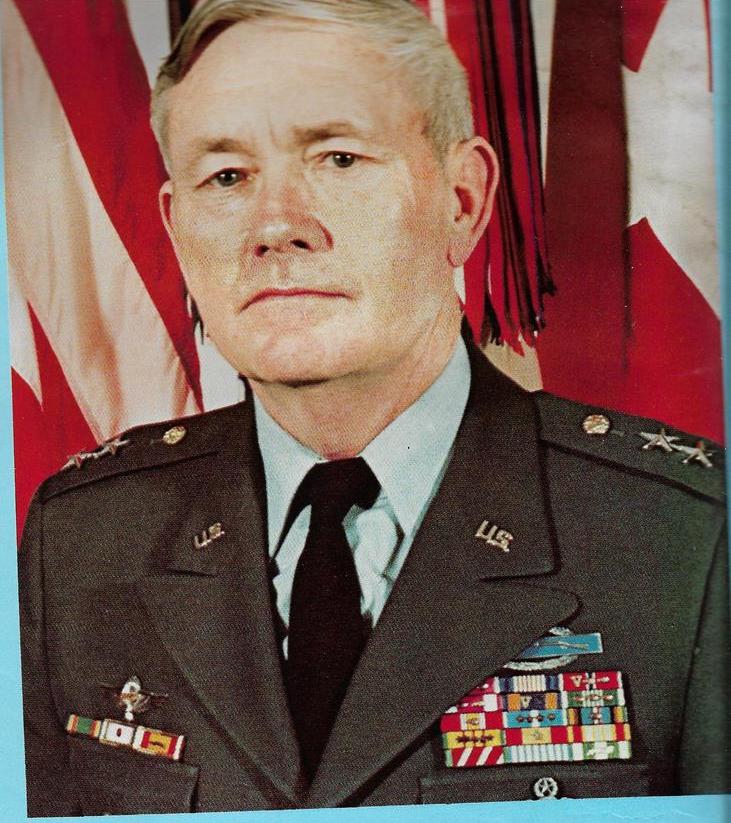 Maroon and Gold
Second Lieutenant Forman was commissioned into the Field Artillery through ROTC at Arizona State University in 1951. After attending the Field Artillery Officer Basic Course, Second Lieutenant Forman served as a Reconnaissance and Survey Officer, Battery B, 546th Artillery Battalion, Fort Lewis, Washington.
Arirang
After six months, Lieutenant Forman was reassigned to Battery A, 17th Field Artillery Battalion, in South Korea. Following his tour in Korea, Lieutenant Forman returned to Fort Sill, Oklahoma, for the Artillery Battery Officer Course after which he took command of Headquarters and Headquarters Battery, The Artillery School Command, here at Fort Sill.
Down From Heaven
In August 1954, Lieutenant Forman began a long association with paratroopers. In December 1954, he took command of Battery C, 89th Airborne Field Artillery Battalion, 11th Airborne Division Artillery at Fort Campbell, Kentucky. After command, he became the Assistant S-3, 89th Field Artillery Battalion, at Fort Campbell. In February of 1957, Captain Forman took command of his second Airborne Field Artillery Battery in the 11th Airborne Division Artillery, while deployed to Lebanon.
Academic Festival
After two years in command, Captain Forman returned to Fort Sill where he attended the Artillery Officer Advanced Course. After graduation in June 1960, Captain Forman became the Assistant Professor of Military Science at Seattle University, Seattle, Washington. In August 1964, Major Forman attended the Command and General Staff Officer Course at Fort Leavenworth, Kansas. Following graduation, Major Forman deployed to Vietnam as a Sector Advisor, 21st Infantry Division, IV Corps, U.S. Military Assistance Command.
American Soldier
When his tour in Vietnam was completed, Major Forman moved to Washington, D.C., where he served in the Training and Readiness Directorate, Office of the Assistant Chief of Staff for Force Development. Departing Washington, Lieutenant Colonel Forman moved to Fort Bragg, North Carolina, where he took command of 3d Battalion, 320th Field Artillery, 82d Airborne Division. Following command, he attended the War College at Carlisle Barracks, Pennsylvania. In June 1970, he became an instructor/author in the Department of Joint, Combined, and Special Operations at the Command and General Staff College, Fort Leavenworth.
Paint It Black
A year later, he served on the Command Leadership Board before he deployed to Vietnam for a second tour. In June 1972, Colonel Forman served as the Assistant Chief of Staff G3 and G3 Advisor, Second Regional Assistance Command and then Chief, Four-Party Joint Military Commission until March 1973.
Red Guidon
In July 1973, Colonel Forman took command of the 214th Field Artillery Group at Fort Sill. Subsequent to command, he became Director, Department of Doctrine and then Department of Instruction, in the Field Artillery School until he was promoted to Brigadier General on 1 May 1976 and reassigned as Deputy Commanding General, United States Army Training Center, Fort Leonard Wood, Missouri. While at Fort Leonard Wood, Brigadier General Forman transformed hundreds of Drill Sergeants from taskmasters to leaders.
Jersey Bounce
In July 1979, Brigadier General Forman reported to Fort Leavenworth, Kansas, as the Deputy Commandant, Command and General Staff College, where he became the architect and the Father of the Combined Arms and Services Staff School - CAS3. In February 1981, Major General Forman assumed command of the United States Army Training Center and Fort Dix, New Jersey. At Fort Dix, Major General Forman again applied his, special leadership skills to hundreds of Drill Sergeants to transform them into positive, enthusiastic leaders of new soldiers.
Blessings of Liberty
In June 1983, Major General Forman became Chief of Staff, Training and Doctrine Command, Fort Monroe, Virginia, and on 1 July 1985, he was promoted to Lieutenant General and became the Deputy Commanding General for Training, Training and Doctrine Command.
Screaming Eagles
On 31 August 1987, after over 36 years of selfless service, Lieutenant General Forman retired to Overland Park, Kansas, where he currently lives with his wife, Hannah Jean. In 1993, General Forman was appointed Honorary Colonel of the 320th Field Artillery Regiment, 101st Airborne Division (Air Assault), Fort Campbell, Kentucky.
Caisson Song
Lieutenant General Forman will retire from his second career in April of this year.