Tattoo of LTG Kenneth W. Hunzeker, U.S. Army, Retired
2023
---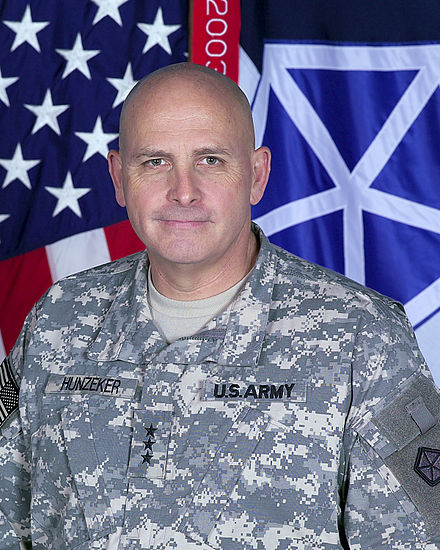 The Other Little Soldier – Josh Gracin
Kenneth W. Hunzeker was born on August 26, 1952, in Pittsburgh, Pennsylvania. His Father, who was formally an enlisted MP in post war Japan, was studying using the G.I. Bill at the University of Pittsburgh at the time. Midway through, the U.S. entered the Korean war, so his father joined the ROTC program, was commissioned, and detailed as a field artilleryman for two years before joining the Quartermaster branch. Ken's Father was a world Class Logistician, commanded a Battalion in Vietnam, a Brigade at Ft Carson, and the Quartermaster School and Logistics Center at Fort Lee. Ken's Dad served for 35 years and retired as a 2-Star General, his final posting was to Heidleberg, Germany as the senior logistician in Europe. Ken's formative years were spent moving around the world as an Army Brat. When MG William Hunzeker retired from the military, the family moved to Virginia and he went to work in the corporate world.
The West Point March – The West Point Band
Ken graduated from Fairfax High School in Virginia in 1970 with his eyes set on West Point, but he needed to boost his scores to be a competitive candidate from Northern Virginia, so he attended USMA Preparatory School at Fort Belvoir where he played both Football and Basketball. The following year he entered the U.S. Military Academy at West Point as a cadet with the class of 1975. While at West Point Ken met Patti, who also came from a military family. Patti's father was a retired Colonel, who received a battlefield commission at the battle of the bulge. Patti said she would never date a cadet or marry a cadet, but Ken was persistent, and they started a serious relationship.
Waltz Across Texas – Ernest Tubb
Ken was commissioned into the U.S. Army and desired to go combat arms. Ken took up too much room inside a tank and did not see the point of jumping out of a perfectly good airplane like many of his infantry comrades liked to do. He branched FA because he loved the technical aspects of gunnery and fire support, the incredible brotherhood of the branch, and the fact that you train with ammunition all day and night, exactly as you would in combat.
After graduation, he attended the Basic Course at Fort Sill, and was assigned to the 2nd Armored Division, Fort Hood, Texas. 2LT Ken Hunzeker's first battalion was the First of the Third Field Artillery. Lt Hunzeker learned about deployments a month after reporting in when he found himself in Grafenwohr Germany. It turned out that Ken's battalion was on a program known as Brigade 75, where a Brigade Combat Team from Fort Hood would rotate into Germany for six months. After redeploying, Ken and Patti found time to get married just before Ken went back to Germany for another six months. Ken served as a forward observer, fire direction officer, battery executive officer, and battalion operations officer.
Thank Heaven for Little Girls - Jack Jones
While attending the Advanced Couse at Ft Sill, The Hunzeker's first daughter, Jen, was born in 1980. She was born the day before the Super Bowl, which is probably why she's a big football fan today. Following graduation from the Advanced Course the family of three headed to Schofield Barracks. While in Hawaii, Then-CPT Hunzeker had back-to-back battery commands, C and HHB 1-8 FA, 25th ID DivArty. Their second daughter, Jessica, was born in 1981 and Ken and Patti found time to enjoy the beaches and sunshine. Ken also served as the battalion operations officer during his last year on the island.
The Hunzeker's spent three years on Oahu and departed in 1983 for Naval Post Graduate school in Monterey, California where Ken earned a masters degree in systems technology (Command, Control and Communications). Next, Ken was assigned to PERSCOM as an operations research systems analyst and was promoted to Major. The family moved to Washington DC where their third daughter, Becky, was born in 1986 and their fourth daughter, Maggie, was born in 1988. The family of six departed the nation's capital for Fort Leavenworth and CGSC shortly after.
Draggin The Line – Tommy James
Following CGSC graduation in 1989, the Hunzeker's were on the move again, this time to Baumholder, Germany where Ken became the Division Fire Support Coordinator for the Eighth Infantry Division. Over the next two and a half Years, Major, then Lieutenant Colonel, Hunzeker served as a Battalion XO, Divarty S3, and finally as the Divarty Executive Officer. The U.S. entered Desert Storm in 1991 and while many deployed to the Saudi desert, Ken, and the rest of the Division Artillery were running security for three different communities. Despite the numerous deployments, Patti spearheaded many trips around Europe, and all four daughters inherited Patti's love of travel. The family had a wonderful time abroad with their daughters. Following the three-year stint in Germany, Hunzeker was informed that he was selected for Battalion command at Fort Sill.
Oklahoma Morning – Charlie Pride
Hunzeker took command of the 2-18 field artillery battalion, a part of III Corp Artillery, in 1992. The family had a phenomenal two years in Battalion command of the Mission Ready Battalion at Fort Sill which was the second-to-last 8 Inch Cannon Battalion in the Army. The family enjoyed great comradery within the III Corps Family. The Unit's Lawton partner organization was the Downtown Kiwanians. Ken made many friends within the Kiwanis club and across Lawton. The girls convinced Ken and Patti to get a dog and 'Hannah the Daschund' joined the family.
After BN command, Ken was selected to attend to the National Defense University at Fort McNair, in Washington D.C. He graduated in 1995 with his second master's degree and then moved over to the joint staff at the Pentagon. Ken made the 06 list and as a Lieutenant Colonel Promotable worked within the J8, providing warfighting analysis to validate our military strategy. At the end of this assignment the family was notified that they were headed back to Germany, this time to Bamberg. COL Hunzeker had been selected to command the First ID DivArty, Drumfire!.
Roll With It – Steve Winwood
Upon arriving in Bamberg, Germany, the Division Commander, Staff, and division soldiers were still deployed to Kosovo. The Division redeployed shortly thereafter. Ken and the Division Artillery then took on the mission to run the redeployment center in Tazar, Hungary and spent the next 100 days on reintegration for the division coming back to Germany. The next two years in Bamberg were very rewarding and fun for the family. Jen left after the end of the first year for college in the States with Jess leaving the following year. The family looks back on these two years as one their favorite assignments.
By Mid-1999, the Hunzeker's were back state side at Ft Hood Texas. Ken served as the Chief of Staff for the 1st CAV Division for the next year. Selected to Brigadier General in June of 2000, now Colonel Promotable Hunzeker moved across post to 4th Infantry Division, which was still on Fort Hood at the time. COL Promotable Hunzeker became the assistant division commander for Maneuver in the Fourth Infantry Division.
I won't back down – Tom Petty
The Hunzeker's spent from 2001 – 2005 in the D.C. area. They bought a house and really enjoyed all the area had to offer. Ken was assigned to the Pentagon for all four years and was in the Pentagon on September 11th, a day that will never be forgotten. Ken worked in the Army's Program for Analysis and Evaluation directorate at the G8. This was a challenging job, but Ken learned a lot about building the Army's POM program and figuring out how to resource the Army. Becky and Maggie were in high School with Becky graduating in 2004 and then also heading to college. While in D.C., Ken came out on the Two-Star list and was assigned as the Vice Director of the Joint Staff, J8 Division. This was the agency responsible for Force Structure development and resourcing all the services. This was Ken's second go-round at the J8 and he was now focused on putting together systems for future requirements for the Joint Requirements Oversight Committee.
Danger Zone – Kenny Loggins
Next it was back to Germany for Ken, Patti and Maggie, for Maggie's Senior year in high school in Wurzburg. Ken was honored to be selected as the Commanding General of 1st Infantry Division, call sign Danger6. The War in Iraq was heating up, and the Division's re-stationing to Fort Riley was accelerated by a year. Needless to say, this was a very busy year for all the soldiers and families in the division. Ken unfurled the Colors at Ft Riley in August of 2006. Patti went to Quarters at Ft Meyer, Virginia, Maggie went off to college and MG Hunzeker went to Iraq. Ken was then given the mission to command Civilian Police Assistance Transition Team (CPATT) in Iraq. The main mission was to train, man and equip over 400,000 Iraqi policemen.
Life is a Highway – Tom Cochrane
Ken received his third star and became the Fifth Corps Commander, Victory Six from 2007 to 2009. This was the Hunzekers fourth tour to Germany together and the largest house they had ever lived in with no children left at home!!! This was a challenging time with literally every Unit in the Corps executing all the phases of a deployment. Patti and Ken also represented USAREUR at many NATO functions and remembrances in Normandy and all over Europe. During this tour, they said goodbye to Hannah the Daschund after 16 wonderful years. During his last year in the Active Army, Ken went back to Iraq, serving as a Deputy Commanding General for MFI. One of his main responsibilities was to draw down to assist the U.S. out of Iraq. Patti once again went back to a set of quarters at Ft Myer, Virginia.
The Army Song – US Army Band and Chorus
Lieutenant General Kenneth W. Hunzeker retired in 2010 after 35 years of active service to his country. When asked what he found to be the things he enjoyed the most in his career Ken will tell you that its the FA branch. "The FA was the first branch to recognize professional achievement of our people with the Order St. Barbara. Then we were first to recognize spouses with the Molly Pitcher. Our branch does so many things to build a brother and sisterhood and bring everybody together." Every time he went to join a new artillery unit, it was just like coming home again. He really treasured the fact that the Army identified its values, and that those values, defined who we were as an organization, who we were as a culture, and made us the greatest fighting Army in the world. It was also the fellow artillerymen who made the biggest impact on his career. Notable mentions include his early Battalion Commanders, John McManners and Ron Pruitt, as two of his role model leaders, LTG (R) Dave Valcourt, his former gunnery instructor and fellow Battalion Commander, MG (R) Lee Baxter as a mentor because he admired Lee for his candor, his passion for the artillery and his desire to give back, and his longest serving wingman, LTG (R) Steve Lanza, whom he had the opportunity to work with three times.
Taking Care of Business – Bachman Turner Overdrive
After retirement, Ken went to work for ITT Defense which ultimately became the company Exelis. Ken started at the headquarters in McLean, Virginia, as the vice president of government relations. In April 2011, he was appointed the President and General Manager of Mission Systems, a business division of Exelis. Over the next five years, Ken ran the company, and orchestrated the process to become a publicly traded company, known as Vectrus, where he served as the CEO and then retired in December 2016.
What Wonderful World – Louis Armstrong
Ken thanks his lucky stars every day for Patti, married since 1977, and has been blessed to have four wonderful daughters and thirteen grandchildren. Patti has worked outside the house as a professional teacher, taking time off when the kids were not yet in school. She got her Masters in Education Administration while pregnant with Jessica in Hawaii!
Jennifer, the Oldest, was married in 2002. She and her husband have four children, Chase 21, Brianna and Brooke 18, and Bailee 15. They live in Orem, Utah
Jessica, ken and Patti's second daughter was married in 2005, and she and her husband Evan have three daughters, Megan 14, Julia 12, and Clorinda 9. They live in Oak Hill, Virginia.
Rebecca, number three in the batting order, was married in 2011, and she and her husband Jon have four children, Kenny, 10, Olivia 8, Millie 5 and Madeline who is just over a year old. They live in Reston, Virginia.
Margaret, batting cleanup, the Hunzeker's fourth daughter, lives in Waterford, Virginia with her husband Chase, daughter Adalee 14, and Jack 2.
The Army has never not been a part of Ken's life. From growing up as a son of a soldier, to becoming an enlisted student while at prep school, to a cadet at USMA and finally his career as an artillery officer, the Army has been a part of it all. Even after retiring from his civilian career, Ken became the Chairman of USFAA for two years with his good friend Dave Halverson as President of the association. He continues to serve on the board as a trusted advisor. Ken's passion for supporting our wounded warriors was realized when he became a board member on the Wounded Warrior Project Board. On 15 September 2023, Ken was humbled and excited to become the new chairman of the Board. Ken is also an Ambassador for Home for our Troops, an organization that partners with the wounded warrior project, and has built over 350 fully customized homes for our severely disadvantaged service members. Ken has a passion for supporting West Point, and currently serves as the Distinguished Chair for Civil Military Operations. He was also recommended by the nominating of the West Point Association of Graduates to stand for election to serve as a director beginning on January 1, 2024. Ken was honored in 2020 to be selected a distinguished graduate of the Academy.
Ken cherishes the Army and Field Artillery traditions and his Field Artillery Family.