Tattoo of LTG John S. Crosby
US Army, Retired
2009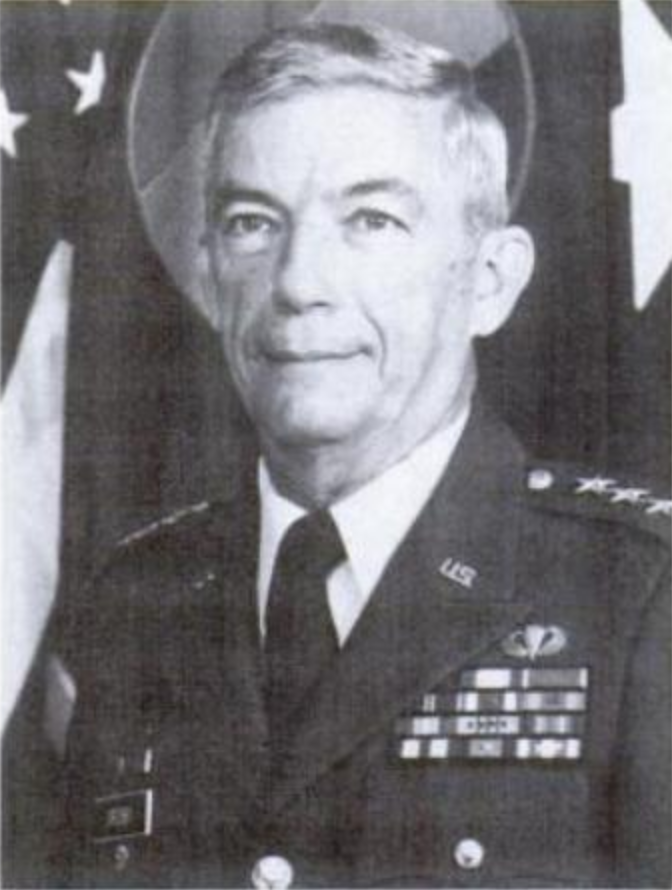 Invincible Eagle
John Stephen Crosby was born in Jefferson Barracks, Missouri, in 1932 to Fay and Elmer Crosby. He was the youngest of three and, according to Crosby, the smartest because his sister chose Navy and his brother went Air Force. His father, grandfather, and three uncles were all stationed at Jefferson Barracks and Crosby was destined to be in the Army. While growing up in Jefferson Barracks, Crosby did not get away with much - his father was stationed there for 20 years and everyone knew Elmer's kids.....so always under a watchful eye. Including the watchful eye of the hospital staff who were constantly stitching up little John after various mishaps. One particular episode while Crosby was a teenager involved lighting a match in a garage that was filled with gas fumes. He was blown through a wall and lived to tell about it. His mother often referred to him as "hell on wheels."
NC State Fight Song
After surviving his teen years, Crosby headed to North Carolina State University to join the Wolfpack. 1954 was a busy and exciting year for Crosby. He graduated from NC State with a Bachelor of Science degree in Structural Civil Engineering but more importantly, he married Florence Anne Kindrick in Mobile, Alabama. They had met years before at Fort Bragg, North Carolina, where both their fathers were stationed. Their honeymoon was cut short since Crosby had to report to Fort Monmouth, New Jersey, for the Signal Officer Basic Course. It was not until he got there that he realized that he had forgotten to leave his bride any money! Eventually, he was pulled from the course early and transferred when he received his regular Army commission.
The Thunderer
John and Flo Anne would spend the next three years at Fort Sill. His first assignment was as Assistant Communications Officer with the 469th Field Artillery Battalion. After graduating first in his class from the Field Artillery Officer Basic Course of the Auxiliary & Guided Missile School, 2LT Crosby became the Executive Officer for Headquarters Battery, Battery B, Battery A, and then Commander of Battery C of the 761st Field Artillery Battalion. During this time, the first of three Crosby children was born at Fort Sill - David in January 1956.
Deep in Heart of Texas
1LT Crosby graduated from the Field Artillery and Surface-to-Surface Missile Battery Officer Course. Crosby recalled that then Captain Jack Vessey was his Gunnery Instructor and of all the instructors he knew in school and in the Army, Vessey was truly the best. Finally, in June 1957, Crosby left Fort Sill headed to his new assignment as the S4 for the 57th Field Artillery Missile Group Headquarters at Fort Hood, Texas. The Group had been scheduled to go to Turkey to provide nuclear support to the Turkish Army and was deactivated when the plans changed to allow the Turks to be supported by Warhead Detachments.
National Anthem of Germany
Next Crosby was transferred to the 4th Armored Division and the 2nd Howitzer Battalion, 78th Field Artillery, US Army Europe in Crailsheim, Germany. During his three years there, he would be the Assistant S2, Fire Direction Officer, and Assistant S3. Then later, he was the Commander of Headquarters Battery and Battery A. Crosby said that in this assignment, he worked with the best Battalion Commander he served - Willis B. Scudder along with wonderful officers, NCOs, and young soldiers. The battalion also had Richard Chastain who resigned from the Army and entered the Indiana National Guard and eventually commanded the 135th Division headquarters in Indiana, who later retired a two star.
During his European tour, John and Flo Anne welcomed two more additions to the family - Leslie born in 1958, and Loren born in 1960. However, it was not long before the winds of the Great Plains began to call his name - so it was back to Fort Sill in 1961 for Captain Crosby. This time as the Communications Officer of the 3rd Missile Battalion, 32nd Field Artillery.
Army Blue
In the Spring of 1962, Captain Crosby graduated first in his class again from the Artillery Officer Advanced Course at the US Army Air Defense School in Fort Bliss, Texas. That summer, under the Career Management Guided Program, Crosby moved the family to Los Angeles, California, to attend the University of Southern California. It was not an easy task for this Trojan to raise a family of three on a Captain's salary in Los Angeles. They somehow managed and after earning his Masters Degree in Mechanical Engineering, the family packed up and moved to the other side of the country where he became an instructor and later Assistant Professor in the Department of Math at the United States Military Academy, West Point, New York. Crosby says it was a great experience because of the cadets, their dedication to duty and to the country made a lasting impression. In addition, the camaraderie of company mates follows them for the rest of their lives.
Field Artillery March
MAJ Crosby was then off to Air Command and Staff College at Maxwell Air Force Base in Montgomery, Alabama, his first exposure to the Air Force. Enough said. In June of 1968, Crosby took command of the 5th Battalion, 27th Artillery 1st Field Force Vietnam Artillery in Phan Rang and would later be the S3 of the First to Freedom unit. The 27 Artillery had five batteries attached and was the Direct Support to Task Force South operating in four provinces in Central Vietnam. There were two S3 shops to help control the eight firing batteries. LTC Crosby leamed the true meaning of being mobile when his unit made 256 moves in 7 months.
For the next two years, Crosby served as a Personnel Management Officer, in Colonels Division, Office of the Personnel Director in the Office of Personnel Operations in Washington, DC. Crosby says during the Vietnam War, this great assignment was an enlightening experience in career development.
Four Ruffles & Flourishes General's March
After graduating from the US Army War College in Carlisle, Pennsylvania, in June of 1972 he was chosen to be the Assistant Chief of Staff G1 (Personnel) of the 101st Airborne Division and then Commander of the US Army Garrison at Fort Campbell, Kentucky (now called the Eagle Support Command). Fellow commanders were Fred Mahaffey and Lou Menetrey, both of whom later became four star generals. Menetrey would later become the Commander in Chief of all US Forces in Korea. According to Crosby, these two men were the finest soldiers he had ever served within the Army.
Garry Owen
COL Crosby's next assignment was commander of Division Artillery 1 Cavalry Division at Fort Hood, Texas. He was then picked to be the Special Assistant to the Commanding General Julius Becton of the 1st Cavalry Division. During this assignment, Crosby met another group of great soldiers. Of the four Battalion Commanders assigned to the DIVARTY, two would become General Officers - Lou DelRosso and Bernie Herring. His first Division Commander was General Robert Shoemaker and one of the ADCs was Jack Merritt. Both would retire as a four star...it was a great Division.
Oklahoma
It wasn't long before he was called back to Fort Sill. This time he was the Director of Course Development and was responsible for the first Basic Non-Commissioned Officer Course (BNCOC) for the Field Artillery Non-Commissioned Officers. While at Fort Sill, he was selected for promotion to Brigadier General and was mentored by Dave Ott, Vern Lewis, and Al Akers.
Washington Post March
In 1977, Brigadier General Crosby packed the family and moved to the east coast for his new job as Director of Personnel Information Systems Command at the US Army Military Personnel Center in Alexandria, Virginia. While there, he built on an existing program- a worldwide personnel information system, which was vital to the readiness of the all-volunteer army. He also directed the development of a wartime software program that was fielded worldwide known as the wartime SIDPERS. Prior to this, the only exposure he had with computers was a FORTRAN class at USC. During this assignment, sharp objects were kept at a safe distance from him. In the Summer of 1979, General Crosby was sent back to Europe. This time as the Assistant Division Commander of the 3rd Armored Division, US Army Europe in Germany headquartered in Frankfort. He was stationed at nearby Hanau. Crosby was then chosen to be Deputy Chief of Staff for Personnel, US Army Forces Command in Fort McPherson, Georgia.
National Emblem
Less than two years later, he became the 36th Commandant of the US Field Artillery School at Fort Sill and was promoted to Major General. During that time, he directed the revision of the Officer Basic, Officer Advanced, and Advanced Non-Commissioned Officer Courses for the Field Artillery. He also instigated an interactive video disk training system for the Pershing II Missile System and supervised the early development of Advanced Field Artillery Tactical Data Systems (AFATADS) the first Army system to use Ada programming language. He fielded the MLRS, the Firefinder Radar, Copperhead, and the GLLD. Crosby also fielded the Pershing ll and imitated the Howitzer Improvement Program while under serious budget constraints. Again, Crosby said superb soldiers were at the heart of these programs - Dick Belton, Thomas JP Jones, and many TRADOC System Managers. He was kept in line by Gerry Stadler and Don Jones when they were Chief of Staff with help from his front office crew Tom O'Donnell, Jeff Shaefer, and Jean Scruggs. Crosby also became a regular at Daddy's Money Hunt Club, a hunting reserve owned by Gib Gibson and Bill Crawford. He even showed up at the Lieutenant Governor's Grand Slam with a guy named Norm Schwarzkopf. While Crosby was the Fort Sill Commandant, he issued an order to have the polo grounds sprayed for weeds.... unfortunately, the spray killed the grass and it was dead the whole time he was the Commandant. Rumor had it he was going to retire after he completed his Commandant assignment and even put papers into that effect...but then had to "un-retire" when given a new assignment.
Washington Grays
In July 1985, he was called back to Washington to the Pentagon to become the US Army Assistant Deputy Chief of Staff for Personnel. After his promotion to Lieutenant General in 1987, he was named the Deputy Commanding General for Training, US Army Training and Doctrine Command in Fort Monroe, Virginia, commanded by Max Thurman. Of all the great soldiers the Army had or has, Crosby said Thurman had the greatest impact on today's Army. For Crosby, the best part of the job was the association with the basic and advanced school for enlisted soldiers.
Old Soldiers Never Die
Retiring after 34 years of active duty service, he founded Crosby Intenational, Inc. and Crosby Training International Ltd., which specialized in domestic and international training, to include training the Kuwait National Guard on 6x6 armored wheeled vehicles. He also consulted for Field Artillery systems and performed business development and marketing for the defense industry.
Caisson Song
Since fully retiring in 1999, General Crosby has continued as an avid sportsman who has hunted big game in Canada, Germany, and in the United States. He was a team member in the 1989 One-Shot Antelope Hunt and has participated in the One-Shot almost every year since. He is still active on the Board of Directors of the Civilian Marksmanship Program. Today, it's his grandkids that he keeps in his sites. All three of his grandsons live in the Denver area and keep John and Flo Anne busy with snow skiing, golf, and traveling.