Tattoo of LTG David E. Ott
US Army, Retired
1986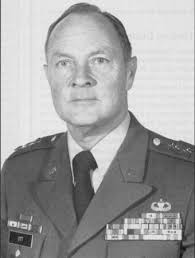 David Ewing Ott was born 31 July 1922 at Schofield Barracks, Hawaii and grew up on Army posts where his father Brigadier General Edward Stanley Ott was stationed. He graduated from West Point in 1944 and served with the 65th Infantry Division in Europe during World War II.
After the war he served in Frankfurt, Berlin, and as a Gunnery Instructor at the Field Artillery School at Fort Sill. During this assignment, he married his high school sweetheart, Joyce Helmick.
He then served with the 64th Field Artillery, 25th Infantry Division, in the Korean War. This was followed by tours in the Pentagon, Fort Leavenworth, and the 82nd Airborne Division Artillery. He then went to Germany and commanded the 2d Howitzer Battalion, 83d Field Artillery, and later served on the Seventh Army staff. After attending the Army War College, he had tours in Strike Command, Tampa, Florida, and Vietnam, assuming command of the 25th Infantry Division Artillery. Back in Washington, DC, he became Chief of the Artillery Branch at the Army Personnel Office and was the architect for the separation of the Field Artillery and the Air Defense Artillery.
As a Brigadier General, he took command of the US Army in Thailand, then returned to the Army Staff before becoming Director of the Vietnam Task Force under the Secretary of Defense to coordinate the total withdrawal of the US forces from Vietnam. From 1973 to 1976, General Ott served as the Chief of Field Artillery Commandant of the Field Artillery School and Commanding General of Field Artillery Center and Fort Sill. From there he was promoted to Lieutenant General for his final assignment as Commander of VII Corps in Germany, from which he retired in 1978.
As President of the Board of the Army Distaff Foundation, he initiated an expansion of military retirement facilities, including homes for military couples. The Fairfax on Fort Belvoir, Virginia, was one result of his ideas.
General Ott was the second President of the US Field Artillery Association and later the Chairman of the Board. He was the author of many articles for several magazines as well as the book, Field Artillery, 1954-1974. He was active in forming the Association chapter in the Washington Area, The Capital Cannoneers, and served as the chapter's first President.
Among other awards and citations, General Ott was the recipient of the Distinguished Service Medal (three awards), the Legion of Merit (four awards), the Distinguished Flying Cross (for valor) and the Army Commendation Medal. His international awards include the Grand Cross with Star of the Order of Merit and the Federal Republic of Germany and the Vietnamese Gallantry Cross with Gold Start.