Tattoo of LtGen Joseph F. Weber,
US Marine Corps, Retired
2021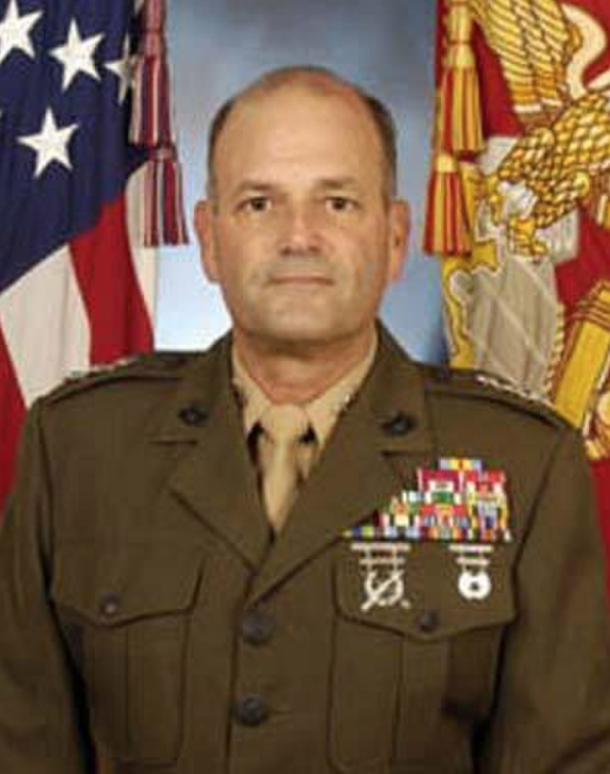 The Aggie War Hymn
Joseph Weber was born August 15, 1950, in Schulenburg, TX. Schulenburg was home to the family because his uncle practiced medicine and had a clinic there. His mother worked as a nurse in the medical clinic, while Dad, who had recently served as a Naval Aviator in WWII, had enrolled in Texas A&M as a veteran to receive an engineering degree.
Once Dad graduated, the family moved to Abilene, TX where he started an engineering firm. Joe attended a small Catholic high school and aspired to attend college afterward. He did not have a choice in universities to attend. Dad insisted that he become an Aggie. He had never given military service a thought while serving in the corps of cadets. As a Zoology major, he aspired to be a doctor. He had been around medical practitioners his whole life. Besides his mother, his two uncles were doctors. He had even worked as an EMT during his summer breaks. His college counselor told him he was too social and his grades would not support selection to medical school. Joe was at a loss of what to do next.
USMC Hymn
While tending bar off-campus with some fellas by the names of Rick Perry and Tommy Orr, a big Marine walked in and asked what they were going to do when they graduated. Tommy had decided he was going to join the Marine Corps and Rick had decided he would join the Air Force. Joe decided to accompany his friends and take up that Marine on his invitation to discuss the possibility of military service at a local hotel. That Marine answered the door wearing a smoking jacket with a cigar, and had a bathtub iced down with plenty of cold beer… mysteriously later that evening, December 11, 1972, that big Marine ended up signing Joseph Weber into the USMC.
As soon as he graduated Aggieland Joe attended Marine Corps OCS and then The Basic Course. After recently returning from an 11-mile patrol through the ice-cold woods of Quantico, VA in January, serving as the heavy machine gunner, his platoon commander, Capt Ted Larson (an artilleryman) asked him if he would like to get assessed into a career field where he did not have to walk. Riding vice walking sounded pretty good to 2Lt Weber at that point and he committed to becoming an artilleryman.
2Lt Weber attended the Field Artillery Officer Basic Course at Fort Sill, OK where he conducted his first joint assignment with the Army. Little did Joe know at that time that he would spend over a third of his career with the Army. Half the instructors were Army and half were Marine Corps officers. Joe was not the distinguished honor graduate, nor was he near the bottom of the class. He graduated in the middle of the class thankful that he was no longer susceptible to a manual met exam and assigned to the 12th Marines in Okinawa, Japan.
Its for God, and Country, and you Mom
At this point, the Vietnam War was winding down, but steely-eyed 2Lt Weber was determined to be assigned as a forward observer and get a deployment to Vietnam. That was not in the cards for Joe. 2Lt Weber's first assignment in the Marine Corps would be as a motor transportation officer in 2nd BN, 12th Marines where he was introduced to Gunnery Sergeant Chapman. Gunny Chapman took Lt Weber under his wing and taught him how to take care of vehicles with the expectation that every Friday night, he escort him home safely from the Chief's Club. Towards the end of the Vietnam war, the USMC was in bad shape. Parts were lacking and the equipment was in horrible condition. The nearby Army base had really nice gear and equipment while the Marines struggled. Gunny Chapman had taken note of this and had given the young and impressionable Lt Weber a fishing pole. That fishing pole provided him access to the beach, adjacent to all the Army parts they needed to get their equipment operational. Early on, Lt Weber gained a true appreciation for the Army. The Army really helped the 12th Marines maintain their equipment.
Blue Hawaii
Following his initial tour in Okinawa, Lt Weber did a brief tour with the 1st field artillery group (FAG), 29 Palms, CA. During this tour, Joe gained experience on mechanized howitzers in the desert. Lt Weber made the decision to exit the Marine Corps early to pursue another degree, returning to Texas A&M to become a veterinarian. This time, however, Joe took the true prize from Texas A&M, not a doctoral degree, but a beautiful blonde-haired girl named Brenda who was working tables in the Memorial Student Service Center. After some serious effort, he convinced her to drop out of school and move with him to HI. 4 months later, Joe was back in the USMC with his new bride stationed in Kaneohe Bay Hawaii. Brenda's parents were not happy with Joe but eventually warmed up to him. Their first three years of marriage in K-Bay Hawaii were amazing. Joe trained quite a bit and assumed command of his first firing battery, K/ 1-12. CH-53s regularly picked up his M114 howitzers and moved his battery to train on the big island for 3 weeks at a time where Capt Weber relished not only in training artilleryman but in killing mountain goats and cooking them up with his Marines. HI, time was amazing for the Weber Family as their family expanded with the birth of their son Clint and departure from HI with Brenda 7 months pregnant.
Carrying Your Love with Me
Following his time in HI, Capt Weber received orders back to Fort Sill, OK to attend the Field Artillery Advanced Course. Housing was not readily available for the Weber's so Brenda and Clint moved in with Joe's mother in Abilene, TX where Brenda gave birth to their daughter Julie. Immediately following Julie's birth, the Weber family was reunited again under one roof. During this tour at the Field Artillery School, Capt Weber no longer struggled with manual mets- this time his nemesis was FADAC. He was known in his class as Freddy FADAC. Every time he put his tape in that FADAC machine he heard a machine gun noise. He was never really able to figure out the FADAC, but he graduated.
Following the advanced course, Capt Weber received I & I duty in Jackson, MS with F Battery, 2nd BN 14th Marines. Besides the great flood of '79, which made finding housing arrangements extremely difficult, he was introduced to his battery's 8 officers, where only one was a field artilleryman. Capt Weber was to train them to perform in CALFEX's in Fort Polk, LA, and 29 Palms, CA. He truly had his work cut out with this unit; ensuring they didn't kill anyone while training. It turned out to be a great unit. The training aspects were difficult. There was no expertise in the unit and they had not even been introduced to the basics. Capt Weber was thankful for the TI-59 calculator as his Marines may not have understood the theory, but they could push the buttons. This served as an unaccompanied tour and Joe was eager to get back to his family, but the USMC decided to send him on an unaccompanied tour to Okinawa.
Hard Working Man
The entire Weber family decided to move to Okinawa, Japan where Maj Weber worked in the S3 shop of the 12th Marines. Brenda considered this assignment a defining tour, where they would find out what they were made of. The living arrangements were similar to camping -life was not easy living in the local economy with two young kids without USMC support. Maj Weber was in the field often training the ROK Marines.
While supporting the ROK marines as the regimental S3, Maj Weber gained respect for the toughness of his ROK counterparts. While ROK tanks moved on their training lanes during one memorable exercise, the regiment was supposed to cease fire and adjust artillery, but for some reason, artillery did not get adjusted and the regiment was dropping rounds around the ROK tanks causing their antennas to fall off. Maj Weber remembers his CO yelling check fire and dreading the investigations and notoriety of a firing incident. As he approached the ROK generals after the event with his CO, thinking they were about to be subject to a major investigation, a ROK general- exclaims, "OORAH! Marine Corps artillery… realistic training… Very good, very good!" This could have gone either way and Maj Weber was grateful that his ROK counterparts were appreciative of the training their regiment provided them.
Navy Blue and Gold
Next, the Weber's moved to Annapolis, Maryland with duty at the United States Naval Academy, where Maj Weber would complete a three-year tour. This was a great assignment for the family; particularly for young Clint and Julie to grow up. In his last year he was the academy representative for the football team, where he remembered his sage advice to the team; "Go to class every day, wear your military shoes, not your tennis shoes, sit in the front row, and ask two questions and I can guarantee you will get a C." Maj Weber relished in the opportunity to see all of the football games and made trips to many great institutions including West Point and Notre Dame.
Following duty at the Naval Academy, Maj Weber was selected for the advanced degree program. He was excited about the opportunity to return to Texas A&M. The USMC decided to return him to Texas, but this time to his alma mater's rival, the University of Texas. He attended courses and graduated with a master's degree in Public Affairs. He graduated with honors and LBJs wife awarded him his diploma. At the time, that moment was very meaningful to newly-promoted LtCol Weber as LBJ's daughter had married a Marine. LtCol Weber was off to HQ Marine Corps.
I've Been Everywhere
The Weber's moved to Washington, DC. Upon arrival he learned of an Army General, by the name of Maxwell Thurman, looking for a lieutenant colonel from each branch of Service to accompany him on his special staff to Panama. He enthusiastically volunteered and was selected. He knew nothing about GEN Thurman but eventually learned plenty. Joe traveled all around South America with Gen "Mad Max" Thurman. When the ambassadors learned "Mad Max" was coming, they would hide. He was so hard to work for, but LtCol Weber learned so much from this man and considered him a mentor and was grateful to have served with him.
LtCol Weber was selected for battalion command and moved to Camp Lejune, NC where he commanded 3rd BN, 10th Marines. During his command, he deployed in support of Hurricane Andrew Relief Efforts in 1989. During that deployment, his Marines worked for the 10th Mountain Division and spent 80 days constructing a tent city in an area that was initially covered in raw sewage and hot electric wires.
The Weber family moved back to Fort Sill, in the early 90s, where Col Weber commanded the Marine Artillery Detachment. While stationed at Fort Sill, Col Weber met two great artillery officers- MG Dubia and BG Baxter. The Weber's also met many great Marines and developed many close bonds and friendships. Clint graduated from Lawton High School and met his future wife, Heather. The family was also close enough to travel and visit him in his first year at Texas A&M.
Col Weber then moved to Camp Pendleton with assignment as the 1st Marine Division, G-5, and eventually command of the 11th Marine Regiment. After a successful command of the Cannon Cockers, Joe was promoted to the rank of Brigadier General and assigned back to an Army command as the Deputy J3 to Europe. BG Weber worked for General Wesley Clark who he recognized as a taskmaster. During that tour, BG Weber ran the command post forward, during the 75-day air bombardment of the Serbians in the Kosovo War, while GEN Clark was in Belgium.
America
Brigadier General Weber returned to the desert of 29 Palms, CA and served as the Commanding officer of the Marine Corps Air Ground Task Force Training Command. Joe has always loved training with the Marines in the field and preferred that over any desk assignment. This job created many opportunities to train with Marines as well as Soldiers. Brigadier General Weber worked closely with Major General Thurman who commanded the neighboring base of Fort Irwin and the National Training Center.
Major General Weber and Brenda returned to Okinawa where Joe commanded 3rd Marine Division. Following that command, Joe was selected to serve as the chief of staff of Multi-National Forces Iraq in 2004. That was a very tough year for MNFI. A majority of the forces from the initial invasion had redeployed from Iraq and the insurgency had established itself as a formidable foe to the multi-national force. Major General Weber had the task of coordinating the efforts of 22 different flag officers from separate countries. He learned a lot from General Casey during that tour.
Following his service with MNFI, Lieutenant General Weber assumed command of III Marine Expeditionary Force, where he dealt with plenty of political topics- primarily with basing in Japan. Joe served with distinction and was selected to serve as the Commander of Marine Forces Command; Commanding General Fleet Marine Forces Atlantic; Commanding General Marine Bases Atlantic in Norfolk, VA where he commanded over 74,000 personnel and Marines.
God Bless Texas
After 36 years of Service to our great nation in the Marine Corps, Lieutenant General Weber made the decision to retire and assume the Vice President of Student Affairs position at his beloved Texas A&M. LtGen Weber's military career ended where it started, as the Commandant of the Marine Corps retired him on the Texas A&M quad in 2008.
LtGen Weber served as the VP of Student Affairs for 6 years before assuming duties as the Executive Director, Texas Department of Transportation, which remains the largest, most diverse, and complex system in the nation. After his service with the TXDOT, Joe and Brenda returned to a quiet life on their farm in Round Top, TX. Joe, unable to stay idle, now serves as the Judge of Fayette County, TX.
A Love Without End Amen
Joe and Brenda remain neighbors to this day with Joe's closest college friends Rick Perry and Tommy Orr. Between serving as the County Judge and learning to be a farmer; Joe is also a proud grandfather to Betsy (13), Anna-Lee (10), Caroline (9), Margaret (8), and Joe (7). Joe and Brenda are fortunate to live so close to their children. Clint, retired from the USMC after serving 21 years as an F-18 pilot. Joe to this day jokes that Clint wasn't a real Marine until he served as a FAC. Clint, Heather, and Betsy reside in Fort Worth, TX. His daughter Julie, married a former Marine, Blake Sawyer, and they currently reside in Austin, TX with their four children.
Joe has always cherished his association with the Field Artillery and the Marine Corps, a passion that persists in his life today.