Tattoo of GEN Tommy R. Franks
US Army, Retired
2002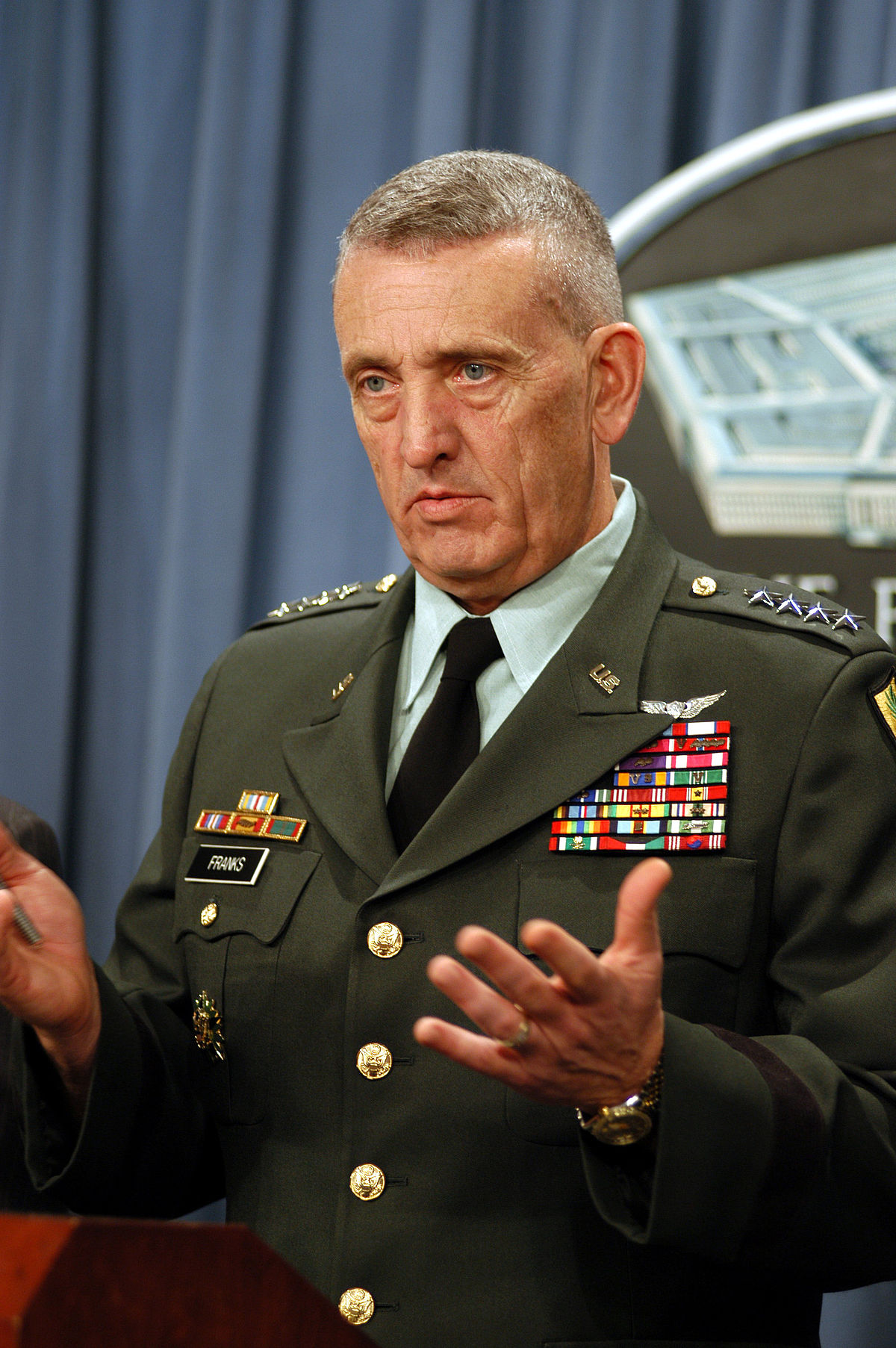 Oklahoma!
General Tommy R. Franks was born in Wynnewood, Oklahoma, · and was commissioned a second lieutenant in 1967 as a Distinguished Graduate of the Field Artillery Officer Candidate School, Fort Sill. He is a member of that institution's Hall of Fame.
Octofoil
After an initial tour as a battery Assistant Executive Officer at Fort Sill, Lieutenant Franks was assigned to the 9th Infantry Division, the Republic of Vietnam, where he served as Forward Observer, Aerial Observer and Assistant S3 of 2d Battalion, 4th Field Artillery, and as Fire Support Officer for 5th Battalion (Mechanized), 60th Infantry. He was wounded three times, earning three Purple Hearts and five Bronze Stars, four with combat "V" device.
Whip and Spur
In 1968, Captain Franks returned to Fort Sill, where he. com manded a cannon battery in the Field Artillery Training Center. In 1969, he was selected for the Army's BootStrap Degree Completion Program and attended the University of Texas, Arlington, from which he graduated in 1971 with a bachelor's degree in business administration.
In the 2d Cavalry
After attending the Field Artillery Advanced Course, Captain Franks was assigned to the 2d Armored Cavalry Regiment in West Germany, where he commanded 1st Squadron Howitzer Battery. He then served as Squadron S3, regimental S3, and commanded the 84th Armored Engineer Company.
Washington Post March
Major Franks graduated from the Armed Forces Staff College in Norfolk, Virginia, and was posted to the Pentagon in 1976 where he served as an Army Inspector General in the Investigations Division. In 1977, he was assigned to the Office of the Chief of Staff of the Army as a member of the Congressional Activities Team and subsequently as an Executive Assistant to the Chief of Staff.
Hit the Leather and Ride
In 1981, Lieutenant Colonel Franks returned to West Germany to command 2d Battalion, 78th Field Artillery, 1st Armored Division.
Garry Owen
After attending the US Army War College at Carlisle Barracks, Pennsylvania, and completing graduate studies for a Master of Science Degree in Public Administration from Shippensburg University, Lieutenant Colonel Franks was assigned to Fort Hood, Texas. He initially was Deputy Assistant G3, III Corps, and, upon promotion to colonel, assumed command of the 1st Cavalry Division Artillery. He also served as the 1st Cav's Chief of Staff during this tour.
God Bless the USA
He was promoted to Brigadier General in 1990 and was assigned as Assistant Division Commander (Maneuver), 1st Cavalry Division, a position he held during Operations Desert Shield and Desert Storm.
Warrior March

Brigadier General Franks returned to Fort Sill in 1991 as Assistant Commandant of the US Army Field Artillery School. In 1992, he was assigned to Fort Monroe, Virginia, as the first Director of the Louisiana Maneuvers Task Force in the Office of the Chief of Staff of the Army, a position he held until 1994 when he was reassigned to Korea as Assistant Chief of Staff, Combined/Joint G3, Combined Forces Command, and US Forces Korea. From 1995 to 1997, Major General Franks commanded the 2d Infantry Division, Eighth US Army, Korea.

The General Franks March

Composed and Arranged by CW2 Glen W Nardin Bandmaster 77th Army Band

Upon promotion to Lieutenant General in 1997, he assumed command of Third (US) Army and Army Forces Central Command in Atlanta, Georgia. In June 2000, he was selected for promotion to General and assigned as Commander-in-Chief of US Central Command, headquartered at MacDill Air Force Base, Florida. With the terrorist attacks on our nation on September 11, 2001, General Franks came to the forefront of international leadership. As CINCCENT, he has been the "point man" for the US and Coalition Forces' War on Terrorism.
Caisson Song
Throughout it all, General Tommy R. Franks remains a true Redleg and a man who is proud to call Oklahoma his home. General Franks, thanks for the years spent leading and caring for soldiers, sailors, airmen, and Marines. Your continued service helps forge the future of the Army, our Armed Forces, and, indeed, the United States. We take great pride in your accomplishments and salute you with the song Redlegs always will call their own.