Tattoo of GEN Raymond T. Odierno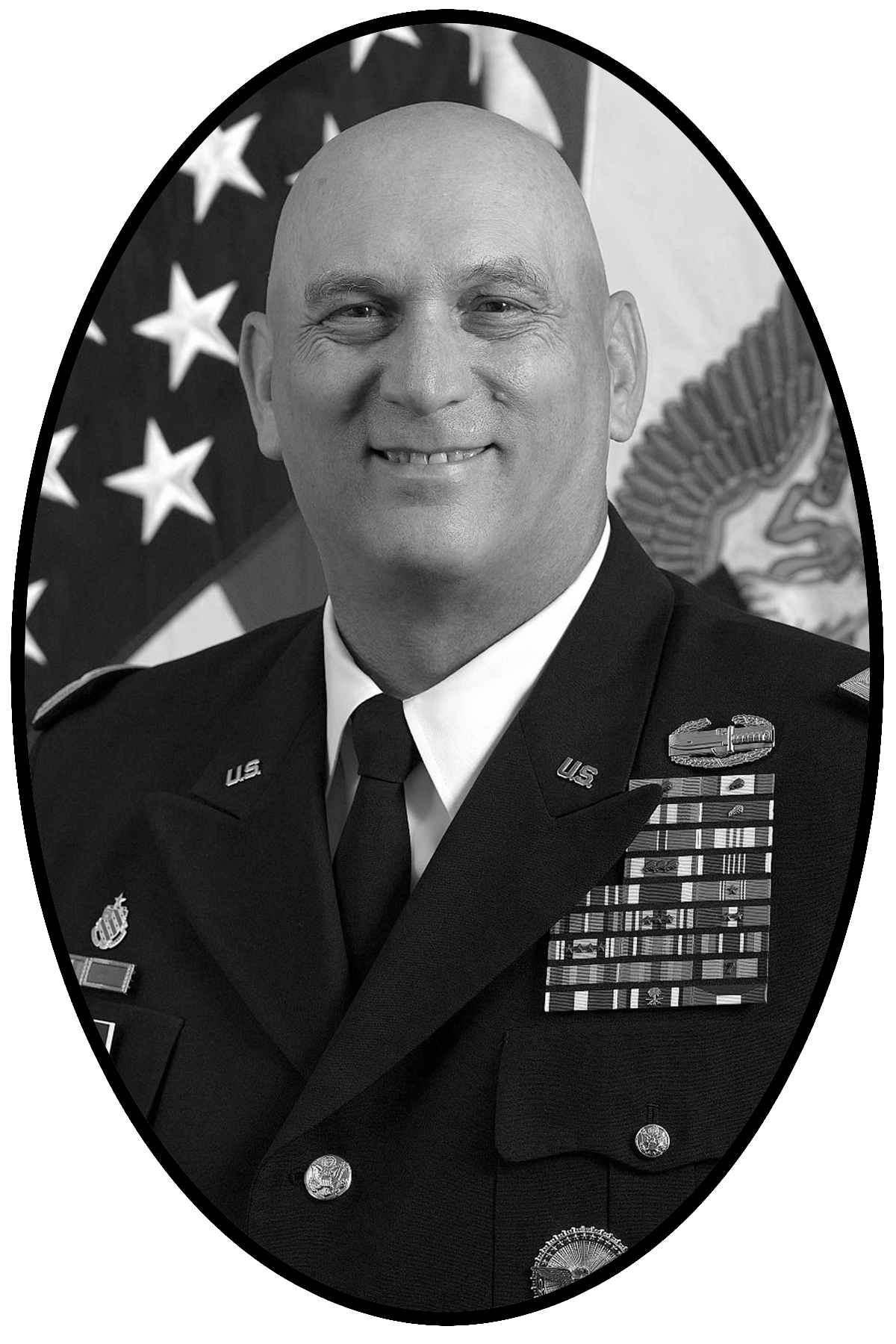 General Raymond T. Odierno
New York State of Mind - Billy Joel
Raymond Thomas Odierno was born on September 8, 1954, in Rockaway Township, New Jersey. He was the grandson of Italian immigrants, and his father served as an Army sergeant during World War II. He began working towards his goal of military service early while attending Morris Hills High School, where he met the love of his life. While preparing for his entrance to the United States Military Academy, Ray would often spend time with his friend Greg, who was also preparing his application to West Point, and Greg's girlfriend Karen. Karen had a sister, Linda, who was living at home while attending Community College, and Ray would often see her when at Karen's house helping with homework. One day while attending the school's athletic ceremony, Ray approached Linda to chat and later went to the local hangout, Paul's Diner, to continue the evening with their friends. That night, Ray asked her out on a date, and the two saw each other occasionally after that. It wasn't until Ray headed to Ft. Dix to complete his medical screening for West Point that the relationship would become more serious. Linda had traveled to NYC for a cosmetology convention, and, after a full day, boarded her bus at the Port Authority Terminal to travel home. As the bus was departing, she heard a loud bang, and when the driver stopped and opened the door – Ray stepped inside. He turned to take a seat and saw Linda there on the bus. They ended up talking the whole trip home. After that fateful day, Ray and Linda began dating steadily.
The West Point March - West Point Marching Band
He reported to the United States Military Academy after graduation, where he would spend the next four years visiting with Linda on the weekends, playing Army Baseball, and working towards his goal of becoming an Army Officer. During his Junior year, Ray went home to celebrate Christmas Eve with Linda and her Family. After Dinner, Ray asked Linda to step away to the basement den, where he asked her to be his wife. This was coincidentally at the same time that upstairs, his friend Greg was asking Linda's sister Karen the same question. Ray graduated in June of 1976 and was commissioned as a Field Artillery Officer. Following graduation, Ray and Linda were married in a joint ceremony with Linda's sister, Karen, and Greg.
I Cross My Heart - George Strait
Following that summer of celebrations, Ray and Linda packed up their car and made the long trip southwest to begin their lives as an Army Family at Ft. Sill, where Ray reported for Officer Basic Course and received follow-on orders to Germany. After his arrival to Germany, Ray held his first leadership position as support and firing platoon leader within the 1st Battalion, 41st Field Artillery, 56th Field Artillery Brigade. After the birth of their first child, Anthony, in 1978, Ray took over as Aide-de-Camp to the Brigade's Commanding General. The Odierno family returned stateside in 1980, where Ray was promoted to Captain and took his first command position as the A Battery Commander, 1st Battalion, 73d Field Artillery, XVIII Airborne Corps at Fort Bragg, NC. The next year, Ray and Linda welcomed their second child, Kathrin. Following command, Ray served as the S3, 3d Battalion, 8th Field Artillery, XVIII Airborne Corps. While obtaining his Master's Degree in Nuclear Effects Engineering at North Carolina State University, Linda and Ray welcomed their third child, Michael.
Thunderstruck - AC/DC
Following completion of his degree in 1986, Major Odierno reported to the National Capitol Region as a Nuclear Research Officer, and later Chief of the Acquisition Support Division at the Defense Nuclear Agency; where he subsequently detailed as Military Advisor for Arms Control to the Office of the Secretary of Defense. In 1990 MAJ Odierno attended the United States Naval Command and Staff College in Newport, RI, where he obtained his second Master's in National Security and Strategic Studies. Following his time in Newport, the Odiernos returned once again to Europe, where Ray served as the battalion XO of 2d Battalion, 3rd Field Artillery Regiment, and then as DivArty XO in 3rd Armored Division during deployments to Operations Desert Shield and Desert Storm. In 1992, then Lieutenant Colonel Odierno took Battalion command of 2d Battalion, 8th Field Artillery, 7th Infantry Division (Light). LTC Odierno went on to attend the Army War College before his promotion to Colonel in 1995 and taking over as Commander, Division Artillery, 1st Cavalry Division at Fort Hood, Texas.
4th Infantry Division March
In 1997, he served again overseas as the Chief of Staff, V Corps, United States Army Europe and Seventh Army. From 1998 to 1999, COL Odierno served as the Deputy Commanding General for Task Force Hawk in Albania during the War in Kosovo and was promoted to Brigadier General prior to taking over as the Director, Force Management in the Office of the Deputy Chief of Staff for Operations and Plans at the Pentagon. BG Odierno took Command of 4th Infantry Division at Fort Hood, in 2001, where he would promote to Major General and deployed in April 2003 in support of Operation Iraqi Freedom. In December 2003, the 4th Infantry Division was responsible for the capture of Iraq's deposed dictator, Saddam Hussein. Prior to returning home in March 2004, MG Odierno was lucky enough to get a very quick visit in theater with his son Anthony, who at that time was a 1LT with 1st Cavalry Division. Following his return from deployment and Division Command, MG Odierno served as the Assistant to the Chairman of the Joint Chiefs of Staff, where he was the primary military advisor to Secretaries of State Colin Powell and Condoleezza Rice. Ray earned his third star promotion to the rank of Lieutenant General in 2005. May 2006 saw LTG Odierno back at Fort Hood as Commanding General III Corps and Fort Hood, where he would once again deploy in support of Operation Iraqi Freedom, this time as Commander, Multi-National Corps – Iraq.
American Soldier - Toby Keith
In September 2007, while deployed to Iraq as MNC-I Commander, Ray returned to Washington D.C. for a brief scheduled testimony to Congress on Operations in Iraq and was able to attend Kathrin's Wedding, which had been timed specifically for this quick trip before he returned to Iraq. After a quick reprieve back in Fort Hood for 6 months and a promotion earning his fourth and final star, General Odierno returned to the Middle East as the Commander, Multi-National Force – Iraq, followed by Commander, United States Forces - Iraq. While serving in his first four-star assignment, his son Anthony was married in Puerto Rico in early 2009. Ray was able to return for the wedding, however, at this point, General Odierno had been deployed 20 out of the previous 26 months, and he would go on to serve 20 more months deployed before returning home for the final time in September 2010. From October 2010 until August 2011, GEN Odierno would serve as the Commander of the United States Joint Forces Command, in Norfolk, Virginia.
The Army Goes Rolling Along
On May 30, 2011, General Raymond Odierno was nominated to be the 38th Chief of Staff, United States Army. He was confirmed on September 7, 2011, and sworn in later that day. The Odierno family deeply enjoyed their time living in Quarters 1 on Ft. Myer, VA – especially the memories with their own children, their spouses, and for the first time, all four of their grandchildren. Gen Odierno concluded his distinguished military career by overseeing the final withdrawal of American troops from Iraq and retired in August 2015.
My Way - Frank Sinatra
After completing his military service, General Odierno became the Founder and President of Odierno Associates, LLC providing insight on a broad range of issues, including international planning and country risk analysis, technology, operations, and the rapidly evolving issues of physical and cyber security. Among his countless accomplishments, Ray's 45-year marriage to his high school sweetheart Linda stands as his most treasured achievement. He and Linda settled in Pinehurst, NC, where Gen Odierno was happiest surrounded by the people he loved, watching sporting events, and playing golf. General Raymond Odierno passed away at age 67 after a brave battle with cancer. While his Family's loss is immeasurable, on Friday, October 8, 2021, the world also lost a great American, patriot, soldier, and legendary Field Artilleryman.