Tattoo of CSM Henry J. Goodwin
US Army, Retired
1994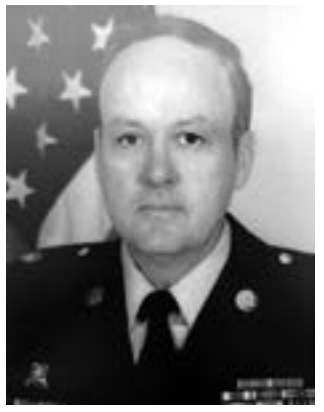 Sentimental Journey
Command Sergeant Major (CSM) Henry J. Goodwin, born February 6, 1938, in Tampa, Florida, distinguished himself over a 35-year Army career as a soldier, leader, and Field Artilleryman.
You're In The Army Now
As a young boy, CSM Goodwin moved to Columbia, South Carolina, which he considers home. It was from here that he entered Army service on June 7, 1956.
Alte Kameraden & Arirang
His first years as an enlisted soldier were characterized with varied assignments and rapid promotion. After completing basic and advanced individual training, CSM Goodwin was assigned to the 2d Armored Cavalry Regiment in Bamberg, Germany. He rotated back to Fort Meade, Maryland, serving in the 3d Armored Cavalry Regiment, then was. assigned to Korea in 1960.
On the Road Again
From 1961 to 1962, he served as an assistant military Reserve Officer Training Corps (ROTC) instructor at Virginia Polytechnical Institute, Blacksburg, Virginia. He was then assigned to the 24th Infantry Division in Germany but, upon arrival, was given special duty with the Military Advisory Group, Libya. He returned briefly to the 24th Infantry Division Artillery before being reassigned to his native South Carolina, as a drill sergeant at Fort Jackson from 1964 to 1967.
I Left My Heart in San Francisco
In 1967, in anticipation of an assignment to the Republic of Vietnam, CSM Goodwin attended the Vietnamese Language Course at the Defense Language Institute, Fort Bliss, Texas. A year later, he served with the 1st Battalion, 7th Field Artillery, in Vietnam, as a battery First Sergeant. His commander was Captain John A. Dubia, today the Chief of Field Artillery.
Mountain Battery
CSM Goodwin served seven years as a battery First Sergeant. After completing his tour in Vietnam, he served as a First Sergeant in the 2d Training Brigade, Fort Jackson, South Carolina, and later, as a battery First Sergeant with the 1st Battalion, 35th Field Artillery, in Germany. He followed this assignment with his first as a CSM. Over the next 17 years, he would hold eight such assignments, ranging from battalion to major command level.
Gary Owen March & Georgia On My Mind
He served as the battalion CSM for the 1st Battalion, 6th Field Artillery, 1st Cavalry Division, Fort Hood, Texas. He followed this with a tour as the CSM of the 1st Battalion, 35th Field Artillery, at Fort Stewart, Georgia, and then as the Division Artillery CSM. His tour at Fort Stewart was: followed by one in Korea, where he served as the battalion CSM of the 1st Battalion, 37th Field Artillery.
Carolina in the Morning
He returned once again to his native South Carolina where he served as both a basic training battalion and brigade CSM before becoming the CSM of the United States Army Training Center and Fort Jackson.
Carry Me Back to Old Virginny
From the balmy warmth of South Carolina, CSM Goodwin moved to the colder climes of Germany where he served as the CSM of V Corps Artillery, headquartered in Frankfurt. From here, he returned stateside to assume duties as the CSM of the United States Army Training and Doctrine Command (TRADOC) at Fort Monroe, Virginia. He served in this capacity from October 8, 1987, until his retirement on May 1, 1991.
School Days
Enhancing an already distinguished career, CSM Goodwin attended and graduated from numerous military professional development schools, including the 7th Army Noncommissioned Officers' Academy in Germany, the Drill Sergeant School at Fort Jackson, South Carolina, and the Sergeants Major Course at Fort Bliss, Texas.

Washington Post March
CSM Goodwin continues to serve the Army and Field Artillery as a civil servant, working in the Futures Division of the Training Development and Analysis Directorate of the Office of the Deputy Chief of Staff for Training, Headquarters, TRADOC. He is a graduate of the University of South Carolina and holds a Bachelor of Science degree in Business Administration.
God Bless the USA, Stars and Stripes Forever & The Caisson Song
Throughout his varied career as an artilleryman and trainer of soldiers, CSM Goodwin took to heart the dictum "Mission First, People Always." Soldiers looked to him for leadership and mentorship; senior decision-makers valued him for his wise counsel and astute insights about soldiers and soldiering. Today, these same soldiers and decision-makers are forging the future of the Army, guided by the spirit of excellence that was CSM Goodwin's hallmark. Sergeant Major, we of the Field Artillery salute you--with a tune Redlegs will always remember as their anthem!