Ready When Called: Creating an Immediate Response Force in the EUCOM AOR
Ready When Called: Creating an Immediate Response Force in the EUCOM AOR
By LTC Derek R. Baird, Commander 3-16 Field Artillery Regiment
Over the past year, the 2nd Armored Brigade Combat Team (2ABCT), Black Jack, 1st Cavalry Division, and the 3rd Battalion, 16th Field Artillery Regiment (3-16 FAR), the Rolling Thunder Battalion, trained for and deployed to the European Command Area of Operations (EUCOM AO), as the Regionally Aligned Force (RAF) in support of OPERATION ATLANTIC RESOLVE (OAR). The Battalion, minus Alpha, ATTACK, Battery, deployed to Camp Saint Barbara located on the outskirts of Torun, Poland. Attack Battery deployed to Camp Aachen, in the Grafenwohr Training Area (GTA), to train for, and execute the Combined Resolve XIII mission.
During our pre-deployment site survey (PDSS) in July 2019, COL Jeremy Wilson, the 2ABCT Commander, directed me to plan and be prepared to deploy a lethal Battery on short notice to provide field artillery support across the European Theater. The Ready Battery is part of a larger Immediate Response Force that acts as a flexible deterrent option (FDO) to rapidly deploy anywhere in EUCOM, within 48 hours, to provide fires in support of the Black Jack Brigade, and our NATO Allies and Partners. JP 5-0, Joint Planning, describes flexible deterrent options as scalable options to respond to a crisis such as increase readiness posture of in-place forces, or deploy forces into or near the potential operational area. The Ready Battery concept provided us the ability to demonstrate some of these capabilities across the Battalion's four lines of operations (LOOs): setting the Theater, posturing lethal and ready forces, establishing and executing mission command/command and control (C2) nodes, and enhancing multinational partnership and interoperability.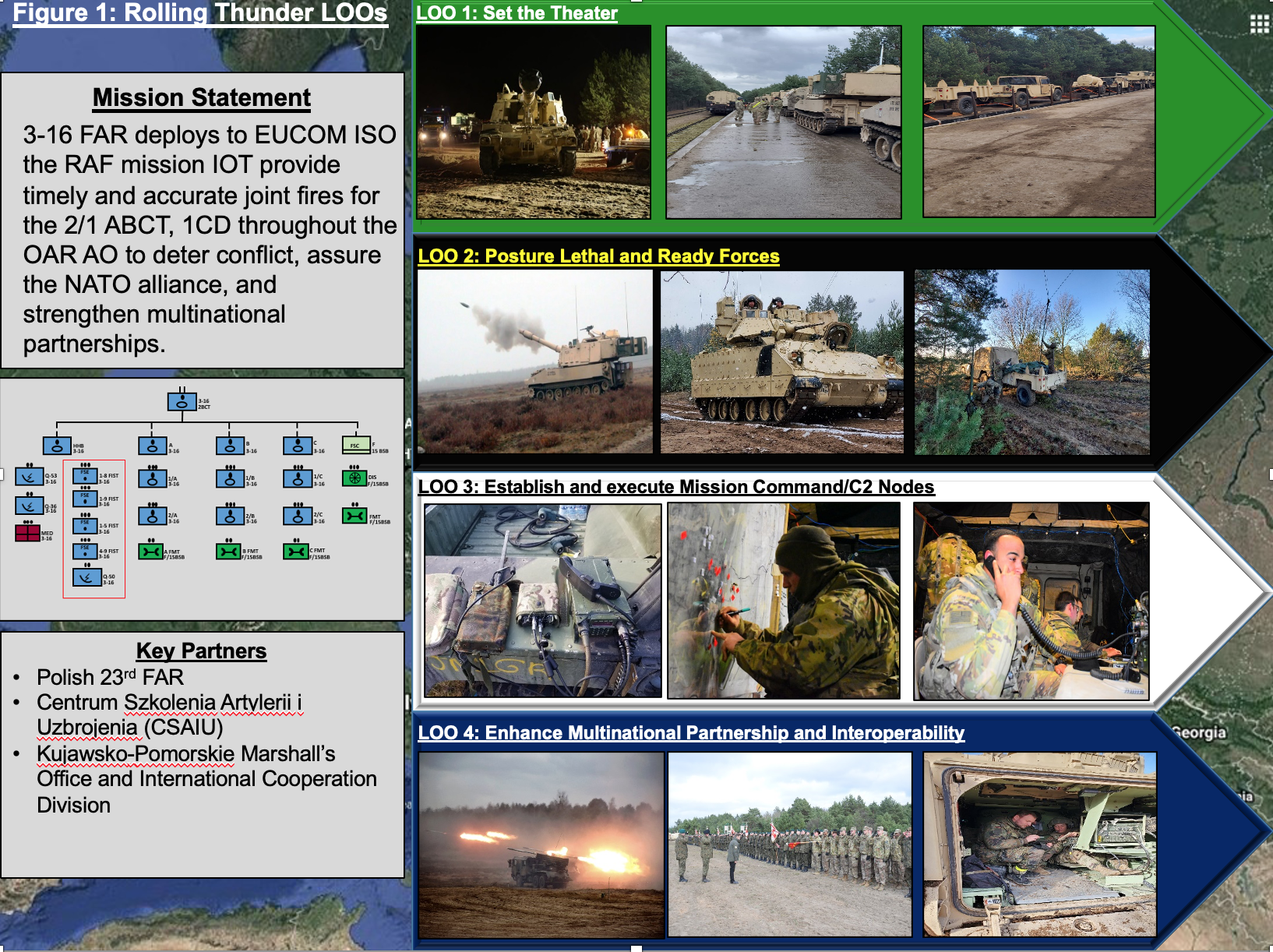 The Rolling Thunder Battalion staff developed a plan from my concept that included multiple artillery training operations and emergency deployment readiness exercises (EDREs). Our Ready Battery operations addressed tactical to strategic-level flexible deterrent options by focusing on: (1) Battery-level training and Battalion and above-level planning; (2) improving potential forward deployed sites; (3) the use of host nation intermodal transportation; (4) deterring our adversaries, and (5) building confidence in our capabilities among our Allies and Partners across the European Theater. The primary Ready Battery objective was to deploy to a forward site, and once all Paladins were downloaded at the site, to be in position ready to fire (IPRTF) within a six hour period to mass the Battery. We were able to accomplish this key objective, and identify valuable lessons learned, enabling the Battalion to modify our EDRE SOP, and better prepare for future Ready Battery operations.
In October 2019, we deployed to Camp Saint Barbara to begin our RAF mission that included establishing a Ready Battery. My commander's intent was to maintain, at a minimum, a Battery capable of deploying on a short notice in support of our NATO Allies, and Partner Nations. Our key tasks were to demonstrate how to: (1) rapidly deploy the Battery, (2) test and validate intermodal transportation, (3) synchronize a sustainment plan with Ready Battery operations, (4) conduct rehearsals at echelon, and (5) integrate multinational assets.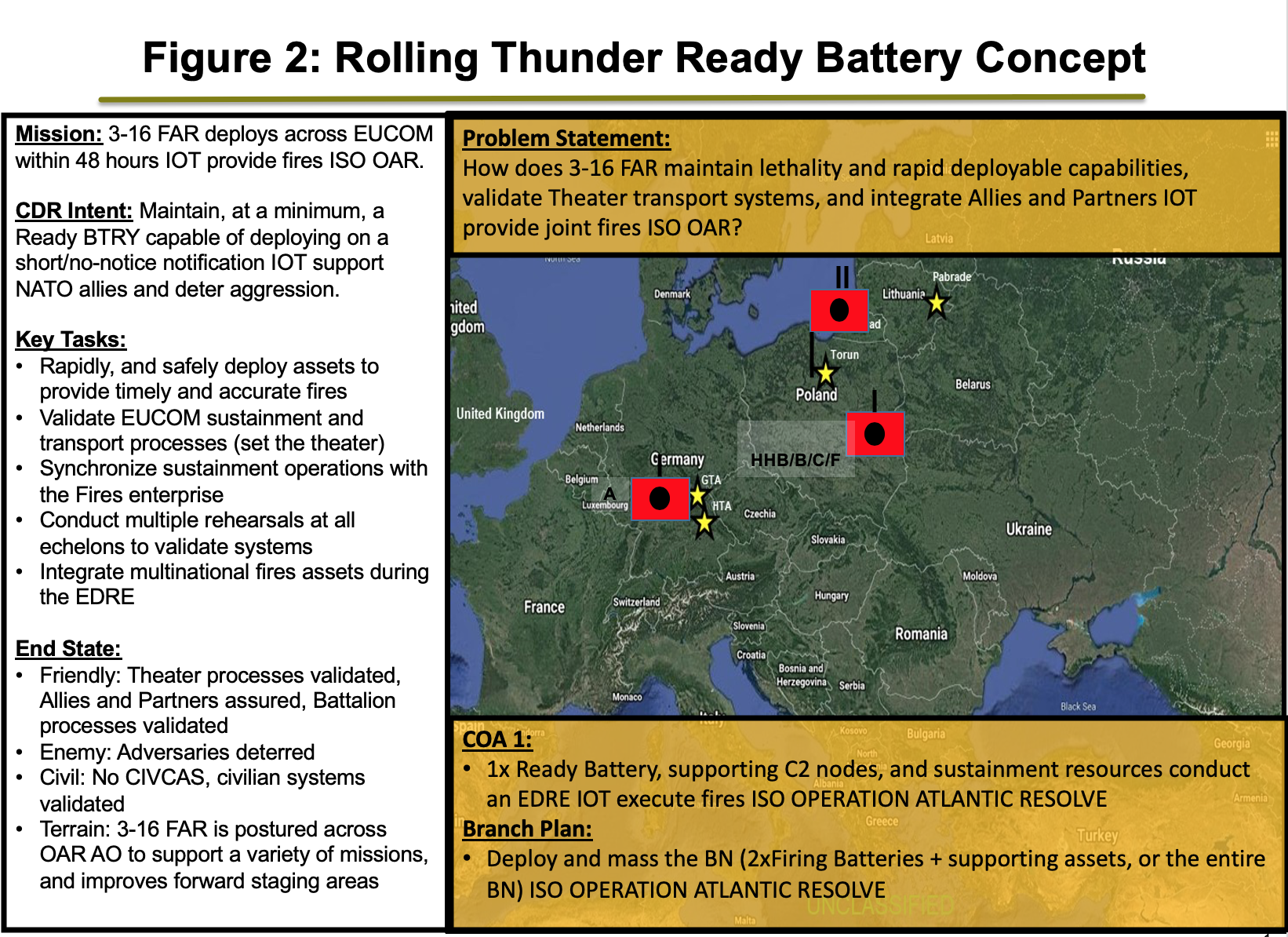 To begin this process, the Battalion staff adapted a previously existing Battalion emergency deployment readiness exercise SOP, to help guide our operations. The SOP included four alert levels, an overall H-hour sequence; and a detailed N-hour sequence to prepare the Ready Battery to deploy.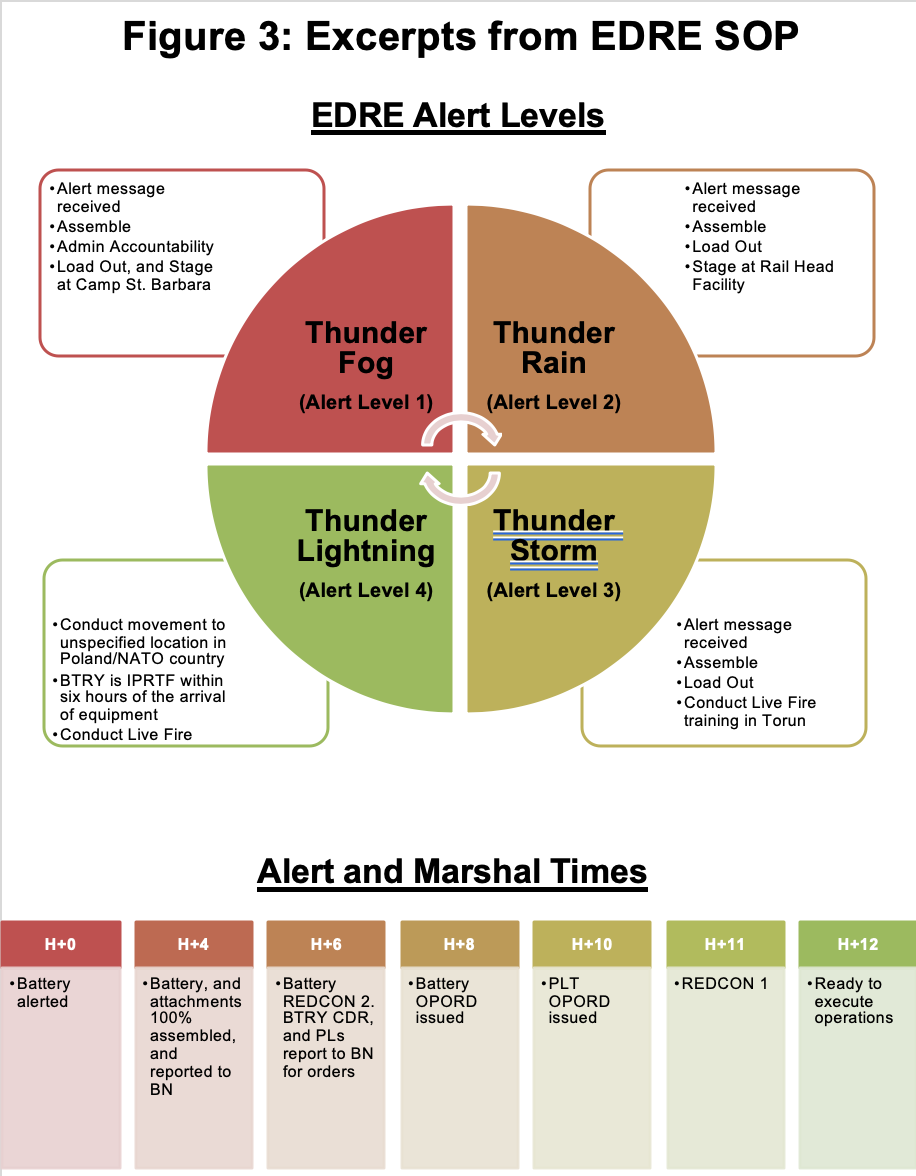 The EDRE SOP was the foundation of our efforts, and we continuously updated it throughout the deployment.
Early on we recognized the need for a two week rotation between Bravo (Bulldog), and Charlie (Cobra) Batteries. The rotations allowed the Batteries to plan, prepare, execute and assess training results based on the Ready Battery mission set, the EDRE SOP, and after action reviews (AARs) to improve our processes, and SOP. Each Battery exercised Battery-level EDRE rehearsals, normally to Thunder Fog (alert Level 1), or Thunder Rain (alert Level 2). We also developed a support package for alert Levels 3 and 4 to ensure the Ready Battery and Battalion readiness to deploy. This support package included the Battalion Tactical Command Post (TAC), and the Forward Support Company (Firehorse) distribution platoon for sustainment operations.
Over the next several months, our Ready Battery operations enabled us to demonstrate the Battalion's capability to execute training, and missions across our lines of operations. Using the LOOs framework enabled us to conduct multiple alert Levels 1 and 2, plus a few alert Level 3s, culminating in an EDRE Level 4 operation from Camp Saint Barbara to Karliki, Poland. This framework allowed us to use the Crawl, Walk, and Run methodology to accomplish our mission, and meet my overall Ready Battery intent.
The Crawl phase began in mid-November by standing up Ready Battery operations and revising the SOP, conducting multiple rehearsal and an artillery gated strategy, outlined in TC 3-09.8, to qualify Batteries at echelon, then executing several phased Level 1-3 EDRE alerts in and around Camp Saint Barbara. This phase continued until late January and concluded with preparations for our EDRE Level 4 operation.
The Battalion staff conducted planning with Cobra Battery and executed multiple reconnaissance missions to the Karliki training area to establish survey control points, and coordinate for a life support area, and Class I/III/V support and storage. We opted to use intermodal transportation from Torun to Karliki to validate theater transportation processes and speed of war requirements. The necessary resources had been arranged and coordinated several weeks in advance through the Black Jack Brigade, the Mission Command Element (MCE), 7th Army Training Command, and the Polish Range Operations at Karliki.
The Walk phase began in January and culminated when Cobra Battery deployed to Karliki, Poland, on 06 February2020 for the Level 4 emergency deployment readiness exercise.
The initial set of line haul assets arrived on Camp Saint Barbara on 06 February, at 0800, to begin loading Cobra Battery's first four howitzers. Unfortunately, real-world complications developed and the complete line haul set did not arrive until much later in the day to move the remaining two howitzers and support equipment. This prevented us from transporting the entire Battery in accordance with the original time schedule. The first four Paladins departed Camp Saint Barbara at 1200, arriving at Karliki at 1830, with a final download by 1930. The two remaining Paladins departed Camp Saint Barbara at 1800 and 2050 respectively, arriving at Karliki early the following morning.
The transportation delay of the final two howitzers forced us to adjust the start of the six hour IPRTF time window for the first four howitzers that arrived in Karliki. Fortunately, a firing Battery can mass with just four Paladins, so shifting our timeline to reflect actual firing capability on the ground was not a huge concern. Cobra Battery was able to conduct accelerated Rearm, Refuel, Resupply, and Survey Control Point (R3SP) operations, fire control alignment tests and were in position, ready to fire within the six hour window.
The EDRE concluded with a live fire exercise during the morning of 07 February, with Polish fire support teams providing accurate targeting data and observation for the Battalion. The emergency deployment readiness exercise demonstrated the Battalion's capability to set the Theater, to posture a lethal and ready force, to conduct mission command from our TAC, and enhance multinational interoperability. As successful as the operation was using the Crawl and Walk steps, we did learn numerous lessons throughout the planning process, and across our lines of operations.
Despite our successes during the Crawl and Walk phases, we were unable to fully execute the Run portion of the emergency deployment readiness exercise of sending a Ready Battery to an unknown location on a short to no-notice basis. Ideally, the Battalion would rehearse this operation with a Battery not on Ready Battery status, and execute a no-notice emergency deployment readiness exercise with the Ready Battery. Another way might involve planning and synchronizing only at the staff level, and then executing with a Ready Battery. Each of these Run methods would provide the element of surprise for the Ready Battery while allowing the Battalion to set the theater for transportation, classes of supply, site survey, and coordination across all war fighting functions.
The use of Polish intermodal transportation was an overall success, but even here we identified a few key learning points. These include: (1) have a single point of contact for the line haul contractor; (2) have an interpreter present to synchronize local national transportation requirements; and (3) units must understand and plan transportation times and assets of heavier vehicles to reduce time delays arising from intermodal weight restrictions, availability of line haul assets, plus constraints imposed by available roads and bridges. Additionally, we did not use a beach master (think of the military specialists who organized the flow of troops and supplies across the beach on D-Day) to take charge of the on-site loading process. Such an individual or team would have provided the capability to quickly synchronize loading operations with the line haul contractor and adjust to changing conditions to ensure a rapid, efficient loading process. Fortunately, we were able to overcome most of these hurdles on the ground by bringing in one of our interpreters, and identifying a beach master midway through our loading efforts. We also identified the requirement for additional intermodal options to exercise USA, Ally, or Partner nation military transportation assets to transport equipment. By using different forms of transportation we can test and validate the capability of alternative modes of military transportation. Our ability to establish a forward deployed site, enabled the Battalion to posture lethal and ready forces, enhance multinational partnership and interoperability, and maintain mission command through our command and control nodes.
One of our major lessons learned is that it is absolutely necessary to prepare multiple deployment sites across the EUCOM AO, in order to set the theater, and rapidly position lethal, and ready forces wherever needed. Preparing potential future deployment sites includes establishing permanent survey control points to enable system navigation updates, fire control alignment tests; and establishing locations to emplace pre-positioned stocks of supply to include Class I/III/V, or if required, to enable the rapid emplacement of supplies on short, or no-notice warning orders. It is equally imperative to identify sustainment requirements, and time distance analysis to transport, and sustain Ready Battery forces to multiple deployment sites. If we had not previously readied Karliki for the operations, we would not have met the six hour requirement to be in position, ready to fire.
Posturing lethal, ready forces is the hallmark of what we do as an artillery Battalion. Our overall RAF mission was to deploy to the EUCOM AO, provide fires in support of the Black Jack Brigade and multinational entities, to deter our adversaries, and reassure our NATO Allies and Partners, and strengthen multinational partnerships. To accomplish this, we focused on our readiness metrics, and quality individual-through-Battery collective level artillery table training, and certification. As previously described, each Battery executed multiple Battery Level EDRE's across alert Levels 1-3, to prepare them for a future deployment to an external site with little to no prior notification.
Multinational integration was also paramount to our success. We used the human, procedural, and technical framework to enhance multinational interoperability. Integration strategies include: understanding and establishing procedural control through NATO or U.S. doctrine, or unit SOPs. Technical aspects include table-top and field exercises to train the integration of multinational systems including the artillery system cooperation activity (ASCA) protocol in fire control systems (for those nations participating in the ASCA program), tactical voice bridge training (TVB), and fire support or FM technical rehearsals.
The Polish Artillery schoolhouse, Centrum Szkolenia Artylerii i Uzbrojenia (CSAIU), located in Torun, has well trained fire support teams that provided highly professional, and effective fire support observation during our training in Torun, and operations in Karliki. We established a FM voice, mission partner environment (MPE) between the Polish HF radio system, and our Single Channel Ground and Airborne Radios (SINCGAR) through a tactical voice bridge. The TVB connects and bridges two separate NATO radio systems, regardless of the frequency, band, node, or encryption key, thus providing a seamless voice connection. We built solid relationships with the CSAIU team through social events, multiple interactions to discuss call for fire procedures, plus table-top and field exercises to implement the technical aspect of the fires kill chain. These interactions enabled us to integrate rapidly with the Polish fire support team at Karliki, establish a fires network, and enable a solid command and control (C2) structure between the observer, and our tactical command post (TAC).
Mission command through our C2 nodes was of vital importance. We deployed our TAC to control operations on the ground at Karliki, and provide reports to the main command post back at Camp Saint Barbara. The TAC's capability enabled the Battalion to control fires on site, provide mission command between Karliki and Camp Saint Barbara, and coordinate between the TAC and the Polish observers at the observation point (OP). We established an over the horizon signal plan to ensure we were tracking all movement operations between Camp Saint Barbara and Karliki, and fire direction operations at the firing point. However, one of our biggest lessons learned was the need establish a more secure, and robust over the horizon communication architecture such as the Joint Capabilities Release (JCR), or the use of high frequency (HF) radios. This became evident when we deployed our personnel via a contracted bus, and had to rely heavily on cell phone usage during our troop movement. It is imperative that operations occur across multiple secure networks to maintain operational security and provide additional options if one system is compromised.
The Rolling Thunder Ready Battery operations, and emergency deployment readiness exercises were a resounding success across all of our lines of operations that provided lessons learned, and ways to improve future EUCOM Regionally Aligned Forces deployment operations. Some recommendations for future Ready Battery operations include deploying a Ready Battery to another country, conducting a multinational combined arms live fire exercise or an artillery qualification table-top, validating multiple, simultaneous intermodal means of transportation, and maintaining a secure, over the horizon mission partner communications environment.
The Rolling Thunder Battalion demonstrated flexible deterrent option capabilities through strategic to tactical level operations by rapidly deploying on a short, or no notice notification, to a forward deployed site, to provide lethal fires in under six hours upon arrival. It is imperative that future artillery Battalions deploying to the EUCOM AO maintain this capability, in order to deter our adversaries, and assure our NATO Allies and multinational Partners.
LTC Derek R. Baird is the Commander of the 3-16th FAR. His former assignments include Joint Fire Support Officer for the 1st German-Netherlands Corps (a NATO Rapid Deployable Corps), 3ID DIVARTY S3, and the 1-9 FAR S3. LTC Baird has three combat tours (two to Iraq and one to Afghanistan), and one Regionally Aligned Force deployment. He is slated to be the next Wolf 07 at the National Training Center.