2021 LtCol (R) Michael Grice Writing Award Winners
Date posted
November 20, 2021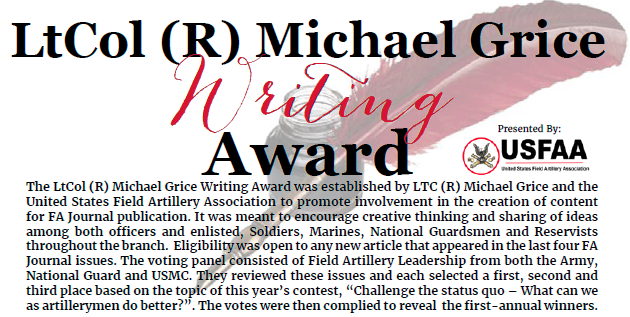 ---
Congratulations to our 2021 Winners
First Place : Warrant Officer 1 Conor McCarrell- Issue 2, 2021 - Long Range Fires Gap


About the Author: WO1 Conor McCarrell enlisted in the Colorado ARNG in 2009 as a Fire Support Specialist (13F). In 2012, WO1 McCarrell became a Forward Observer for 1-157th INF COARNG and then deployed with the 169th Field Artillery Brigade in 2017 as a Targeting NCO. During the deployment, he was assigned to the Special Operations Joint Task Force (SOJTF) J2 Targeting Cell, assisting in the discovery and development of ISIS targets in support of Operation Inherent Resolve. After the deployment in 2018, WO1 McCarrell went through the COARNG Warrant Officer Candidate School program and graduated from the WOBC in June 2020 as a 131A. He is currently the Brigade Counterfire Officer for COARNG's 169th FA BDE. He also recently graduated from Colorado State University with Bachelors of Science in Mechanical Engineering and Engineering Science.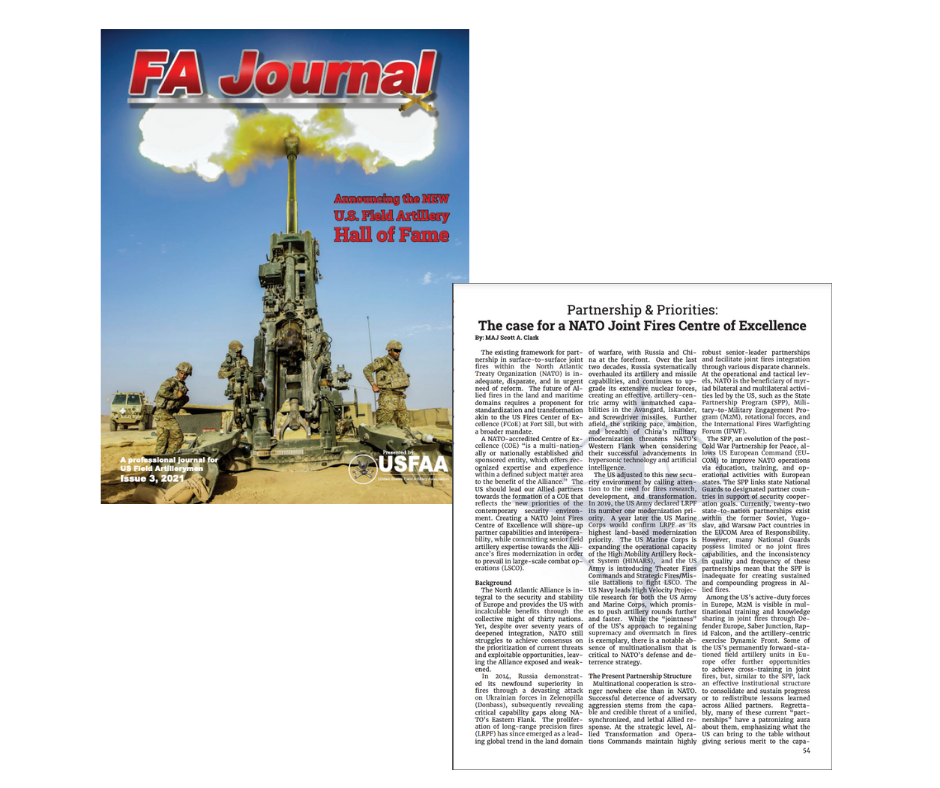 About the Author: MAJ Scott Clark is a US Army Field Artilleryman and Olmsted Scholar studying Bezpieczeństwo Narodowe (National Security) at Jagiellonian University in Kraków, Poland. MAJ Clark's assignments include staff & faculty at USMA, battery command in South Korea, and Company / Battalion Fire Support Officer in Italy, with deployments in Operation Enduring Freedom X & XIII.

Third Place : Major George Cass - Issue 2, 2021 - Trigger Math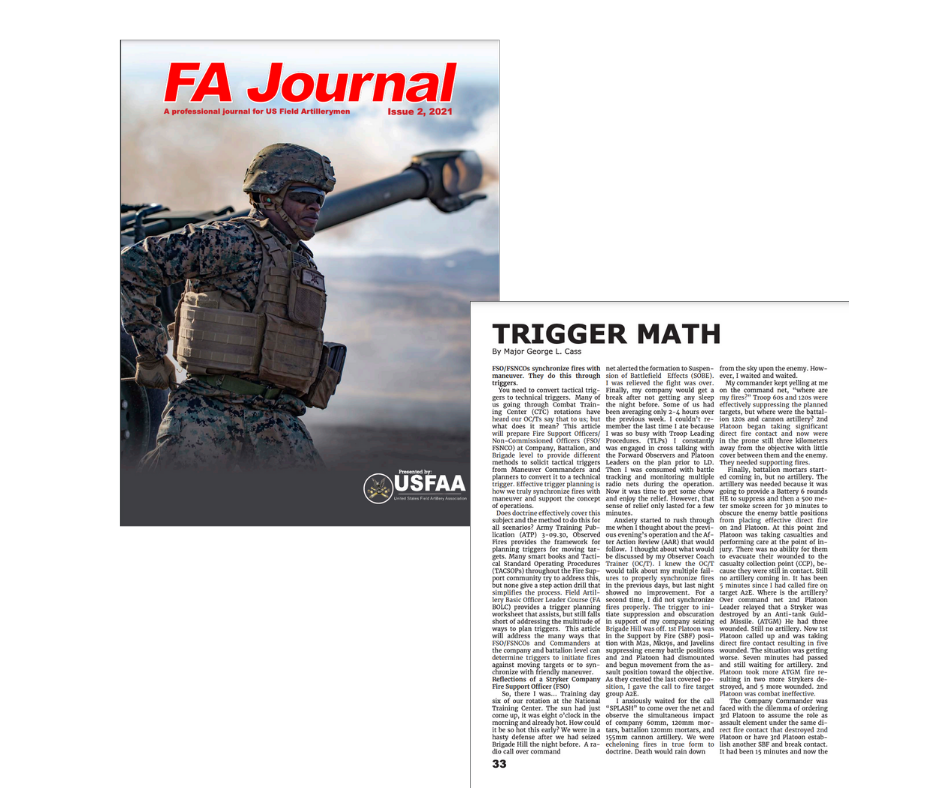 About the Author: Major George L. Cass is a Field Artillery Officer that serves in 3d Cavalry Regiment.
---
The 2021 Voting Panel :
Brigadier General Andrew Preston, Chief of the Field Artillery
Colonel Jeffrey D. Buck, Assistant Commandant of the USAFAS
Colonel Christopher Roberson, Commanding Officer USMC Artillery Detachment, Ft Sill OK
Lieutenenat Colonel (P) Adam Caldren, Chief of Staff, DCG - ARNG
Chief Warrant Officer 5 Steven Pressley, Chief Warrant Officer of the Field Artillery
Command Sergeant Major Michael McMurdy, Command Sergeant Major of the Field Artillery
Master Gunnery Sergeant Joseph Kepler, USMC FSCC Director
Sergeant Major Robert Revels, DCG-ARNG Senior Enlisted Advisor