Tattoo of GEN Jack N. Merritt
US Army, Retired
1987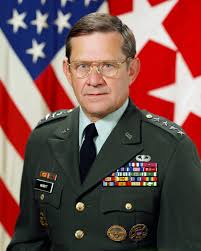 US Field Artillery March
General Merritt graduated from Field Artillery OCS in March 1953.
Korean Folk Song
He commanded Battery A, 57th Field Artillery Battalion, and then served as aide-de-camp to the Deputy Chief of Staff for Administration and Administrative Officer for the Deputy Chiefs of Staff, 8th Army, Korea.
First Army March
General Merritt was assigned as aide-de-camp to the Deputy Commanding General, 2d Army.
Oklahoma
In June 1958, General Merritt came back to Fort Sill as an instructor in the Gunnery Department.
In Munchen Steht Ein Hafbrauhaus
After Advanced Course graduation, he went to Europe as the Assistant Corp Artillery S3, VI Corps Artillery, and then commanded Battery C, 75th Field Artillery. He completed his tour as the Corps' War Plans Officer, G3.
Washington Post
In 1965, he graduated from the US Air Force Command and Staff College and then served as the Assistant Operations Officer, Army Operations Center Branch, Readiness Division, ODCSOPS; Staff Officer Troop Operations Systems Analyst, NATO Division, Regional and Resource Analysis, OASD (SA).
Green Beret
General Merritt commanded the 3d Battalion, 34th Field Artillery, 9th Infantry Division, in the Republic of Vietnam.
National Emblem
After graduating from the Industrial College of the Armed Forces, he became the Deputy Director, Program Analysis, National Security Council.
Garry Owen
In January 1973, General Merritt became the Division Artillery Commander of the 1st Cavalry Division at Fort Hood, Texas. He continued to serve 1st Cavalry as Division Chief of Staff and Assistant Division Commander until November 1976.
West Point March
He was then assigned as Chairman, Military Professional Development Committee, and the Chief of Staff of the Army's Study Group for the United States Military Academy.
Amidst Thunder and Cannon
From October 1977 until June 1980, he was the Commanding General, United States Army Field Artillery Center, and Fort Sill and Commandant of the Field Artillery School.
Pennsylvania Polka
In July 1980, General Merritt became the Commanding General of the United States Military History Institue and the Commandant of the United States Army War College.
American Soldier
He became the Deputy Commanding General (Combined Arms), TRADOC; Commander Combined Arms Center and Fort Leavenworth; Commandant, Command and General Staff College; Commander, USA Combined Arms Combat Development Activity; and Commander USA Combined Army Training Development Activity at Fort Leavenworth, Kansas.
Our Director
He returned to Washington, DC, in July 1983 to become the Director, Joint Staff, Organization of the Joint Chiefs of Staff.
Hands Across the Sea
From October 1985 to the present, he has been the United States Representative to NATO, International Military Activity, Belgium.
Merritt died on January 4, 2018, at the age of 87 at his home in Fort Belvoir, Virginia. He was interred at Arlington National Cemetery on May 18, 2018 and his wife, Rosemary, was buried beside him on April 17, 2019