Tattoo MG Leo J. Baxter
US Army, Retired
2010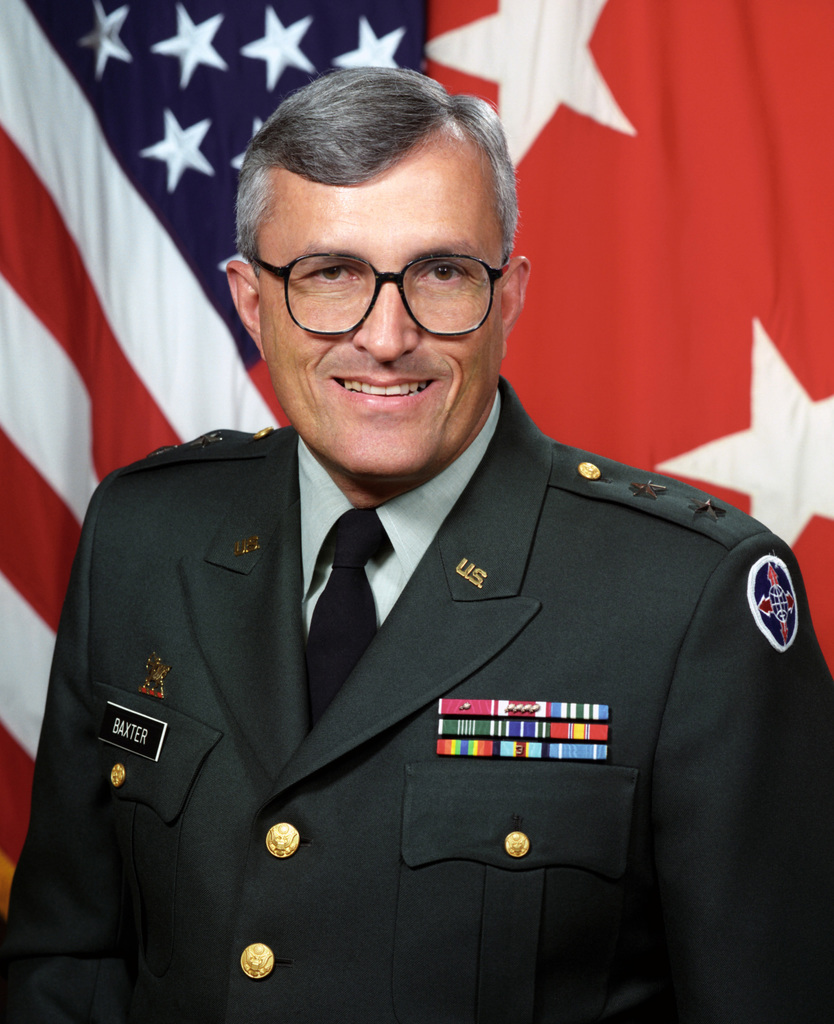 Minnesota Rouser
Leo James Baxter was born on Good Friday on April 19, 1946, in Walnut Grove, of Little House on the Prairie fame, in Minnesota, and his small-town rural youth was spent with his father John, a small dirt fanner with a 4th-grade education who taught him the work ethic he became known for, and his mother Audrey, who started her career as a teacher in country schools and taught him the value of education. His two year older sister Kathleen learned much more from their mother than he did and became a librarian and nationally renowned authority on children's literature.
Fight On Sioux
Young Lee Baxter, however, flourished in this environment where he was a four-sport letterman, an award-winning vocalist, and in his senior year, an All-State and Little All American high school football player. It was football which paid for his education at the Univer­sity of North Dakota where he joined Theta Chi Fraternity in which he remains active, was an elected member of the Student Senate, and a member of Phi Beta Sigma Fraternity, the national honor society recognizing academic achievement among college men. He also worked washing dishes and driving school buses. He did less well in Army ROTC, where his underachievement earned him straight Cs and a recommendation from his Professor of Military Science that he not continue, which indeed he did not.
Lili Marlene
Upon graduation with a degree in English, Baxter moved to Omaha and sold medical equipment to hospitals, and it was there that son Jason was born. But the draft and the promise of immediate duty in Vietnam led Lee to finally face his ROTC demons and enlist for Engineer Officer Candidate School at Fort Leonard Wood, Missouri. As fate would have it, upon completion of training as a Combat Engineer, Private Baxter was sent to Fort Sill, Oklahoma for Officer Candidate School as a Field Artilleryman, graduated as a Distinguished Military Graduate, and never looked back. So with a com­mission and a young family, it was off to Germany for the first of five tours.
Liechtenstein Polka
His duties were in the 3rd Battalion, 84th Field Artillery in Neckarsulm, Germany, where he served without distinction in a number of typical lieutenant positions under the tutelage of then LTC Jack Donohue, a Lawtonian with whom he re­mains close today. LTC Donohue also taught LT Baxter how to drink large quantities of German beer. Pershing duty was nuclear, tough, and hardening and caused many young officers to depart the service. But LT Baxter thrived on the duty and learned the camaraderie and joy which exists in great Army units. He was hooked. In the midst of that tour, daughter Kelly was born in Bad Cannstatt hospital near Stuttgart. Kelly and husband Mike have produced two grandsons, Ethan and Owen, virtual cauldrons of excitement and mischief and delight at five and seven years of age.
US Field Artillery March
Upon return from Europe, lL T Baxter attended the Officer Advanced Course at Fort Sill, was again a Distinguished Graduate, and was assigned to the Field Artillery School. It was there, as the Executive Officer to BG Vernon B. Lewis, the Assistant Commandant, that he met many who he admired and respected; COL Max Thurman, MAJ Binnie Peay, COL Carl Vuono, and others. But it was BG Lewis who he emulated and who taught him about the Army and its soldiers. Lewis was tough, excitable, profane, and maintained high standards, all qualities CPT Baxter also possessed. GEN Lewis was his first mentor, and 36 years later, he still fills the role.
National Anthem of Germany
Migrating to the III Corps Artillery in the midst of his first Fort Sill tour, CPI Baxter commanded A Battery, 1st Battalion, 17th Field Artillery, and deployed back to Germany for a six-month rotation deployment. He lacked any understanding of Cannon Artillery since his first day in such a unit he was commanding it. It was also during this tour that his marriage to his high school sweetheart gave way to the Army, and Baxter deployed on a short tour as a UN observer in Palestine, where he lived for six months in Jerusalem, six months in Cairo, and became known not only for his thumbprint smeared black Army glasses but also for his exemplary driving skills. These details were clearly not well known to the Majors promotion board, which selected him from below the zone for promotion.
The Washington Post
He returned to the United States and Washington, DC in July of 1978 for the first of three tours in the US Army Military Personnel Center. There, as a young captain, he worked and played with many peers who rose to senior leadership positions in the Army. GEN Tommy Franks, GEN Tom Schwartz, L TG Jim Cravens, L TG Gene Blackwell, LTG John Dubia, L TG Joe Inge, and more.
Shower the People
Although those men were impressive, one person made a bigger impression on Baxter at a Christmas party. When he met Theresa Marie Giannella, the daughter of an Italian immigrant baker with typical Baxter flair, he mailed Terry a Christmas card and asked her out: with a self-addressed, stamped envelope that contained a quiz asking whether she would accept and what she preferred to do on that date. Once she made her choices and mailed the card back, her fate was sealed, and some months later, she accepted MAJ Baxter's marriage proposal offered at the Merriweather Post Pavilion in Maryland during a James Taylor concert.
You Are So Beautiful
They married less than a year later in West Orange, New Jersey, though Baxter has said that he had been married for three years before he understood anything her Italian relatives were actually saying, though he was certain they were talking about him the entire time.
Rocky Mountain High
Off to the Armed Forces Staff College in 1981, the Baxter's were assigned to Fort Carson, Colorado, where he served as the battalion XO for the 1st Battalion, 29th Field Artillery and was selected again below the zone for promotion to LTC and served as the S-3 of the Division Artillery. Then, his third tour in Germany and assumption of command of the Centaur Battalion, 2nd Battalion, 6th Field Artillery, direct support to 2nd Brigade, 3rd Armored Division. It was as a battalion commander that LTC Baxter came to know the NCO who had the most profound impact upon him of any he had met, CSM Timothy U. Eldridge, his battalion Command Sergeant Major who eventually became the III Corps Artil­lery CSM. As Baxter later said, CSM Eldridge was, well, perfect.
LTC Baxter attended the Army War College in 1985, and his assignment to Carlisle was noteworthy for two things. First, he was present when COL J. W. Thurman shot his wife Ellen's dog while in government quarters (but that is an­other story), and second, LTC Baxter ended his three-pack per day smoking habit while making the entire family miser­able.
Dog Faced Solider
LTC Baxter was again sent to the Army Personnel Center after his third early promotion, and assigned Field Artillery colonels, then became the Chief of the Combat Arms Division, where he senior rated 14 captains and majors who were ultimately selected for promotion to General Officer. He always knew how to surround himself with great talent, which included names like Dempsey, Brooks, and Campbell. When the Colonel Command list was published, it appeared COL Baxter's dream of becoming the Senior Field Artilleryman in a mechanized division was to be realized, until, with shock on his face and a sympathy card signed by peers in his hand, Baxter was greeted in Marneland as the new DIV ARTY Commander of Third Infantry Division by the Commander, MG Dutch Shoffner, who somehow viewed himself as the senior field artilleryman in the Division. This proved a burden which could not be overcome. COL Baxter learned much from his mentor and leader, GEN Shoffner. These lessons included how to really integrate fire and maneuver, how to remain as tied to his maneuver commanders as he was to his next-door neighbor, who also was GEN Shoffner. But he learned too about Franken wine, teamwork, friendship, and loyalty. The best tour of his career.
How Do You Like Me Now?
The completion of this tour took the Baxter's back to Fort Sill for the first time in 19 years to serve as the Chief of Staff for MG Fred Marty. His secretary, Winna Bums, educated the Chief well, and 18 years later, she still keeps her boss, Mr. Baxter's office running the right way. His short year resulted in his promotion to Brigadier General, a singular event as he was the first Army officer selected for BG from the Vietnam era, who had never served in that theater. Many thought that could not happen.
Boomer Sooner
But it was back to Germany as the Assistant Division Commander for Support in his beloved Marne Division. There the Baxter's spent months awaiting their household goods as apparently, the Army thought the Third Infantry Division to be in Russia, which is where their furniture ultimately was found. After a quick year of Grafenwoehr rotations and mainte­nance issues, Fort Sill beckoned again, this time as the Assistant Commandant, with MG Dubia then MG Rigby as Com­mandants, General Baxter focused on the future with the establishment of Task Force 2000 and the beginning of future vision work, which he would complete some time later.
Oklahoma!
Then it was Washington and PERS COM once again, as the Director of Officer Personnel Management for the Army, then as the Commanding General at USA PERS COM, where he was responsible for the worldwide implementation of Army Personnel policy and the assignment of all of its people; then in 1997, the Army directed his return to the Field Artillery Center as the Commanding General and the Commandant of the FA School. His focus, as always, was the health and welfare of the Field Artillery, which he fought for parochially and with vigor throughout the Army, a role he has felt to be non-negotiable for any General Officer in a proponent role.
Old Soldiers Never Die
MG Baxter's retirement from active duty came in January 2000, and the past ten years have included continued leader­ship roles in the Lawton-Fort Sill community. Chairman of the Board of the Lawton Chamber of Commerce; Board of Directors for the Lawton Philharmonic Orchestra and the Lawton Community Theater, State President for Oklahoma for the Association of the United States Army, Board of Trustees for the Oklahoma Council for Public Affairs, and nearly ten years as the President of the US Field Artillery Association has occupied his time and energy, as well as his consult­ing business which takes him throughout the United States and around the world.
Caisson Song
To answer an often asked question, MG Baxter has no hobbies, nor has he ever, nor does he ever intend to; they simply waste time. He and Terry do travel the world, love spending time with their grandsons, enjoy spending weekends at their get-a-way in Medicine Park, Oklahoma, and attending to business interests there, while relishing every minute with their English Bulldog Vito; in fact, most evenings end with a kiss.