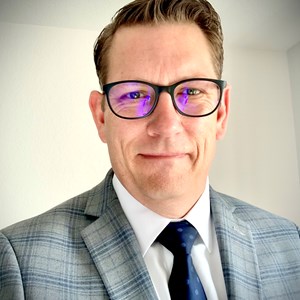 Professional Bio
Scott Prochniak is the Strategy & Business Development Principal for Lockheed Martin - Missiles & Fire Control, responsible for the Precision Strike Missile (PrSM) and Army Tactical Missile System (ATACMS). Previously, Mr. Prochniak was responsible for Lockheed Martin's AN/TPQ-53 Radar System from June 2018 to January 2021.

Prior to joining Lockheed Martin, Mr. Prochniak served at the FCoE CDID in Fort Sill, OK, as Supervisory Field Artillery Specialist, Army Capability Manager – Field Artillery Brigade & DIVARTY (ACM FAB-D), where he managed the Field Artillery Radar portfolio. As a DA-Civilian, Mr. Prochniak was detailed by the Assistant Secretary of the Army to serve as Senior Technical Advisor to Army Capability Manager Security Forces Assistance Brigade (ACM SFAB), the Army's centralized manager for Security Force Assistance/Cooperation. Mr. Prochniak was awarded the Commander's Award for Civil Service for his contribution in the activation of the 1st Security Forces Assistance Brigade (1st SFAB).

Mr. Prochniak retired from active duty with nearly 25 years' service as a Chief Warrant Officer – Four. He served from Battery to Division level as a Fire Direction Specialist, Brigade Electronic Warfare Officer, Brigade and Division Targeting Officer, and Assistant Fire Support Officer. Mr. Prochniak served with the 1ID, 2ID, 3ID, 25th ID(L), 10th MTN & 101st ABN Divisions and the 91st ID as an Observer Controller Trainer for reserve component Field Artillery units. Mr. Prochniak has multiple deployments during Operations Desert Storm, Enduring Freedom, Iraqi Freedom and New Dawn. His final active duty assignment was as the Requirements Officer for Field Artillery Radar platforms at Fort Sill, OK.

Mr. Prochniak graduated from Liberty University with a B. S. in Business Finance and an M.A. in Management.

Mr. Prochniak is member of the Order of Saint Barbara and AUSA, and has served as a Board Member for the Fort Drum / Northern New York AUSA Chapter.
Employer Lockheed Martin Missiles & Fire Control
Field Office Manager 1614 W. Gore Blvd
Lawton, OK 73501
580.355.0581

1 Year Membership
---
Rank
Retired
Chapter Name
Award Recipient
Honorable Order of Saint Barbara, Spouse Recipient - Esteemed Molly Pitcher