Back to Members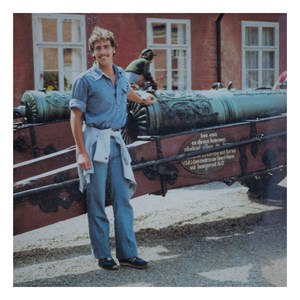 Alan Koenig
PhD, History, UNL, 1995, LTC, FA, USAR (Ret Res), Adjunct Prof/Lecturer, History Dpt., UN-Omaha
Contact information may be available to logged in members.
Professional Bio
Historian (Military, Eastern European/Russian, Western & World Civ. UNL & UNO [1991-2010])

Historian, USAR, deployed to HQ USEUCOM; 1996; 1999; 2000; HQ V Corps, 1997, 2003-04; HQ NORAD/US Space Command; US Strategic Command [West]; US Northern Command USAR, 2001-2005 1st Army, 2006-08.

Linguist: Russian Basic Course, DLIFLC, 1983-84; German minor, Mankato State Univ., MN, Swedish, MSU & Univ. of Uppsala, Sweden, 1980. Spanish, one quarter, MSU, 1985 French for Reading, UNL, 1992 Self study and translating: French, Spanish, Latin, Greek, Polish, Norwegian, Danish.

MNARNG: Enlisted Feb 1975 as a small arms repairman at Btry D, 1-175th FA, Olivia, MN (8" How) OCS/MMA Class 21 Comm. April 18, 1977 Exec. Off, HQ & HHB, 1-175th FA, Montevideo, MN FDO, B-1-175th FA, Madison MN, 1978-80 XO, A-1-175th FA, Dawson, MN XO, 1-175th FA, Madison, MN until Jan 1982

USAR: Transferred to 13th PSYOP BN (PW Spt), USAR, Ft. Snelling. Served as Assistant S-3, Print Team Leader, Camp Team Leader until 1988. Transferred to Indiv. Ready Reserve, joined the 1st USAR (RTU) Linguist Unit (1st Army asset), then activated in 1996 to serve as a uniformed historian at US European Command in 1996 (see above). Retired in 2005 but spent 2.5 years on active duty at 1st Army for Hurricane Katrina historical coverage, discharged in July 2008.

Since discharge: Caring for farmsteads and acreage. I rent my 90 acres and am involved in Friends of Fort Ridgely, BLHS School Foundation, Hector Community Spirit, Buffalo Lake community activities, several village and township heritage Facebook groups, writing hundreds of pages of reference materials on Buffalo Lake veterans since the Civil War. Continuing to write on Hurricane Katrina and on Civil War armor and railroad artillery. Author of several articles and a book, "Mars Gets New Chariots: the Iron Horse in Combat, 1861-65 (2006). I'll donate a box of these books to the FA Ass'n. if it so desires.

Lifetime Membership
---
Chapter Name
Lifetime Member ID
Rank