Back to Members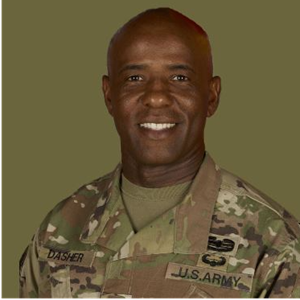 Dwalyn E Dasher
Vice Chair Department of Command Leadership
Contact information may be available to logged in members.
Professional Bio
SGM Dwalyn E. Dasher is a native of Jesup, Georgia. He enlisted in the U.S. Army in June 1995 and completed One Station Unit Training at Ft. Sill, Oklahoma. He previously served in the U.S. Navy from Mar 1989 to Feb 1993. He served in every leadership position from Cannonner Number 1 to Brigade Command Sergeant Major.

His assignments included E Battery 1/19 FA, Alpha Battery 1/5 FA, Bravo Battery 3/7 FA, Alpha Battery 2/11 FA, 3/393 FA (CSM), 1/94 FA (CSM), 1/76 FA (CSM), 1/9 FA (CSM), 10 Mountain DIVARTY (CSM), and NCOLCoE (Vice-Chair for Department of Command Leadership).

His military education includes all levels of the NCOPDS, AA Course, Division Artillery Master Gunners, Unit Armor, Unit Movement Officers, First Sergeants Course, Combatives Level One, the Gracie Combatives Leaders Course, Unit Prevention Leaders Course, BN Pre-Command and CSM Course, and BDE BN Pre-Command and CSM Course.
His civilian education includes an M. Ed. In Life Long Learning and Adult Education from Penn State University, a M.A. in Organizational Leadership from Brandman University, and a Bachelor of Science with a concentration in Administration Management from Excelsior University.

His awards and decorations include the Legion of Merit, Bronze Star Medal (1OLC), Meritorious Service Medal (2OLC), Army Commendation Medal (3OLC), Army Achievement Medal (4OLC), Army Superior Unit Award, Meritorious Unit Citation, Army Good Conduct Medal (6th Award) and Navy Good Conduct Medal (1st Award). He is married to the lovely Mrs. Sarah Dasher and has four amazing boys Tre' 27, Tyler 22, Rowan 7, and Donovan 5.


1 Year Membership
---
Rank
Chapter Name
Mountain Thunder - 10th Mountain DivArty
Award Recipient
Ancient Order of Saint Barbara